A star is born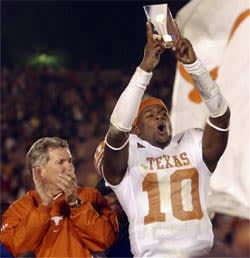 PASADENA, California -- If the games are going to be like this, Texas and Michigan have to get together more often.
Texas quarterback Vince Young rushed for 192 yards and four touchdowns but it was Dusty Mangum's leg that won a dramatic Rose Bowl showdown as he kicked a 37-yard field goal as time expired to give the Longhorns a 38-37 victory.
Texas and Michigan have combined to play 2,281 games in their illustrious histories but had never met before hooking up in Pasadena. After watching this one, it was much too long of a wait.
"There will never be a better ball game in the Rose Bowl than that," Texas coach Mack Brown said. "There might be some as good, but that has to be as good a college game as it could be. Texas and Michigan should come down to two seconds."
Michigan held a 31-21 lead heading into the fourth quarter, but Young made play after play and rallied Texas to a win in its first appearance in the Rose Bowl.
The Wolverines had to figure that Young would be more dangerous with his legs than his arm, but it didn't prevent the Longhorns signal-caller from dominating the game on the ground. He spun out of a sack at the 15 and raced in for a TD to pull Texas within 31-28 with just under 10 minutes to play.
"Vincent played as well tonight as any quarterback I've seen," Brown said. "He's now 17-2, and what a great stage for everyone to see what's in store for Longhorn football."
After Garrett Rivas put Michigan ahead 34-28 with a 32-yard field goal, Young engineered a quick response to give Texas its first lead since early in the third quarter. His 23-yard scamper around left end capped a three-play, 69-yard drive that took only 1:13 off the clock and gave the Longhorns 35-34 lead with four minutes to play.
Rivas, who scored Michigan's final nine points, struck again from 42 yards with 3:04 left in the game, but that gave Young plenty of time to cap an extraordinary day with the game-winning drive.
"If you saw the game it's obvious he was difficult to tackle," Michigan coach Lloyd Carr said of Young. "Although there were too many times where we had him and should have gotten him to the ground but didn't."
Texas (11-1) marched to the Michigan 20 with two seconds left to set Mangum up to be the hero. Despite Michigan calling two timeouts to try and ice him, he delivered, sneaking his kick just inside the right upright.
"I knew it was coming, they are going to try to ice the kicker," Mangum said. "It works on some kickers but not on me. My attitude is, when do you want me to kick it, you tell me and I'll come over and kick the ball."
Young also completed 16-of-28 passes for 180 yards and a TD and was intercepted once. His performance overshadowed a great game by Michigan wide receivers Braylon Edwards and Steve Breaston.
"I'm proud of our guys. I was just going out, making plays and doing my thing," Young said. "If I see a hole, I run the ball, and if I don't, I throw it."
Edwards hauled in 10 passes for 109 yards and three TDs for the Wolverines (9-3) while Chad Henne, the first true freshman to start a Rose Bowl at quarterback, completed 18-of-34 passes for 227 yards and four TDs.
Breaston set a new Rose Bowl all-purpose yardage record with 315 yards, eclipsing O.J. Simpson's 276-yard performance against Ohio State in 1969. Breaston had 221 kickoff return yards and constantly gave the Wolverine offense good field position.
"Steve is a great athlete," Carr said. "Our kickoff return team gave us great field position all night long."
Texas took a 7-0 lead in the first quarter on Young's first TD run, a 20-yarder with 1:41 left. Michigan's offense woke up in the middle two quarters as the Wolverines outscored the Longhorns 31-14.
"Losing is losing. No matter how you slice it, a loss is a loss," Edwards said. "We played the whole game hard, we were getting first downs and pretty much scoring at will, so if we would have gotten the ball one more time, we would have won."
Edwards, who set a new Rose Bowl record with his three TD catches, hauled in a pair of scoring strikes in the second quarter including an eight yard grab that tied the game, 14-14 at the half.
"Braylon Edwards is Roy Williams. He played so well tonight," Brown said. "We couldn't cover him. Lloyd and his staff did a great job of putting him in different positions."