AM could throw off Big 12 six targeted by Pac-10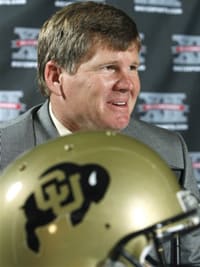 Nebraska's Board of Regents today will announce the Cornhuskers' plan to join the Big Ten Conference, according to two sources close to the situation.
The Pac-10 will try to challenge Nebraska for one of the headlines of the day by holding press conference with Colorado officials at Folsom Field to announce the Buffaloes are headed west in what is expected to be an exodus west along with five Big 12 South teams.
But there may end up being a whole lot of drama between the Lone Star State's most bitter rivals as it pertains to the six Big 12 schools being targeted for expansion by the Pac-10.
Colorado has already announced it's heading west.
Texas, Texas Tech, Oklahoma State and Oklahoma are waiting for a formal announcement by Nebraska about joining the Big Ten before announcing that they, too, are headed west to the Pac-10.
But sources say Texas A&M is still seriously exploring joining the Southeastern Conference. That charge is being led by A&M regent Gene Stallings, who, of course, won a national title in 1992 at Alabama as head coach.
The other four Big 12 South schools may wait through the weekend before making any kind of formal announcements about joining the Pac-10 to allow some time to pass from Nebraska's expected announcement on Friday.
But if Texas A&M waits too long to commit to the Pac-10, the Aggies could be put on the clock, possibly opening up their invitation to another school, sources close to the Big 12/Pac-10 merger said.
Schools that could possibly be considered for invitation to the Pac-10 in place of Texas A&M would include Utah and Kansas, among others, the sources said.
Pac-10 commissoner Larry Scott said in a media conference call Thursday that the Pac-10 might cap its expansion at 11 schools. But that appears to be a smokescreen until the other Big 12 South schools announce their intentions next week, sources said.
Texas and Texas A&M met in Austin Thursday along with Texas Tech and Baylor officials. It appears the three other Big 12 South schools notified Baylor officials that they are working to hold the Big 12 together with 10 schools.
Sources close to Texas, Texas A&M and Texas Tech told Orangebloods.com throughout the last week that if Nebraska moved on to the Big Ten, the Big 12 was dead.
Texas president William Powers and athletic director DeLoss Dodds met with UT coaches on Wednesday and told them they did everything they could to save the Big 12 but were unsuccessful.
There appears to be divided sentiment in the A&M community between going west and going to the SEC.
SEC Commissioner Mike Slive appears to be pulling out every enticement he can to lure Texas and Texas A&M to the SEC, including possibly moving two teams from the SEC West to the SEC East to allow Texas and Texas A&M in the SEC West, one source with knowledge of the SEC said.
But Texas does not appear interested in the SEC no matter what.
Texas A&M athletic director Bill Byrne, who used to be the AD at Oregon before moving on to Nebraska, has taken a hard stand about not wanting to travel west and used cities inside the Pac-10 as his examples. Stallings is also putting pressure on the situation.
There is a state-run, multi-billion dollar mineral rights endowment for both Texas and Texas A&M called the Permanent University Fund, which was threatened by lawmakers the last time realignment happened (when the Big 12 was formed) if the two schools did something without Texas Tech or Baylor. Now, we're talking about the two biggest schools in the state possibly doing something without each other.
One thing that should be reassuring to Texas A&M is that in a move to the Pac-10 Texas all but loses its chance to start its own TV network.
That was a point of contention for A&M, which has an athletic department $16 million in debt and had to borrow that money from the school's general fund to pay it off.
That became a big rift at A&M between the administration and athletics department and may have contributed to the forced resignation of A&M president Elsa Murano, who wanted the athletic department to be more diligent in paying the loan back.
A&M was not excited about having Texas, with its $125 million in revenue and its coffers overflowing, starting a TV network and adding yet another revenue stream that A&M couldn't match.
But with all schools belonging to a conference network (with no ability to start their own network) in the Pac-16, all schools would be on an equal revenue-sharing playing field. A&M's worries probably subside.
One thing appears clear. If A&M splits off from Texas in this realignment, it might create a War-Of-The-Roses style divorce. UT officials probably would not be eager to schedule the Aggies in anything, anytime soon. There would be the risk of losing 100-plus years of tradition, including the driving force behind the Aggies' very fight song (which starts: "Good-bye to Texas University ...).
COLORADO JUMPS
"This is an historic moment for the Conference, as the Pac-10 is poised for tremendous growth," Pac-10 commissioner Larry Scott said in a statement. "The University of Colorado is a great fit for the Conference both academically and athletically and we are incredibly excited to welcome Colorado to the Pac-10."
"On behalf of The University of Colorado students, faculty, alumni and fans, we are proud to accept this invitation from the Pac-10 and join the most prestigious academic and athletic conference in the nation," said Philip P. DiStefano, chancellor of CU-Boulder.
"The University of Colorado is a perfect match - academically and athletically - with the Pac-10," said University of Colorado President Bruce D. Benson. "Our achievements and aspirations match those of the universities in the conference and we look forward to a productive relationship."
A formal press conference was scheduled for Friday at Folsom Field in Boulder, Colo.
Sources tell Orangebloods.com, the Pac-16 conference would commence in 2012.
DOOR CLOSING ON BAYLOR
Baylor officials were hoping beyond hope that some 11th-hour change would happen to either save the Big 12 or allow them to get on the train out west.
But one Baylor official told Orangebloods.com, "It's probably 90 percent sure the other Texas schools are gone, but we have to hold onto that 10 percent that something could change."
Orangebloods.com was the first to report Wednesday that Baylor, which has strong ties to the Baptist church, was being met with some resistance in the Pac-10, namely Cal-Berkeley, because of its religious affiliation.
Baylor loyalists, in their argument against Colorado being invited, have pointed out that Colorado's academic and athletic performance lately hasn't been anything the Pac-10 should embrace.
In an announcement Wednesday by the NCAA, Colorado was the only school in the BCS to have scholarship reductions in football for poor Academic Progress Rates. And CU was one of two schools in the BCS to have scholarship reductions in basketball.
There's talk that some Pac-10 schools are down on Colorado's academics and overall sports programs, but sources say Pac-10 commissioner Larry Scott wants the Denver market.
Denver has never been a college TV market, much less a Colorado Buffaloes TV market. It's all about the Broncos and pro sports.
But the thought is if you pair Colorado in games against Texas, Oklahoma and USC, the Denver market will tune in.
PAC-16 TO GET 2 BCS BIDS?
In a related development, sources close to the Pac-10/Big 12 merger say the new, 16-team super conference could push for two BCS bids with the Big 12 dissolving and losing theirs.
In that case, you could have a BCS bid for the Western Division winner among USC, UCLA, Cal, Stanford, Oregon, Oregon State, Washington and Washington State.
As well as a BCS bid for the Eastern Division winner among Texas, Texas A&M, Texas Tech, Oklahoma, Oklahoma State, Colorado, Arizona and Arizona State.
That will be met with resistance from the other BCS conferences as they try to expand and could lead to the formula of each division winner in one of the newly formed super conferences receiving a bid into an 8-team playoff.
There will need to be some representation of the non-BCS schools or legal wrangling and government hearings will overwhelm the process.
But as Orangebloods.com laid out over the weekend, there are athletic directors involved in this whole process who see this coming.
Stay tuned.