Another UT offer goes out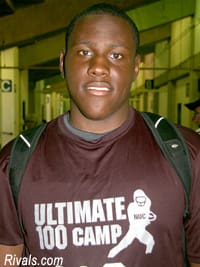 Waco High standout
Andrew Billings
has saw his stock soar over the spring, with offers pouring in from programs all over the country. In the first week of summer, Billings is still a hot commodity, and this week he added yet another big offer to his resume.
The 6-1, 308-pound Billings camped at Texas on Sunday, working at both center and defensive tackle, and his performance was strong enough that the Longhorn coaches extended a scholarship offer after the camp.
"They (Billings and the UT coaches) met before and after the camp. Once they found him, saw what he did in the drills, they offered him," said Waco High head coach Marty Herbst.
"He can move. He really moves quick for a kid that weight 308 pounds. He did a few one-on-one drills and there's nobody that can push him around. He's a state power lifting champion, so there's not one single person that's going to push him around. Once they saw that at the camp, they knew what they had."
Along with Texas, Billings is holding offers from the likes of Arizona State, Baylor, Colorado, Minnesota, Missouri, Northwestern, Rice, SMU, TCU and Texas Tech, among others. According to coach Herbst, the Texas offer is as an interior offensive lineman, and it's a combination of Billings' strength, athleticism and effort that is making him such a hot commodity. .
"I'm pretty sure they offered him as a center or guard. It's just what the coaches see when they come to practice that stand out. He gives that extra effort that not every other player will give," Herbst said. "He's diving to make the play, he's doing plays in shorts and still leaving his feet to make plays. That's the competitiveness he has. It's really, really rare. If he was 6-7, he'd be a kid that could skip college and go to league."
At 6-1 and 308 pounds, Billings' height has been the one area that has been questioned, but he makes up for it with a long wingspan and a tenacity that most opponents cannot match.
"He has a really long arm span, longer than most guys that are 6-1," Herbst said. "That's why I don't think 6-1 is going to hurt him in Division I football. His arms are longer than most kids his height."
Billings was at one point looking to take the recruiting process down to the wire, but he's lately been th inking of making a decision sometime this summer. At this point, he has yet to narrow down his list to a group of favorites.
"He's a little overwhelmed, which can happen when you have about 50 schools calling you from Arizona to Carolina to Minnesota, plus all the schools in Texas," Herbst said. "There are quite a few on him that have been for quite some time. I do not think you can miss with this guy."