Arch Manning backs up 5-star status with epic performance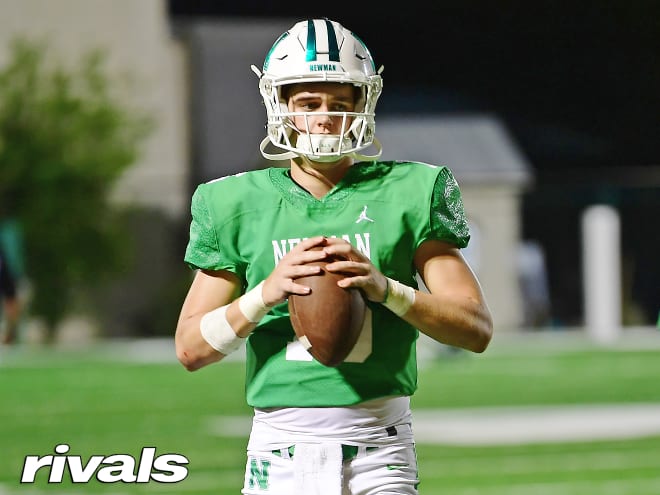 Very few, if any, high school athletes are under the microscope that Arch Manning is. On Friday night in New Orleans, the Texas commit blocked out all of the noise and delivered an epic performance under the lights.
Down 32-14 at the half, Isidore Newman needed points in a hurry. Manning answered the call in a big way.
The five-star quarterback ran in a touchdown on Newman's opening drive of the second half. That touchdown trimmed the Benton lead to 32-21 and gave the Greenies some life after a rough first two quarters.
"That was a really well coached team -- a big program from Shreveport. The message at halftime was to not panic, we knew we could win this game," Manning told Orangebloods shortly after the clock ran out. "We came out in the second half and did just that. And it was awesome."
Benton would go on to quickly score and extend its lead. However, Manning started to get hot. And once he got hot, nobody on the other side had any kind of way to slow him down.
Manning put his talent on full display in an incredible third quarter performance. The future Longhorns signal caller delivered accurate passes to all over the field, extended plays with his legs, and took complete control of the football game en route to a come-from-behind victory.
The five-star passer threw for 317 yards and four scores, in addition to the touchdown rush he had early in the third quarter. Manning's first touchdown throw came in the opening quarter on a throw to fellow Texas commit Will Randle.
His final touchdown toss of the game gave Newman 54 points on the scoreboard, which ultimately proved to be just enough in the thrilling 18-point comeback in The Big Easy.
"I'm so proud of how we battled. That felt like a really long game, and we battled on both sides of the ball. It's a great feeling," Manning said.
Manning more than backed up his No. 1 overall ranking and lived up to the hype in 2A Isidore Newman's victory over 5A Benton. He showcased why the likes of Texas, Alabama, and Georgia were in hot pursuit during his recruitment.
Arch Manning committed to Texas in June, an announcement that took social media and the sports world by storm. The decision to commit to the Longhorns came on the heels of his official visit in Austin.
He explained that he has full trust in Steve Sarkisian and believes that the Longhorns are on the verge of doing something great.
"I want to go start something new and be a part of something special. I can't wait to get there," Manning said.