Athletic playmaker Mookie Cooper comes away impressed after Texas visit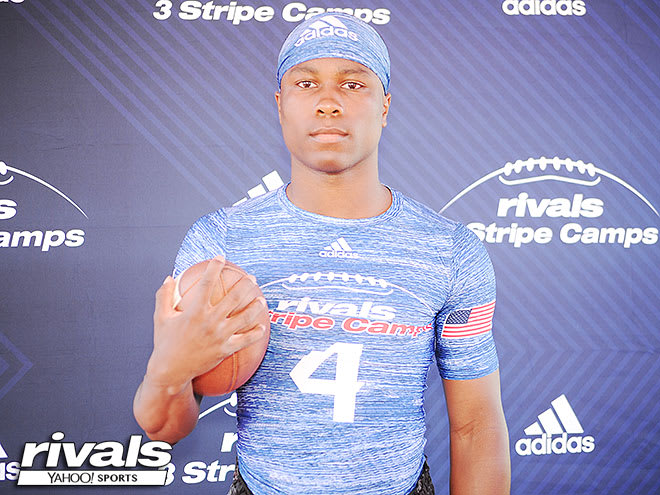 Teriyon "Mookie" Cooper was one of several top prospects to make his way to the Texas campus over the weekend, and the 2020 playmaker from St. Louis said it was a good experience overall, highlighted by the people he met and the time spent with the UT coaches.

"I liked it. The first day, we got down there, went out to eat, took some photos. Coach (Bryan) Carrington showed me around, so I got to see how Texas was. I went down to Lake Travis, got to go out on the boat with (Texas QB commitment) Hudson Card," Cooper said. "Then the pool party was a good time. I got to bond and interact with the players, just get a personal experience for what Texas is like. Got to talk with coach (Tom) Herman, coach (Stan) Drayton, see how they'd use me in their program. Overall it was a good visit, I learned a lot, had a lot of fun with the recruits and the players."
Carrington, Texas' Director of Recruiting, has been in contact with Cooper for a while and the two have struck up a strong relationship. Cooper said Carrington's presence is a big reason he wanted to get to Austin.
"He's a really cool dude. He's younger so we can kind of relate a little bit, I can be a little more open with him than anyone else," Cooper said. "We just have a connection. He's a coach, but more like a friend. You can talk to him about anything. He's like a big brother."
After the weekend visit To Austin, Cooper said Texas is very much under consideration. He doesn't have a formal list of favorites, but said schools like Texas, Alabama, Michigan, Illinois, Georgia and Ole Miss are being strongly considered.

"They're up there near the top," Cooper said of Texas. "I'm not going to say the top, but they're up there."
Cooper recently visited Alabama and is scheduled to visit Michigan on July 28. He may hit Notre Dame later this week.
As for Texas, the UT coaches talked to Cooper about how they would utilize him and told him they would find different ways to get the ball into his hands.
"They have a position called the H-back. It's like a running back, but I would also be moved to the slot to run quick routes, some jets, some reverses, also go to the backfield, run some stretch plays," Cooper said.
At 5-10 and 182 pounds, Cooper is an explosive weapon who is a threat to score from anywhere on the field. The plan Texas laid out would fit his skill set well, he said.
"I think I'm one of those guys, some might overlook me for my size, but I can get in space, make big plays," Cooper said. "Most times I'm lined up over a linebacker or something, I feel like I can make plays, have great vision. My speed helps. I'm still trying to get stronger too, start dipping my shoulder a little more."
Cooper said he may return to Austin for another visit in the fall with his mother, and he's considering making an early commitment.
"I'm thinking of committing on my birthday in January," Cooper said. "That's when I'm thinking of committing. For now that's the plan anyway."
Cooper is rated as a four-star prospect and is a member of the Rivals100 for 2020.