Bear Alexander is willing to listen to UT, but flipping him won't be easy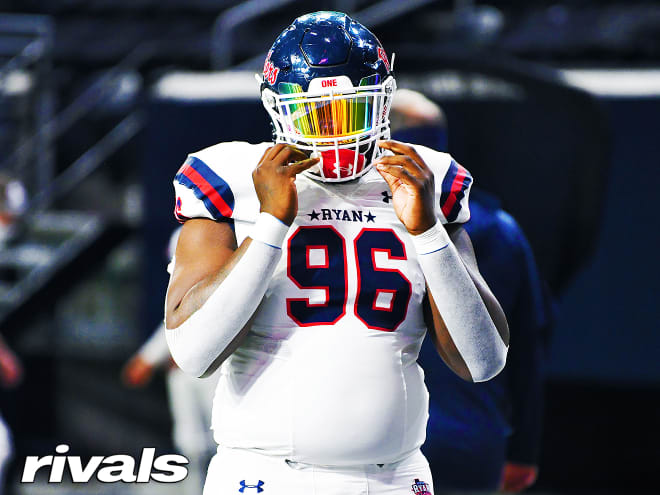 Bear Alexander committed to Georgia back in early February, but when you're one of the country's top prospects, that's not going to prevent schools from continuing to recruit you. For Alexander, the 5-star defensive tackle out of Denton Ryan, things have actually quieted down a bit since he went to the lengths of changing his phone number, but he knows he can't hold off the recruiting questions forever.
"A lot of schools have backed off and gone quiet. I'm sure coming up, they'll hop back on it," Alexander said.
The 6-4, 310-pound Alexander is the nation's No. 2-ranked defensive tackle. He chose Georgia over a list of offers from programs like Alabama, Florida, LSU, Michigan, Ohio State, Oklahoma, Texas, Texas A&M and Southern Cal, to name a few. At this point, Alexander said he remains locked in with his Georgia commitment but he said he's not completely cutting off contact from other schools who want to stay in touch with him or his family.
"I'm willing to listen. You never know where guys are going to wind up so you kind of want to keep that relationship and keep building," Alexander said. "So I'm very open, but I've changed my number so a lot of my recruiting, my dad handles."
The early timing of Alexander's commitment was a bit of a surprise. He actually committed on February 3, the same day many of the class of 2021 members were signing their letters of intent. He said he felt comfortable with what he knows of Georgia after having seen the campus early in his high school career.
"It just made sense. I camped there back in 2019. Kirby (Smart) is a defensive-minded guy," Alexander said. "Just knowing that he loves his defensive tackles and he produced a lot of them at Alabama it just made sense, checked off a lot of boxes."
At some point, Alexander knows his recruitment will probably heat up with college coaches doing everything they can to catch his attention. For the time being, he said he's taking a step back from the daily Zoom calls and just trying to stay focused on finishing up the high school stage of his football career.
One school that will almost certainly continue to try to chip away is the in-state Texas Longhorns.
"I liked coach (Oscar) Giles a lot. Also coach (Tom) Herman. That was one of the places I was looking into," Alexander said. "I do talk to (new D-line coach) Bo Davis and coach Sark. Those are great guys and I feel like they're going to change that place around. But unfortunately they came in kind of last minute so it makes it kind of hard when you haven't known those guys for quite a while."
Alexander is the No. 4-ranked prospect in the entire nation.