Big 12 sources say Arkansas has put out feelers about a move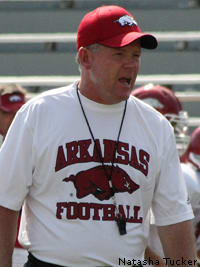 Just when it looked like realignment in college athletics might be winding down, multiple sources in the Big 12 told Orangebloods.com Arkansas has put out feelers about a possible move to the Big 12 to reconnect with former Southwest Conference rivals like Texas and Texas A&M.
Those sources said Arkansas currently doesn't have the votes among the Big 12 schools to join the league. But those sources said they would need to see how the television money would work if adding a school or two to know if they'd vote for expansion.
Tom Keegan of the Lawrence Journal-World reported Thursday, according to sources close to Cowboys owner and Arkansas alum Jerry Jones, that Jones wants Arkansas and Notre Dame in the Big 12.
The Big 12 title game is under contract to be played at Cowboys Stadium for the next four years. But after the departure of Nebraska and Colorado, the Big 12 will no longer qualify for a title game after the 2010 season. Under NCAA rules, a league must have 12 schools to qualify for a championship game.
So it would make sense that Jones would want two more teams in the Big 12 so the league would be able to play its title game in Cowboys Stadium for years to come. Jones also helped win a national title at Arkansas in 1964 along with teammate Jimmy Johnson and then-Hogs assistant coach Barry Switzer.
But sources close to Jones said Thursday he has nothing to do with Arkansas' decision making and could't be further from anything having to do with college realignment.
"He's got too much else to do," the source close to Jones said.
SOURCES: ARKANSAS EYEING BIG 12
Orangebloods.com contacted three exeuctive sources in the Big 12 on Thursday and was told by one executive that Arkansas joinining the Big 12 was "a long shot."
Another said, "Arkansas has definitely put feelers out about joining the Big 12."
A third executive said, "If anybody can make the math (money) work, it's Jerry Jones."
That executive went on to lay out the only scenario he thought it might work for the Big 12: if the money can be adjusted by the Big 12 TV partners - ABC/ESPN and Fox Sports Net - to accommodate Arkansas (possibly with the help of Jerry Jones), then adding Arkansas could make sense, the source said.
That source went on to say if Arkansas joined the Big 12 and realignment started back up with the SEC having to replace a school and possibly looking to get to 14 or even 16, Notre Dame could be back in play.
Several sources, including a source close to the discussions that took place between Notre Dame and the Big Ten over the past month, indicated Notre Dame would remain independent unless it appeared super conferences were forming.
And now that the Big Ten is at 12 schools already, Notre Dame might be more interested in joining the Big 12, where it might be the 12th school added to the league (along with Arkansas).
Notre Dame could also explore having its own TV network inside the Big 12, whereas that would not be an option in the Big Ten, which has a conference network that requires everyone to share their inventory.
A source close to Texas said athletic director DeLoss Dodds and Notre Dame athletic director Jack Swarbrick have "a very close" relationship. The source said Dodds has helped serve as a mentor to Swarbrick since Swarbrick took over as Notre Dame's AD in June of 2008.
ARKANSAS DENIES LOOKING AROUND
Arkansas athletic director Jeff Long issued a statement Wednesday denying any reports that the Razorbacks are looking around.
"In recent weeks and months there has been much national dialogue regarding conference affiliation in intercollegiate athletics," Long said.
"In the course of that dialogue some have suggested that the University of Arkansas was an institution that may be pursued by other conferences.
"From the beginning, we have been very clear that the University of Arkansas is a proud member of the Southeastern Conference and has no interest in joining another conference.
"Chancellor Gearhart has been unwavering in his support of our institution's continued membership in the SEC. Recent events have not in any way altered our commitment or desire to remain a member of what we believe is the strongest conference in the nation."
BIG 12 STAYING AT 10?
Big 12 commissioner Dan Beebe said Tuesday in a teleconference his league is not looking to expand.
But two of the Big 12 executives Orangebloods.com spoke to on Thursday said they fear there will be a push by some, especially in Texas, to add at least two more schools from within the state.
"There will be a push by state schools like the University of Houston, especially among lawmakers and at the regent level, to get into the Big 12," the source said.
According to the Houston Chronicle, that push is already under way.
The Chronicle reported more than two dozen Houston-area legislators put in writing their support Thursday for the University of Houston to gain admission to the Big 12 Conference.
Texas representatives Garnet Coleman (D-Houston) and Bill Callegari (R-Katy) co-authored a letter asking Big 12 officials to consider UH for a spot in the 10-team conference, the newspaper reported.
The letter will be sent to the Big 12 school presidents and the league office on Thursday. The delegation also sent copies of the letter championing the cause of UH's admission into a Bowl Championship Series conference to Gov. Rick Perry, Lt. Gov. David Dewhurst and House Speaker Joe Straus, the Chronicle said.
Beebe has repeatedly said if the Big 12 was to expand it would be outside the current geographical footprint of the conference.
Arkansas and South Bend, Ind., are certainly outside the current geographical footprint of the new, 10-member Big 12.
Stay tuned.