Breakdown: NY Times article full of bull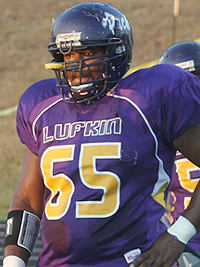 Where does one even start?
Since the Longhorn football program was rocked on Christmas Day by the report from a New York Times article about the recruitment of Lufkin defensive tackle
Jamarkus McFarland
, the impact has left shockwaves that have reached every level of the Longhorn Nation.
Not only do I believe the story to be an incomplete and terribly one-sided account of the recruitment, but I believe there was a lack of journalistic integrity throughout, with very little attention paid to specific details, despite the obvious serious nature of some of the wild accusations.
In this 10-part breakdown, I'll go through each passage that warrants close inspection, while offering my own insight into what actually occurred and asking some much-needed questions. (Questions that apparently slipped past the author during the writing and editing process.)
First, let's start with some background information.
JaMarkus is a good kid that comes from an at-risk family situation and his mother/grandmother deserve a lot of credit for raising a young man that has obviously overcome a lot to become such a well-rounded individual. As the son of a young, single mom, I get just how hard those women had to work to get him into this position.
It's also painfully obvious that both women have a bias against Texas that has built in the last few months and it's amazing to think the Longhorns were able to be in McFarland's final two schools.
After all, we are talking about a school that in the words of the McFarlands featured an arrogant head coach that wouldn't take their calls and had the audacity to brag about his wealth in front of them. On top of that, the fan base is full of drunk, drugged-up sex maniacs that offered numerous bribes to secure the commitment of their son.
It's amazing to think how close Texas might have come to landing him if only Mack Brown had any class or if the fans hadn't apparently offered up free Grey Goose, cocaine and loans.
Of course, I'm just guessing that the drugs of choice included cocaine because there were actually no specific details in the article about this alleged situation, despite the ugly, horrible picture it painted of Texas fans. (Note: Also, in case you didn't notice, the last three paragraphs were dripping in sarcasm.)
Here we go:
Part I
"McFarland's mother, Kashemeyia Adams, said she received numerous offers, including one for an interest-free loan for a former classmate, if her son were to choose Texas. She said she did not believe the offers were affiliated with the Texas football staff."
You guys remember the movie He Got Game? Well, this allegation came straight from the movie.
Here's the deal and we need to get this out on the table - either these are flat out lies or these are NCAA violations. There's very little wiggle room. If the mom is going to make these kinds of public accusations, she needs to provide names and details. Nothing less than that is acceptable.
The University of Texas and Mack Brown are not only committed to running straight-line programs, but they are proud of their commitment to doing things the right way. If something happened, it needs to be reported and the facts need to be exposed.
What can absolutely not happen is for McFarland's mom to open up Pandora's Box and think she can walk away without an explanation. Also, even though the article suggests that the coaches had zero involvement in these "offers," she must know that it doesn't make it any less illegal.
It's an NCAA violation and had she asked the Oklahoma coaches, they could have told her that. More than any school in the nation, Oklahoma knows NCAA rules violations, especially the kind that include rogue boosters?
Suggesting that this occurred in such a public fashion without explicit details borders on being slanderous to the school in my opinion, although I don't know who could take action because she could have been talking about the Boogie Man as easily as anything else, given the lack of facts given in the article.
Part II
"Along the way, McFarland was wined and dined. He visited the house of the president of Oklahoma, where he was promised a spot in the prestigious President's Leadership Class. He rode in a Hummer stretch limousine in Los Angeles. He attended parties, including one in Dallas, where he said there was free alcohol, drugs and young women taking off their clothes."
Adams initially favored Texas because of its prestige and because of what she perceived as its stronger academic offerings.
This little passage begins what appears to be a concerted effort by the writer to portray Oklahoma as well as possible, while making the other schools and coaches in McFarland's recruitment look bad. I don't know whether it has anything to do with the fact that the writer is apparently an Oklahoma native and focuses quite a bit of attention towards writing about the Sooner program, but it is noteworthy.
For instance, in what appears to be a description about how lavish and wild the recruitment had been:
a) Oklahoma is associated with his visit to home of the school president.
b) USC gets a hummer limo reference.
c) Texas is associated by "free alcohol, drugs and young women taking off their clothes"
This is a pattern that will pop up in this article quite a bit throughout and at no point are the details of any recruiting efforts (outside of OU) made by any of the schools towards the McFarland's academics needs reported.
If the Texas/LSU/USC coaching staffs did anything similar, we aren't made aware of it. For instance, Texas sets up player panels and visits with various deans/academic advisors for every prospect that visits the school on an official visit, but none of that is mentioned in this narrative.
Why is that?
Part III
Adams, meanwhile, received only occasional letters and e-mail messages from Texas coaches.
"Texas went to sleep in the summertime in recruiting J-Mac," she said. "When they went to sleep, Oklahoma woke up."
Wow, just wow.
Talk about revised history. First, it's important to note that based on our sources, the Longhorns wrote/emailed to the McFarland family just about every day for close to two years. Period.
It's also important to note that the Longhorns did back off a bit this summer, but only out of respect to McFarland and his family. They understood how overwhelming the process was and they tried to give his as much space as possible.
I can tell you that from our conversations with Jamarkus, he always told us that he appreciated the fact that the Texas staff gave him his space, while everyone else seemed to swarm him. In his opinion, that separated Texas from the pack a bit and he really respected the Texas staff for it.
Apparently, it makes for a convenient excuse six months later because his mom cited it as a prime reason for the Longhorns losing ground with them. The McFarland's also left out the part where Jamarkus nearly committed to the Longhorns in the first month of his senior season, but the Texas staff advised him to take a step back and take his time, assuring him that if he were injured, he would still have a full ride. No other school had ever made that commitment to him, at least not until McFarland was forced to ask each school recruiting him about the possibility of him getting hurt and whether he would still have an offer. When the Longhorns approached him with that security, no other school did, at least until they were asked to do so.
Part IV
But the best summation of his experience might have come from a paper he wrote for his English class comparing Oklahoma and Texas. The paper, "Red River Rivals Recruit," includes a description of a wild party hosted by Longhorns fans at an upscale hotel in Dallas after the Oklahoma-Texas game on Oct. 11.
"I will never forget the excitement amongst all participants," McFarland wrote. "Alcohol was all you can drink, money was not an option. Girls were acting wild by taking off their tops, and pulling down their pants. Girls were also romancing each other. Some guys loved every minute of the freakiness some girls demonstrated. I have never attended a party of this magnitude."
He continued: "The attitude of the people at the party was that everyone should drink or not come to the party. Drugs were prevalent with no price attached."
First, let's make sure everyone understands that if McFarland was at this party, there were zero Texas players, coaches or officials at the event. We know that because the entire team headed back to Austin as soon as the game was over on chartered buses.
Second, where was McFarland's mom on this night? Where was his supervision? If this event actually existed (you know, the scene out of the movie Bachelor Party) why was a 17-year old kid let out of proper supervision in the first place?
Although our sources couldn't recall with 100 percent certainty, it was believed that McFarland traveled to Dallas on that weekend with his mother.
Finally, I hate to ask this again, but where in the world are the details of this alleged salacious event? What hotel? Who hosted it? What kind of drugs?
This is VERY serious stuff that is being alleged and it paints The University of Texas in such a terrible light that there must be details because it's a huge piece of intentional or unintentional slander against the school otherwise.
Were there no other witnesses? Are we supposed to believe that this kid entered a scene from Eyes Wide Shut and nobody else can verify the story? For the author to report this story so cavalierly without any detail brings up some serious questions about the motives involved by all parties, in my opinion.
Part V
He compared that with a house party hosted by a sorority at Oklahoma.
"Drinks were plentiful, but not to the extent they were" at the Dallas party, he wrote.
"Some people were tipsy, but in control of themselves."
He described the atmosphere as pleasant and added: "Some people who attend the University of Oklahoma seem to represent different values than some people who attend the University of Texas."
In his paper, McFarland also sized up the strength and conditioning programs. At Texas, he noted, groups of players worked out with one coach in the weight room.
"In my opinion, this kind of coaching leaves many players without supervision and the proper training needed to excel in this sport," he wrote.
At Oklahoma, McFarland wrote, players had serious one-on-one training with a coach. He described the workouts as inspiring and intimidating.
Oklahoma also made an impression by stressing academics. McFarland and his mother joined Shipp and Oklahoma's head coach, Bob Stoops, at the home of the university's president, David Boren, a former governor and senator from the state. Boren offered McFarland a spot in the President's Leadership Class, a selective scholarship group for freshmen.
Again, the University of Oklahoma is portrayed by everyone involved (the family and author) as one thing, while the University of Texas is portrayed as something completely different?
They are questioning the values of the people at UT and calling into question their moral integrity. That's real stuff and it cuts right to the bone.
I'm at a loss how there was even a decision that needed to be made if these allegations are true. Why would his mom allow him to take an official visit if there was this much going against Texas? Are we really being asked to believe that McFarland's mother allowed her son to visit Austin after attending a drug-filled victory party in Dallas that he wrote about in his English class?
Also, as we pointed out earlier, there's a long explanation of the things that Oklahoma did to showcase their "academics," while there's no mention of any efforts that Texas might have made?
Why?
Part VI
"Whose house do you like better, Bob Stoops's, Les Miles's or mine?" Adams recalled Brown saying.
I don't have any problem with saying that I consider this a flat out fabrication. I have known Texas head coach Mack Brown for 10 years and I'm not even sure that he likes me, but I can tell you one thing – that is so outside of his character that I cannot believe it to be true.
Seriously, can anyone imagine Mack Brown saying something like this? We're talking about a guy that says the right thing at the right time, all the time, and we're supposed to believe in this moment of privacy he bragged about the size of his house in front of a woman who doesn't have the same financial advantages?
Honestly, the assertion that Brown made that comment is one of the silliest claims made in an article that's full of them.
Part VII
Adams presented her son with a list of pros and cons for Louisiana State, Oklahoma and Texas. One of her dislikes about Louisiana State was that a maid would clean her son's dorm room weekly. She also emphasized that the recent recruiting efforts by Texas had happened through Lufkin High Coach John Outlaw. She believed Outlaw wanted her son to attend Texas.
"John Outlaw is not your parent," Adams said. "When you leave Lufkin High School, what is he going to do for you? If there's a problem with you, I will have to take care of it."
The article does not explain why the Texas coaches would feel the need to go through the high school coach or why that's actually a very customary practice, especially at an East Texas 5A school like Lufkin.
It also does not include any quotes from Outlaw in the entire article? Why? As a matter of fact, why are there only two people quoted in the entire story?
Stop and think about this for a moment. The University of Texas is being accused of a lot of things and there are no comments from a coaching legend like Outlaw in the entire article. In fact, if you believe any of the allegations, as well as the point where she believed that Outlaw wanted her kid at Texas, then you'd have to believe that he was knee-deep in some of the muck being thrown around by Texas.
It's also terribly ironic to point out that Mack Brown hasn't signed a single prospect from Lufkin in the last 10 years, but in this instance, the mother believes that the coach was steering her son to Satan's Alley.
Perhaps he simply wanted to let the kid do what he wanted to do. Of course, we know there's often very little room for that in some households.
Again, we'll never know because there are not any comments from Outlaw or any explanation by the author as to why the omissions exist.
That's great reporting, let me tell you.
Part VIII
Will Muschamp, the team's defensive coordinator and designated head coach-in-waiting, called until Adams finally talked to him at her son's request. He tried to patch things up about the earlier phone call in which she was told she could not talk to Brown. He also explained that Texas had probably sent more letters and e-mail messages to her than to any other recruit's parent.
"He was acting like he was doing me a favor," Adams said. "You're recruiting my son. I feel sorry for them if they're saying they haven't had that much interaction with any other recruit's family. I feel sorry for those families. I really do."
Texas made another visit to McFarland's school, but again, they did not see Adams.
After the visit, Adams received an e-mail message from Brown. "It is obvious that the recruiting has put a strain on your relationship," the message said. "JaMac wants Texas, and Mom wants OU. We want you to still come to Texas, but we are going to slow our process down because you two need some time to get on the same page. We do not want players at Texas if everyone isn't on the same page."
In the same message, Brown wrote that Texas would not visit again unless requested.
McFarland's mother and grandmother were offended.
"That's tacky to me," Adams said. "You're basically telling my kid to just go against his parents."
We're back to the insults aimed at the Texas coaches, with absolutely zero attention to the detail that might have led them to take their actions.
For instance, there's no mention that the mom did not invite the Texas staff into her home for an official visit, while offering to host the Sooners staff with glee.
Let me repeat this – McFarland's mother reportedly would not invite the Texas coaches into her home. A visit with Jamarkus and the Lufkin coaches could take place at the school, but not in her home.
I have to tell you that in the decade-plus that I've been in this business, I've never heard of this happening. I have never heard of any coach being insulted in such a manner, especially not the Texas staff.
Insulting? Yes, VERY. We're talking about a staff that had spent more than two years building this relationship that included visits to Austin, Lufkin and Mack's very own home. Yet, they were not invited to the McFarland house according to multiple sources.
That is when the Longhorns decided to notify the McFarland's that they were going to take a step back from the recruitment because it was obvious that there were real problems in their relationship and they didn't want to add any further duress to anyone, especially Jamarkus.
Yet the women of the McFarland family were offended?
Does anyone actually believe this?
Also, there's nothing in the story that explains why exactly McFarland's mom was having a hard time reaching Brown. Sources have told Orangebloods that she had Brown's personal cell phone number in her possession for quite some time and that she spoke with Brown quite a bit over the last two years, so much so that Brown took a large leadership role in the overall courtship process of McFarland.
Yet, when the stuff started to hit the fan, we're supposed to believe that a man that has built a legend out of the detail he puts towards recruiting made it impossible for McFarland's mother to reach him.
Did he change his cell phone number and refuse to give out the new number? Did she forget that they had Brown's cell number and email address?
Are we supposed to believe the worst about a man of Brown's integrity because of these shaky assertions?
Part IX
Two days later, another Internet report surfaced, this time suggesting that McFarland and his mother had been offered extra inducements by universities and had then reported the transgressions to Texas. The report also said Texas responded by backing away from its recruitment of McFarland to document its own handling of the process.
The posting angered Adams, who said she suspected that Texas coaches were behind it.
She flatly denied the report.
"This isn't about J-Mac anymore," Adams said. "It's about O.U. versus Texas. It shouldn't be that way."
I have to admit that this is my favorite part of the article because it seems to include reports from sites like Orangebloods.com in the commentary (the blog was written by a fan and actually posted on another Longhorn site), but as is this case with the rest of the article, there are zero specifics.
The article essentially accuses the Texas staff of some sort of nuclear sabotage act, aimed at smearing the good name of the McFarland family.
I'm not really sure what McFarland's mother believes, but I personally enjoy a version that has Mack Brown calling a secret poster on secret sites (maybe OB!) and going through a five-point plan to dismantle McFarland and the Oklahoma program.
It's so funny to think to imagine this because as someone that has owned the largest web-based Longhorn community website for the last eight years, I can tell you that Mack Brown would probably let me have his home (complete with the plasma TV's in the bathroom) before he'd associate and conspire with anyone affiliated with this site or any other like it.
This is more Boogie Man stuff and if you believe it, you probably still wet your pants.
Part X
Allegations from the report upset her because she said she had received numerous offers of gifts in exchange for her son to attend Texas. She said she did not believe that Brown or anyone officially with Texas was involved or had any knowledge of the enticements.
"It's been made known that enough income would flow through where I would be good for a while," Adams said.
Earlier this month, a former classmate called Adams and asked if she would coax her son into attending Texas. If so, a banker had promised the former classmate any type of loan.
I repeat, "Numerous offers of gifts."
I'm going to say this one final time and I hope McFarland's mom, the author of the story and the editorial board of the New York Times reads this …
These are allegations of serious NCAA rules violations. You cannot make claims like this and think that people are not going to ask for details of exactly what is being alleged.
Overall, I think by now everyone can see what has happened here. This is fairy tale stuff, complete with magic pixie dust. No details. No facts. No witnesses. No comments from anyone else.
Just a pile of garbage and it stinks to high heaven.
Here's the deal I will make with all of the parties involved. As the owner of Orangebloods.com and host of ESPN 1530-AM's "The Drive," I offer an entire hour to the author of the article and all members of the McFarland family to come on my show in January (any day and time slot of their choosing) and explain this story in much greater detail than the Times story cared to tell.
They can come on and tell their story, all of it, but they should know that I'll be asking questions that were raised in this article and everyone will be listening. There better be answers.
For instance, I'm going to want to know where McFarland's mother and whatever chaperone that accompanied Jamarkus to Dallas on the weekend of the Texas/Oklahoma game were when these allegations of this party scene occurred. I'm going to ask where it happened, how it was that he got there, who was with him and what exactly did he see.
I want to ask the author why he used no other sources and chose to include serious NCAA violations in the story without what appears to be a real investigation into the allegations made. I'll ask him why the story was so obviously one-sided and I'm going to ask if he had an agenda.
So, there it is. Those are my thoughts on the butcher job that was done to the Texas Longhorns by the article. Its impact could be significant in that every school that recruits against the Longhorns will be able to print out this article as proof of the school being some sort of outlaw program, one without institutional control.
It's a nightmare for the Texas staff and the coaches will be left trying to tell their side of the story for years. It's a dream come true for OU, as it comes off blooming like a rose throughout and it gets a recruiting flyer to use against its arch-rival in the process.
Convenient, huh?
Frankly, this is the first chapter of this story in my mind and it cannot go away. Either McFarland's family needs to give some details or a full apology needs to be made, complete with specifics about which parts of this article were stretched or completely made up.
It's going to be interesting to see how Mack Brown and The University of Texas handle this situation because I believe if this is an institution of principles, they cannot let this situation go without comment.
Brown and every high-ranking school official should have all of their lawyers preparing a plan of action that allows them to respond to these allegations in full, without compromising any NCAA rules.
Back in the late 1990s, former Kansas head basketball coach Roy Williams publicly thrashed Kansas City prep star JaRon Rush after comments that the recruit had made about the Kansas staff to some local media outlets. Without mentioning any specific name, Williams later responded to a question from a reporter by letting it be known that the Jayhawks would not be recruiting any players from the Kansas City area that season. He then added that the team didn't need any potential team cancers that would disrupt the program.
No names were mentioned and none were needed. The remarks landed like a Buster Douglas punch to Mike Tyson's kidneys and they were felt in that city in a big way. Some locals were furious at his blast towards a high school player, but the Jayhawk faithful loved him for protecting the Kansas brand.
At some point Mack and Co. will need to respond.
Perhaps all he needs is someone to ask the right question.