Close friends, future Longhorns Hamm and Febres ready to compete at UT
Future Longhorns, and close friends, Jase Febres and Royce Hamm wrapped up their high school careers by participating in the Showcase Houston all-star game last week in Sugar Land. Like most showcases or all-star games, little defense was played and pretty much every player thought he was an isolation player on offense. It was relaxed, and fun.

But the senior duo knows basketball is about get much, much more difficult when it arrives in Austin May 28th.

"He tells me all the time it's not going to be easy," said Hamm about his future head coach Shaka Smart. "He asks me how do you want to be coached? And I said I want to be coached hard. Bring the best out of me and all of us. That's the only way we're going to reach high standards."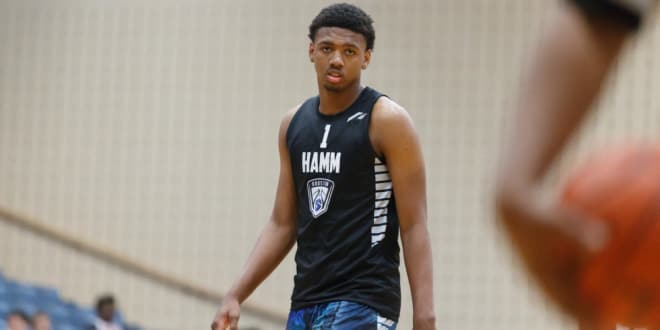 In order for Texas to reach high standards, both Febres and Hamm will need to fill a role the moment they step on campus, and will need to develop over the years into high-level players.

Hamm, who said he's about 6-8.5 now, did it all at Aldine Davis. In one district game during his senior season, he posted a triple-double. Basketball is producing more and more big guys that can step outside and shoot it, and while the perimeter shot is still a work in progress for Hamm, the nation's No. 117 prospect can already shoot it well enough to stretch a defense.

"He's a rugged, tough, physical forward; very athletic; good skill, and good rebounder," said Smart about Hamm.

But the way Hamm will make an impact early at Texas is by doing all the little things – playing hard and tough; rebounding; running the floor; defending multiple positions, including the taller, skilled fours that have given Texas so many problems.

"That's the big part with me being able to stretch a defense out with me being so big I can play inside-out. But coach stresses to me play with a high motor, be confident, be a team player," said Hamm about his future role and ability to shoot. "Always be positive on and off the court."

He continued about what will allow him to get on the floor and make an impact immediately at Texas.

"For me, my focus, being bought into what coach wants me to do, never questioning what coach asks me to do. He always tells me play with the highest motor and be the hardest worker on the court," said Hamm. "I'm going to bring energy and motor and play my game."

KEEP UP WITH SHAKA SMART'S RECRUITING STOPS THIS WEEK BY GOING INSIDE THE 40 ACRES

As he gets deeper into his collegiate career, Hamm's skill level and work-ethic should allow him to turn into a pick-and-pop four with the ability to handle the basketball some on the wing.

"Going to Texas I'm going to be more of a stretch-four, three kind of a guy. Working on my ballhandling, getting my ballhandling tighter. Becoming a better four and also a wing too," the four-star prospect stated about what he's working on and what he can be at Texas. "Being able to play all over and be positionless."
As for Hamm's close friend and future teammate at Texas next season, Febres should have no issues providing an immediate, and desperately-needed presence as a shooter the moment he arrives. A product of Westfield (Spring), Febres was such an impressive three-point shooter during the summer and his high school season that he's been labeled by some as just a shooter.

"I still hear that because that's my best quality," responded Febres when asked if he's still been labeled as just a shooter. "But I'm moving towards being an all-around player."

He's growing too. Rated No. 66 overall in the 2017 Rivals150, Febres said he's up to 6-6, and looked noticeably taller in person than when Orangebloods.com last saw him in the summer. And his game is also growing as well, which includes being able to put the ball on the floor from the wing to attack, defending multiple positions, and displaying a high hoops IQ.

"Jase Febres is a 6-5 shooting guard. Very, very good shooter; very good athlete. Also has a terrific mind," said Smart last week about his incoming guard.

As Febres' confidence level grows, so will his game. There's no doubt that his best basketball is ahead of him.

"Just ballhandling; being able to go of pick-and-rolls and just getting my confidence level up," said the four-star guard about what he's working on. "When I play with a high confidence level, I feel like I'm someone that's hard to stop."

Hamm and Febres are part of a four-man recruiting class currently that believes it can help Texas take a big step forward next season, and make it hard to stop.

"He told us, always stay positive. Never be negative. You want to be positive to your team, your coaching staff, and on the court, you want to be positive because you never know when that switch can turn," Hamm said about Smart's message to him during a tough season for the Longhorns.

All four Texas signees are a part of a group text, and have been building relationships through texting. Well, three of the four do most of the texting.

"I don't think he has any social media. Maybe Snapchat," said Hamm with a big laugh about Texas signee Jericho Sims, who is more on the quiet side and stays away from social media. "He texts from time to time, but really it's me, Matt, Jase that do all the talking. We've been building a relationship because you know that's key; that's big going into college."

Can Texas' freshman class, ranked No. 6 currently by Rivals.com and expected to grow with three open scholarships remaining, provide a presence that gets the switch to turn?

"Bringing us in, I think we can come in and compete with the older guys and help them too because we're not coming in scared," said Febres. "We have a high confidence level, especially as a recruiting class."

"I feel like we're going to shock a lot of people next year," said Hamm.