Coaches, players talk AM loss, future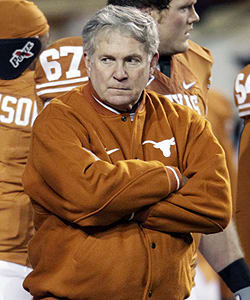 1. Mack Brown said he will begin the process Monday of evaluating players and coaches and deciding what needs to be done going forward to bounce back from a 5-7 season - UT's first losing season since 1997.
"I have a lot of work to do here," said Mack, who hasn't experienced a losing season as a head coach since going 1-10 at North Carolina in 1989.
It doesn't appear Mack will go to a bowl game as a head coach for the first time since 1991, when his North Carolina team failed to qualify as a 7-4 team. This year, there's been talk a 5-7 team could qualify for a bowl because there are now 35 bowl games.
That means 70 of the 120 teams in Division I-A need to hit the 6-win mark to qualify for a bowl game, and right now there are 64 teams with at least 6 wins. So this weekend's action will be very interesting to see if six more teams become bowl eligible.
If not, we could have 5-7 teams playing in the postseason. More on that in a minute.
"There's no timeframe on it, not a timetable," Mack said of his evaluation of players and staff. "I thought we'd be going to a bowl, so I thought it would wait until after the bowl game. Now, it obviously looks like we're not. I'll get started on it Monday."
2. Mack has said he thinks the problems of this season are correctable and that this was a one-year issue and not a crack in the foundation of the program. With that in mind, I asked him if he felt he needed a shakeup to his coaching staff or if the current staff should be allowed to fix things.
"What I will do is take my time and evaluate the coaches and the staff and each player and everything that we're doing," Mack said. "At that time, I'll be able to make the conscious decision on what's best for the program."
Mack said members of the staff will be out watching recruits as early as Friday.
"They'll go recruiting - some of them tomorrow," Mack said. "I don't know when I'll get to meet with them because recruiting is a priority right now. I'll meet with each one of them. I'll meet with each staff member.
"I'll probably go meet with all the players. I don't know if I'll be able to do that individually until the first of the year.
"Then, whatever decisions will be made I'll make them. I'm very lucky that (athletic director) DeLoss Dodds and university president Bill Powers trust me to do the things that I need to do to fix things."
3. Texas can't allow the emotional hangover from this season to drag into the off-season.
"What you can do is head two ways with a negative year - you can lay down and feel sorry for yourself or you can go back to work and learn from it and make everything better. Hopefully, that's what will happen. We'll tighten everything up."
Mack tried to sum up his emotions about the season.
"I thought we'd come out of the national championship game okay," he said. "It seemed like there was a hangover. I said from the first scrimmage of the year that I didn't see what I wanted. And at Rice, I walked out of there mad.
"There were some things that were flawed. That's what I've got to figure out - what we missed. That's the coaches' job. That's my job.
"Why didn't they play with emotion early? Why didn't we play better? Why didn't we score points like we had? Why did we give up too many big plays on defense?
"Why was our kicking game inconsistent when we had really good players, and I thought it would be the best we'd ever had? Those are the things that are puzzling and will be on my shoulders to look at."
On what he learned from the season, Mack said, "I learned I don't like losing. It's been 20 years since I haven't been to a bowl."
4. If Texas was somehow selected as a 5-7 team to play in a bowl game, Mack said he would take a vote among the players to see if they were interested in accepting such a bid.
"I think it's something that none of us have ever even heard of or thought of," Mack said. "I think it would be up to DeLoss (Dodds) and Bill Powers. If it did arise and they called me next week and said, 'If you want to go, we can.'
"I think that what I would do is ask the players to vote. I wouldn't want to go and have them not want to go."
LB Keenan Robinson said he'd like to play in a bowl game.
"We'd be happy to play again. I'm not ready for this season to end," Robinson said. "I'd like to play in one more game with these seniors. It would give us one more game to finish things right, like we should at Texas."
Those thoughts were shared by S Blake Gideon and LB Emmanuel Acho.
"If nothing else than for the seniors," Gideon said. "So they can have an opportunity to end on a higher note than what we laid out on film tonight."
5. When players were asked about possible shakeups on the coaching staff because of a 5-7 season, they took the blame.
"I don't want that to happen," said junior center David Snow. "I mean you're talking about the same staff that took us to the national championship game last year. They are all great coaches. They are all very intelligent in football aspects. So I don't want to see any of them let go."
When Blake Gideon took a stab at what happened in this 5-7 season, he said it comes down to the players.
"In a lot of cases it can be narrowed down to making plays," Gideon said. "You can prepare all you want. You can have a great off-season. You can nail calls. The coaches can be a great with their game plan, but it comes down to us making plays.
"We weren't able to finish plays a lot of times when our team needed it this year. That's something we have to improve on to give ourselves a chance next year."
Gideon didn't want to comment about the possibility of coaches losing their jobs on Mack Brown's staff.
"That's not my place," Gideon said. "I'm not in charge of personnel. Never have been. It's just my job to go out there and be the best I can be and lead in the best way I know how."
LB Emmanuel Acho said, "This coaching staff took us to the national championship game last year and helped win a national title in 2005. Essentially the same players did as well. I don't think there needs to be a shakeup. We just need to get our mentalities straight and continue to work."
6. The word everyone came up with to describe the season was "disappointing."
"None of us came here to experience this," Blake Gideon said. "We always hear we are going to have experiences like this happen in our lives, but no one wants them to come. It's just disappointing because we all had higher expectations and really embarrassing."
Mack Brown said, "Just disappointing. You can say a lot of words. It's not our standard at all. It was obvious tonight that our players are as good as theirs. I think it goes back on coaches. It's not talent. We had our chances to win the game People have said it's talent. It's not."
Said Garrett Gilbert, "At this point, it's tough to look back on the entire year. No one in that locker room wants to feel what we're feeling right now. It's about learning from our mistakes and moving forward."
7. Junior LB Keenan Robinson said he expects to be back at UT in 2011. Look for CB Aaron Williams to forego his senior season and bolt for the NFL, according to my sources in the league.
One NFL source of mine said he thought Robinson could go as high as the second or third round in the 2011 Draft. But Keenan said Thursday night, "I should be back," adding that he'll submit the paperwork for an NFL evaluation afforded to juniors.
Talked to an NFL scout in the press box Thursday who said DE Sam Acho is likely a third- or fourth-rounder; and that Chykie Brown is probably a fourth or fifth-rounder. The scout said Chykie Brown has no ball skills but has great speed. "The Oakland Raiders will probably draft Chykie in the fourth round," the scout said.
The scout said CB Curtis Brown is probably a third- or fourth-round pick in the draft. The scout wouldn't comment on Aaron Williams because Williams is a junior. But the scout said, "There's nothing on offense right now. Nothing."
8. I asked several players how a 5-7 season could happen at Texas.
"It comes down to players making plays on the field and being able to finish plays," Gideon said. "A few times this year, we really did get away from that. Certain guys, myself included, we were worrying about other people sometimes instead of doing our own job."
Gideon said he didn't feel like the team lost its confidence.
"I'm way too prideful and way to competitive to admit my confidence is gone," Gideon said. "I believe, once your confidence is gone, you have no chance. I'm way too prideful and way too competitive to admit the confidence is gone.
"So I wouldn't go as far as to say we lost confidence. We kept fighting and looking for ways to win games.
9. CB Carrington Byndom forced his first career fumble on a kickoff return and also blocked a punt that ultimately gave the offense the ball at the A&M 9-yard line.
But not even Byndom's big plays could swing around momentum.
"I was just trying to create a little momentum whenever I got the chance," Byndom said.
When Texas took over at the Aggies' 9 down 24-14, it looked like a no brainer the Longhorns would get in the end zone and cut A&M's lead to 3 point. They didn't even hesitate, instead kicking a 24-9 decision.
10. The run defense was atrocious against Texas A&M. Cyrus Gray ran 27 times for 223 yards and two touchdowns (84 and 48 yards).
The Longhorns have given up big plays in just about every game this season.
"The first one we overran the play," Muschamp said. "We got to cut out of the backside in the middle of our defense. That happened too many time this year. We didn't leverage it right, coming out of the top end.
"The ball cut back and we overpursued it with two guys who run block in the point.
"The second touchdown was a draw, and we were in the three down look. We felt good about our run defense and took the bait on the draw set by the offensive line," Muschamp said. "We felt good about the run box, and we took the bait on the draw set by the offensive line. Ran up the field and opened a huge hole."
Asked if it was frustrating to still be experiencing the same mistakes by players being made in Week 1, Muschamp said, "What's frustrating is losing. That certainly contributed to it."
Greg Davis was asked about what he was most disappointed by this season.
"Obviously, we didn't score. The most important thing for an offense to do has nothing to do with rushing or passing or anything else. It is to score points.
"We fell far below what we have become accustomed to in scoring points. That is the most disappointing thing is we did not score enough points offensively."
Davis said he thinks the problems with this year's team are temporary and not long-lasting.
"The thing that Coach Brown has done for 13 years is try to build a program, not a team," Davis said. "I think our program has a solid foundation. This was obviously a disappointing season, and some of these things are correctable. They are things we will begin immediately trying to get corrected as we head into the offseason."