Colorado expected to join Pac-10 in 2011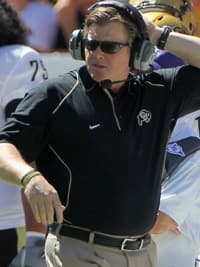 The 10 remaining Big 12 schools just completed voting on four football schedules for 2011 based on a 10-team league and four schedules based on an 11-team league.
The results are in and will be announced next week when Big 12 administrators gather in Dallas on Tuesday and Wednesday, Sept. 28 and 29.
But it's looking more and more like it will be a 10-team league in 2011 because Colorado will move on to the Pac-10 after this school year, several sources said.
"There is too much consensus to get Colorado on its way to the Pac-10," an administrator at a Big 12 school told Orangebloods.com. "That's what Colorado and the Pac-10 want. That's what the Big 12 wants."
At issue is the money. Colorado doesn't think it can remain financially viable if it has to pay the one-year notifcation departure fee, which is an 80 percent forfeiture of revenues over a two-year period. But sources said the Big 12 is working on a payment schedule for Colorado to pay those fees over time to the Big 12.
"Unless something unforseen happens, I think the Big 12 will be a 10-team league next season," another official in the Big 12 said.
If talks break down over the finances and Colorado stays in the Big 12 for the 2011-12 school year, the Big 12 would have a nine-game conference football schedule in which each school would not play one of the other members of the league.
Each school was given four schedules to vote on depending if the league was 11 members or 10 members for 2011.
The plan is to do away with divisions because there will be no conference championship game. Under NCAA rules, leagues with less than 12 schools are not allowed to have a league title game.
The combined money Colorado and Nebraska are expected to pay for leaving the Big 12 is in the range of $35 million to $40 million, sources have said.
The Big 12 has stopped disbersing revenues to the two schools as a way of recouping those departure fees. But because the departure fees cover a two-year period, the Big 12 has already paid Colorado and Nebraska revenues for the 2009-10 school year that will need to be paid back to the Big 12. That figure is estimated to be a total of $15 million to $20 million.
Nebraska has indicated it will not pay any money back, alleging the Big 12 was not damaged by the Cornhuskers' departure and, in fact, benefited financially.
One administrator in the Big 12 with knowledge of the situation, said the haggling over money with Colorado and Nebraska will not affect the guarantee made to Texas A&M to begin receiving $20 million in revenues from the Big 12 beginning in 2012-13.
"The guarantee was made to Texas A&M without severance fees from Colorado and Nebraska factored in," the source said.
Big 12 commissioner Dan Beebe, who declined comment on Colorado possibly departing the Big 12 after this school year, has said he thinks schools like Texas, Texas A&M, and Oklahoma will all be at $20 million in revenue beginning in 2012-13 with the rest of the conference at close to $17 million. Beebe bases those figures on the projected increase the Big 12 will receive for its cable television package, which is up for bid starting in April.
That package is expected to be a "bridge length" of four years to synch up with the league's ABC/ESPN deal, which runs through 2016.
With the SEC, ACC and Big East all inked to deals with networks beyond 2016, the Big 12 stands to cash in when its TV deals come up for bid in 2015.
"We will be the only conference inventory for the TV companies to bid on for the next several years," an official at a Big 12 school told Orangebloods.com. "The SEC is under contract until 2022. The ACC and Big East have long-term deals. The Big Ten and Pac-10 will have their long-term conference network deals. That leaves the Big 12 as the only inventory to bid on for quite some time, which should be a good position to be in."
Sources continue to say realignment only heats up again if the Big Ten or Pac-10 decide to add schools. The networks who have contracts with leagues like the SEC, ACC and Big East have told those conferences if they add schools, the contracts will not be redone, sources said.
In other words, if those leagues want to add schools, they'll simply have to divide the money more ways, which dilutes the current schools' payouts.
Texas athletic director DeLoss Dodds told Orangebloods.com he'd like to see Notre Dame's sports - other than football - move from the Big East to the Big 12 if the Irish were ever unsatisfied with their current situation. Dodds has said Notre Dame could maintain its independence in football.
Sources say that continues to be "a longshot."
But Notre Dame having the Big 12 as an option to move its other sports would have to be factored by the Big Ten before possibly raiding the Big East, hoping to force Notre Dame to jump into the Big Ten.
Multiple key sources said they think realignment will die down for at least the next six to seven years with the only forces capable of stirring it up again being the Big Ten or Pac-10 going to 16 schools.