Colton Vasek discusses recent UT visit, Texas offer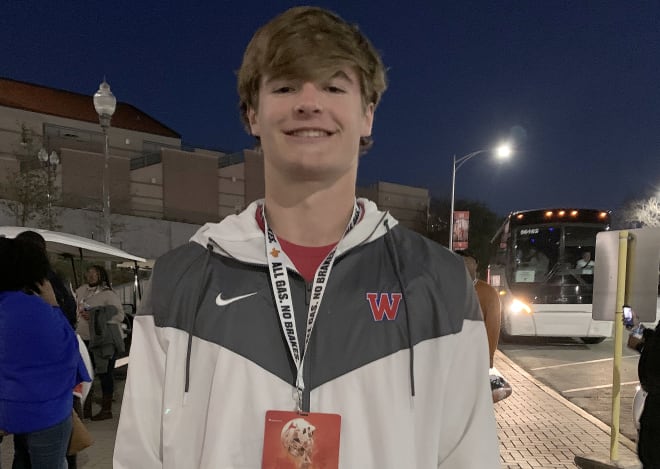 The name Colton Vasek has been very popular on recruiting message boards the past couple months, especially those focusing on the Texas Longhorns.
Vasek, a standout defensive end for the Austin Westlake, plays a stone's throw away from the University of Texas campus. His stock blew up over the course of his junior season in 2021, culminated by a dominant performance in Westlake's state championship victory. Vasek's father Brian, who coaches at Westlake, was a four-year letterwinner for the Longhorns back in the 90s. Vasek's Westlake teammate and bookend defensive end Ethan Burke signed with Texas in December.
Add it all up, and Vasek has increasingly been on the radar of Texas' fans who have been interested in his recruitment. On Saturday, Vasek was on the UT campus for the Longhorns' junior day, where he picked up an offer from the Texas staff. According to Vasek, a four-star prospect in the 2023 class, everything about the visit went well.
"It was great meeting all the coaches, seeing all the facilities and everything around, everything UT has to offer," Vasek said. "It was great to see it.
"It was my first time seeing all the facilities, first time seeing all the south end zone stuff. It was really nice to see."
Up next, Vasek will be in Lubbock this weekend to get a look at Texas Tech. The 6-6, 230-pounder now has offers from close to 20 schools, with programs like Baylor, Cal, Ole Miss, Oklahoma, Oklahoma State, SMU, TCU, Texas A&M, Texas Tech, USC, Utah and Washington among those in pursuit. Texas joined the mix over the weekend and the UT coaches told Vasek there's a lot to like about his game.
"They like the way I play with my hands, they think I have a burst and think I can set the edge very well," Vasek said. "(Texas) will definitely be a school of top interest."
Though it's still very early in the process, Vasek acknowledges that the Longhorns are a program that has really captured his attention. He plans to be thorough in his evaluations of all the programs that recruit him, and doesn't have a timeline for a final decision.
"They're at the top. OU's at the top as well. There are a lot. I'm soaking it all in, absorbing everything," Vasek said. "I'm open to all schools, going to think about every school I've got.
"I'm not really sure yet (on a timeline). We'll see later down the road, but whenever I feel it's time, I will (decide)."
As a junior last year, Vasek recorded 56 tackles and 10 sacks. He was named Defensive MVP of Westlake's state title game after recording 3 sacks in that contest. Despite the on-field success in 2021, Vasek feels there's plenty of room for improvement.
"I can improve on everything – playing with my hands better, playing faster, better get-off, better pass-rush moves. There are a lot of things, everything in my game," he said.