D-Day appears imminent for 10-member Big 12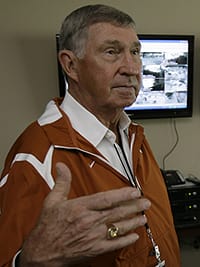 August 22 appears to be D-Day for the 10-member Big 12 as we know it.
Three sources close to the situation said Texas A&M's regents board will meet on August 22 to deliberate and likely vote on an application to join the Southeastern Conference as early as 2012.
Texas A&M System spokesman Jason Cook denied reports that A&M has already agreed to join the SEC.
"There's no agreement in principle, nothing," Cook told Orangebloods.com.
Two sources said the SEC presidents are being gathered Saturday in an emergency meeting to address the possible addition of Texas A&M.
The question is if anything can slow the apparent momentum. Sources across the Big 12 said lawmakers were being contacted in hopes of reaching Texas A&M officials to fully consider preserving all the history and tradition between Texas A&M and the Texas schools in the Big 12.
On Friday, the House Higher Education Committee in the Texas Legislature scheduled a meeting for Aug. 16 to take up the issue. Last year, legislative hearings were called right before the Big 12 - on the verge of breakup last June - came back together.
Sources say the Aggies' nine-member regents board is leaning toward leaving the Big 12 and are being fueled by a lack of confidence in the current configuration of the league - i.e. the relationship between Texas and ESPN (the Longhorn Network) and how it could negatively impact the rest of the members.
There's growing concern in the Big 12 that A&M is already well down the road toward joining the SEC.
According to multiple sources close to the situation, Aggies' president Bowen Loftin met with SEC officials prior to an Aug. 1 meeting among Big 12 athletic directors in Dallas to discuss how to co-exist with Texas and its Longhorn Network (LHN).
Loftin apparently aired A&M's grievances against LHN to SEC officials during the meeting. Cook said he wasn't aware of any such meeting.
"I think this is pretty far along," one administrator at a Big 12 school said of A&M's courtship with the SEC.
One of A&M's concerns - LHN airing high school games - was eliminated on Thursday when the NCAA ruled no high school games would be allowed to be shown on school or conference networks.
But it didn't appear the NCAA's ruling would have much bearing on A&M's momentum toward the SEC, sources said.
The SEC has been eerily quiet about all the speculation surrounding Texas A&M. But sources said SEC commissioner Mike Slive and Texas A&M president Bowen Loftin have formed a relationship since Slive visited College Station last June during the Big 12 Missile Crisis.
Loftin was impressed by Slive when it appeared half the Big 12 was headed to the Pac-10, and Slive made a pitch to Texas A&M to head east - not west.
The two have spoken intermittently since then, sources said. Bowen's most recent visit with Slive apparently happened on SEC turf two weeks ago, according to sources.

Click
Here
to view this Link.Upon learning of Loftin's alleged meeting with SEC officials before huddling with Big 12 ADs on Aug. 1, one official at a Big 12 school questioned the Aggies and their Code of Honor, which states, "An Aggie does not lie, cheat or steal, or tolerate those who do."
The source said Texas A&M made a 10-year pledge to hold the Big 12 Conference together when ABC/ESPN vowed a year ago to keep paying the Big 12 as if it was still a 12-member league with a championship game. The source also questioned if A&M might be liable for breach of contract after signing a 13-year, $1.17 billion TV contract with Fox Sports for the Big 12's second-tier rights to football in April.
An A&M source told Orangebloods.com the Aggies are having their lawyers look at everything, including the exit fees A&M would have to pay to leave the Big 12.
Under the current bylaws, Texas A&M would be required to relinquish 80 percent of revenues over a two-year period if the Aggies left with only a year's notice.
Nebraska and Colorado were able to pay substantially less than that by settling with the Big 12.
Sources said Thursday the SEC would be interested in adding Oklahoma and Oklahoma State and Virginia Tech in addition to Texas A&M to form a 16-team super conference. Florida State has also been mentioned as a possible target of the SEC, according to Big 12 sources.
Two officials at separate Big 12 schools said Oklahoma and Oklahoma State would stay in the Big 12 as long as the other schools were willing to stay together. A third official in the Big 12 said the remaining nine schools were "solid."
Texas athletic director DeLoss Dodds said Wednesday it would be Texas' goal to hold the Big 12 together. But if there wasn't sentiment for that he said Texas and a school like Notre Dame should look at starting their own conference. Dodds has said he is against Texas going independent.
A high-ranking official at a Big 12 school said the Pac-12 could re-enter the picture if Texas A&M leaves for the SEC. The official said Pac-12 commissioner Larry Scott has indicated he would love to set up regional networks in Oklahoma and Texas Tech to accommodate Oklahoma and Oklahoma State as well as Texas and Texas Tech.
Scott said in an e-mail Thursday night he's "fully focused on developing the Pac-12" and would have no further comment.
Such a plan by Scott would require a complete re-working of the 20-year, $300 million Longhorn Network contract between Texas and ESPN, which is obviously a massive undertaking that would require Texas to give a little in terms of revenue sharing.
Stay tuned.