DKR Memorial: A humble giant celebrated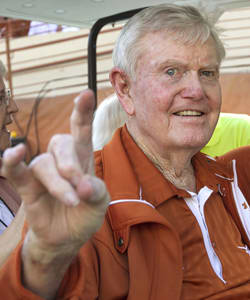 12 pm - At the Erwin Center, thousands have gathered to remember and celebrate the life of Darrell K Royal.
Among those in the audience are
Mack Brown, Ben Crenshaw, Willie Nelson, Frank Broyles, Barry Switzer, Oklahoma athletic director Joe Castiglione, R.C. Slocum, Texas A&M Heisman Trophy winner John David Crow, Tommy Nobis
and numerous other former Royal players.
Bill Little, UT football historian and special assistant to Mack Brown, is serving as master of ceremonies and says Darrell Royal knew this day was coming because of his failing health from Alzheimer's disease and quotes Mitch Albom's "Tuesdays With Morrie" - a book about one of Albom's former professors who knows he's dying.
Little speaks of how "Darrell Royal was about relationships" and recalls one of Royal's great quotes: "What I gave, I have. What I kept, I lost."
Little said DKR "parlayed his love of football, golf and country music to make a difference in thousands of lives. But most of all, he made history in our hearts. And it is in that space where memories and dreams do live forever and where character and integrity define not only the heart but the soul."
12:10 pm - After an opening prayer, the vocal group The Kyle Sisters, a group DKR wanted to perform the song "The Old Rugged Cross" at his memorial, takes the stage.
12:15 pm - Texas president Bill Powers pays tribute to DKR by saying, "Darrell Royal was that rarest of creatures - an Oklahoma Sooner who brought unprecedented glory and national attention to the University of Texas."
Powers reads letters from well-wishers about what DKR meant to them and then closes by saying, "The Tower will glow orange again for you tonight, and the eyes of Texas will always be upon you."
12:20 pm - Former Longhorn Marvin Bendele, a member of Royal's teams in the 1960s, takes the stage.
He tells a story about an annual lettermen's gathering that was always attended by DKR and wife, Edith. Bendele said he asked DKR once why Edith always came to the event when the only attendees "were old football players." He said DKR responded, "There's no place Edith would rather be. She loves you guys."
Bendele then said, "Edith, we love you and thank you for sharing your husband with us."
Bendele shares thoughts from other former Royal players, including Earl Campbell, who said he would always be indebted to Coach Royal for promising Earl and his mother that Campbell would get his degree and "become the best athlete he could be."
Campbell said Royal always kept his word, taught him how to play golf and taught him how to be a man. Earl said Royal "saved his life" and that the Royals "were like a mom and dad" to him.
When former Royal players Don Talbert and Ed Padgett were freshmen in 1957 - Royal's first year - they were in the locker room when they bumped into a young-looking, 32-year-old DKR and asked him, "What position are you playing on the depth chart?"
DKR responded: "They have me down as the new head coach, and I hope I can make this team."
Former Royal player Corby Robertson said, "Coach could pack more meaning in fewer words than anyone I've ever known."
Former Royal player Pat Culpepper was on a recruiting trip the first time he heard DKR say, "It's how you treat the people who can't help you that counts."
12:25 pm - The Kyle Sisters perform the hymn "Amazing Grace," one of DKR's favorite hymns.
12:30 pm - Two-time Masters champion, former Texas golfer and close friend of DKR, Ben Crenshaw, takes the stage.
Crenshaw recalls going to the Texas-Baylor game in 1963 and Duke Carlisle's game-changing interception.
"We kept winning games around here. It almost got to be so common-place we knew we were going to win, but it was Coach Royal and his staff that embodied in their players what they wanted to achieve on the field," Crenshaw said. "When they took the field, they always looked rested, ready and proud to play. A force to be reckoned with."
Crenshaw credits the winning culture at Texas instilled by DKR for possibly helping him and Tom Kite to win national championships in golf in 1971 and 1972. Then shared some golf stories with DKR.
"He played so many rounds of golf in so many places, it's a story in itself, Edith, that you let him play that much golf," Crenshaw said.
The Ben, Willie and Darrell golf outing was started to help East Austin Youth Charities.
"We had a great time and hopefully helped a lot of people," Crenshaw said.
Harvey Penick counseled DKR about his golf swing and tried to get DKR to change his draw to a fade. Royal responded, "You gotta dance with the one who brung ya."
Crenshaw says his first football was given to him by Dana Bible. Crenshaw quoted sports writer Grantland Rice's story "Past Glories," which talks about how those who have achieved past glory "can't expect to collect for the winner you used to be."
Crenshaw suggests DKR never expected to collect for the winner he used to be, because it wasn't in his humble nature.
"Coach Royal retired on his own terms and never looked back," Crenshaw said. "He was happy about what he achieved. And with Edith, you made a fabulous, fabulous team. You allowed him to do all those things. I loved Coach Royal and everything he stood for. May he live in our hearts forever."
12:42 pm - Mack Brown takes the stage and says DKR "would probably think we were all a little over the top, getting dressed up in coats and ties. He would not like that. He would have preferred blue jeans and tennis shoes. He also wouldn't like that our staff is here when we've got TCU coming up. He'd say, 'How dumb is that? That you're not working, boy?"
Mack says Edith Royal asked him to talk about "lessons learned from Coach, and that would take years."
"The most amazing thing I loved about Coach is that he took complicated things and made them seem simple," Mack said.
"I would be worrying about things and he'd say, 'No, you're in the wrong place. Let's do this.' And a lot of his quips. I asked him a couple months ago how he was doing, and he said, 'I'm catchin' 'em faster than I can string 'em.'"
Mack tells the story of how he asked Darrell Royal, Chuck Neinas and former Michigan AD Don Canham were each paid $1,200 as consultants to come and evaluate his program when he became the coach at Tulane.
"The others said, 'It's going to be good. Keep your head down and work,'" Mack said. "And Coach Royal told me, 'Boy, get out of here as fast as you can.' The others said, 'You can't say that. He's paying you $1,200 as a consultant to help him.'
"And Coach Royal said, 'I damn sure can say it. I like the boy. Here's the $1,200 back. Now, go get to a school with 'The' in front of it as fast as you can. You don't need to be at an independent school.' I left the next year."
Then Mack talks about meeting in Atlanta with the University of Texas search committee, which included DKR, before Mack and Sally Brown decided to come to UT from North Carolina.
"I asked him what it would take to be successful at Texas, and he said, 'Well, we kind of dropped a box full of beebies, and it would be your job to get all the beebies back in the box,'" Mack said. "He said, 'If you can get those beebies back in the box, it's a real powerful place.' And that made a lot of sense to me.
"The beebies got scattered a couple years ago, and I'm trying to get them back in the box again. So all of a sudden I said, 'What else Coach?' And he said, 'You've got to reach out to your lettermen, because they're the ones that built the place, and don't you ever forget that. And reach out to your high school coaches, because they're the ones who send you all the great players. Reach out to the faculty and the media. Oh, and one other thing. You gotta win all the damn games.'
"And he said, 'Not in that order.'"
Mack says DKR was the one who suggested Mack wear a T ring, created by Royal and given to athletes at Texas who graduate, even though Mack said, "I'm not from around here, and I don't think I should wear it.' Coach responded, 'I'm not from around here, either, but you need to wear it.' I put it on and have worn it every day since, and cherish it."
Mack says he was standing with Royal, Willie Nelson and George Strait once when a high school coach walked up to DKR and said, "How can I be like you?"
"Coach Royal told him, 'If you have it, you'll make it. If you don't have it, you won't make it. And if you don't know what it is, you have no chance to make it,'" Mack recalled DKR saying. "The young coach walked off, and Coach Royal looked at me and said, 'Hell, he ain't got it.'"
In 1999, Texas had three blocked punts in a loss to N.C. State and Mack said he figured he'd get a call from DKR.
"Finally it came, and he said, 'Hell, if you're that bad at punting, I'd have faked a couple of 'em.'"
Mack said he was scolded by DKR for once saying he thought his "team quit."
"Coach Royal said, 'Teams don't quit. Individuals quit. Don't ever say the team quit, because you've got some guys who played well and played hard, and you shouldn't have put them in that category,'" Mack said. "And that was so true."
Royal gave Mack media advice as well.
"After a win, you don't have to say anything, because it's all good. Just brag on the players,'" Mack recalled DKR saying. "After a loss, you can't say anything, because it's all bad, so blame yourself, because everyone else is going to anyway.' Which is true."
"Finally, he said, 'They can't quote, no comment. The less you say, the less you have to take back.' And that made so much sense to me as well."
DKR told Mack to pick out 5 or 6 people he really trusts to ask their opinion on what matters and to ignore the media and anything negative said or written about him.
"I said, 'Coach, what's the best part of being the coach at Texas?' And he said, 'You've got 25 million people who care about what you do, every day.' And I said, 'Coach, what's the worst thing about being the coach at Texas?' And he said, 'You've got 25 million people who care about what you do, every day.'"
Mack said he wanted DKR and Edith on the field with him after Texas beat USC in the national title game, but DKR wouldn't do it because it was Mack's time with his players. After the game, Mack said Edith Royal took a roll of medical tape and made the number "4" on the UT equipment truck where it had said "3" national championships.
"Edith said, 'Now, we have four national championships,'" Mack said. "Edith, we love ya. Coach, we love ya. We are going to miss you so much. Rest in peace, and thanks for all you've given all of us."
1:07 pm - Willie Nelson, one of DKR's closest friends for 50 years, performs "Healing Hands of Time," a song Willie performed in their home after Edith and DKR lost their daughter Marian in 1973.
Unbelievable performance from Willie. Tears streaming down everywhere.
1:20 pm - After a flag presentation to Edith Royal, the Texas marching band closes the ceremony with the Eyes of Texas.