Early UT offer, relationship with Sark has Matayo Uiagalelei's attention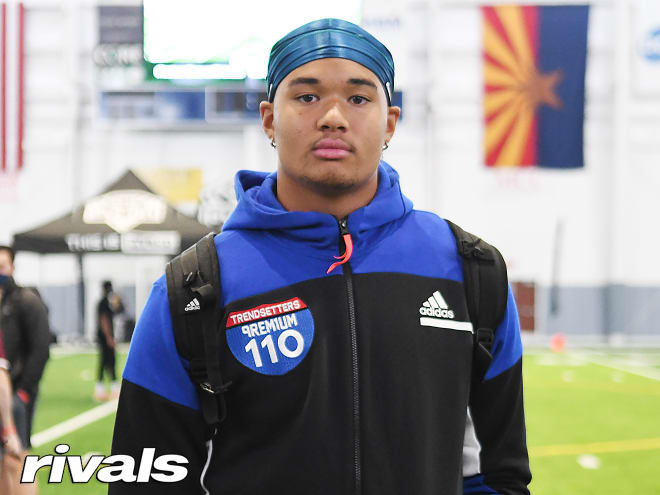 If the name Matayo Uiagalelei sounds vaguely familiar to you, you're probably recognizing his surname since he's the brother of current Clemson quarterback and former five-star prospect D.J. Uiagalelei.
Now, it's Matayo's time to blaze his own path as a talented defensive end/tight end in the 2023 recruiting class, and a number of college programs are already in hot pursuit. Among the schools that have offered a scholarship is the University of Texas.
"I'm just grateful and excited. I like coach Sarkisian, how he runs his offense," Uiagalelei said. "He uses tight ends a lot. So they'll be up there as one of my colleges."
The 6-5, 221-pound Uiagalelei is new to UT's radar, but he's actually known new Texas coach Sarkisian for a while due to his connections through his brother's recruitment.
"Since my freshman year," Uiagalelei said of his relationship with Sarkisian. "I think I met him with my brother, but when he offered me my freshman year, that was the first time I met him."
When Texas offered, it came from Sarkisian and Uiagalelei was told that Sark likes Uiagalelei's combination of size and athleticism. As for what Uiagalelei likes about Sarkisian, he said it's mostly Sarkisian's productivity.
"Just the way Sarkisian implements his offense and how he uses tight ends a lot," Uiagalelei said.
At this early stage of the process, Uiagalelei says no schools are standing out. Along with Texas, programs like Alabama, LSU, Miami, Michigan, Nebraska, Oregon, Texas A&M, Washington and USC have put early offers on the table. Uiagalelei, who can play on either side of the ball, said he's unsure if he'll wind up settling in as a defensive end or tight end, and he said he'll "try to play both as long as possible."
When it does come time to trim his recruiting list or eventually make a decision, Bellflower (CA) the St. John Bosco product said he'll lean on his brother's recruiting knowledge to help guide him through the process. So far, his brother has simply told him to make the best decision for himself. Uiagalelei said he knows of a couple elements that will be important as he works through the process.
"Player development. That's probably one of the biggest ones. That's probably the main one, and then just the relationship with the coaches," he said.
Expected to be a top prospect in the 2023 class, Uiagalelei said he brings a versatile skill set on either side of the ball that will help him be successful at the next level.
"Athleticism, versatility, IQ. On defense, I'd probably say my mindset is get the ball, get a turnover, stop them from scoring. On offense, if I'm running routes just catch the ball, get open, just out-physical the DB or out-physical them when I'm blocking," Uiagalelei said.