{{ timeAgo('2021-06-10 09:21:58 -0500') }}
football
Edit
Elite 2023 WR Braylon James talks UT offer, where the Longhorns now fit in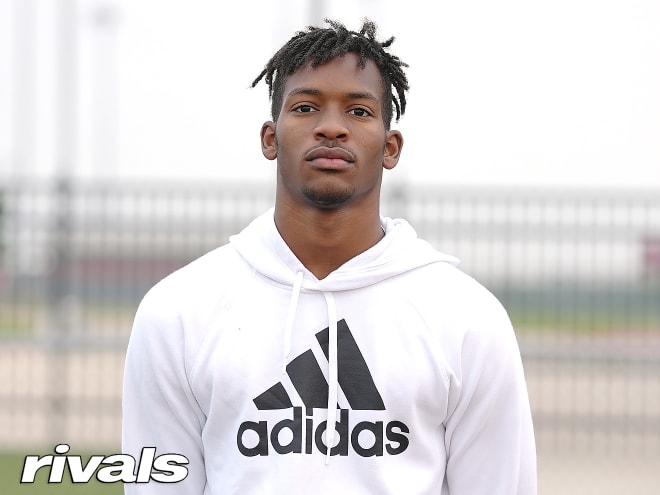 Del Valle wide receiver Braylon James is one of the hottest receivers in the 2023 class of late, with offers pouring in from top programs all over the country for the elite pass-catcher.
Last week, it was the in-state Texas Longhorns who jumped into the race with a scholarship offer, and Texas is one of the schools that has caught the attention of the 6-4, 185-pound James.
"I was really excited (to get the offer)," James said. "I was kind of worried that they wouldn't end up offering me but they ended up pulling the trigger on me and my guy Mikal (Harrison-Pilot). It just made me really happy that they stayed in the backyard on this recruiting run."
With Del Valle being a short drive from the UT campus, the Longhorns have an edge in proximity that other programs can't match. Playing close to home won't be a deciding factor for James, but he does say it's an element that he'll at the very least consider.
"Definitely the distance," James said when asked what stands out about the Longhorn program. "UT is 10 minutes away from my house and 20 from my grandparents. So that's definitely something to consider."
This week, James was on the West Coast, taking unofficial visits to Cal and Stanford. This upcoming weekend, he'll be on the Forty Acres for a closer look at what Texas has to offer.
"Unlike most schools, UT really has the best opportunity for me in terms of recruitment. I live literally right around the corner from the actual city and Del Valle is probably about 20 minutes away," James said. "I'm going to be there (this weekend) with Arch (Manning), Rueben Owens, Johntay Cook, and a ton of other guys, so that'll be pretty fun."
James currently doesn't have a list of favorites, but said there are a handful of schools that have caught his attention as he's been able to build relationships with several coaching staffs from around the country.
"Most of the colleges that recruited me earlier have gotten an opportunity to build relationships with me. I've really gotten a good feel for the coaches at Stanford, Cal, Miami, and Ohio State," James said. "As far as favorites, I wouldn't say that I have a ton of them."
And where does Texas fit in now that he has that Longhorn offer?
"Currently I don't have a list. I'm still just soaking it all in, but Texas will definitely have an impact on my board," James said. "I'll definitely consider them."