First domino falls - Cuffee to Texas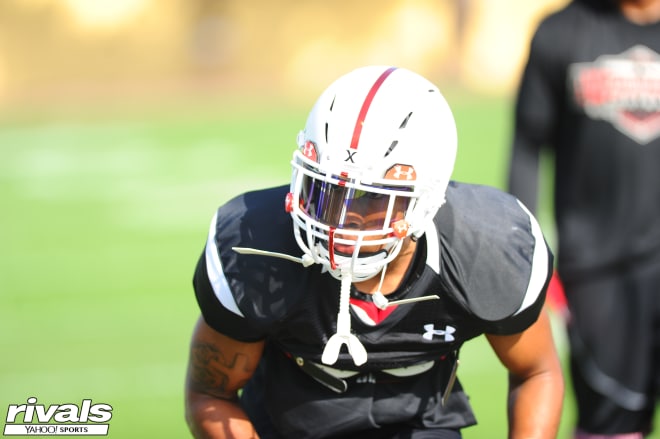 Heading into Thursday, the Texas Longhorns were sitting at 13 commitments for the 2016 class, a very small number with less than one week to go until National Signing Day.
That's not to say Texas fans are worried ...
Charlie Strong and the UT coaching staff have done a fantastic job of building some late momentum, and most observers are expecting the Longhorns to close with a bang.
The first domino to a strong close fell on Thursday evening, with Waco defensive back Eric Cuffee committing to Texas on national television.
Cuffee took official visits to Notre Dame, Texas and Arkansas. He had narrowed his focus to Texas and Texas A&M recently and was scheduled to take an official visit to A&M this weekend, but that visit is now off.
In Cuffee, Texas gets a big pledge at a need position. As of right now, he's the only defensive back in the Longhorns' 2016 recruiting class after former pledge Obi Eboh decommitted last week (Eboh committed to Stanford earlier today).
Cuffee is a unique prospect due to his size and athleticism, and he's a player who could help the Texas secondary at a number of different positions.
"He's a big physical guy, has a stout build for a defensive back. He's very technical," said Rivals.com regional recruiting analyst Jason Howell. "He has the athleticism to play corner or safety depending on what you want him to do."
Texas has young talent in its secondary, particularly at cornerback, but Cuffee is talented and versatile enough that he could see the field as early as next year in certain situations.
"I think he can lend some depth early on," Howell said. "He may not be a guy you're counting on to start but he can be a part of that rotation. He allows you some flexibility depending on the situation. He can be that nickel, can be that corner or safety."
Cuffee's decision to commit to Texas doesn't come as a huge surprise. He's been on the UT campus numerous times over the course of his recruitment and in recent weeks, all signs had been pointing towards the Longhorns.
Cuffee held more than 35 scholarship offers. A three-star prospect, he's ranked No. 52 on the Lone Star Recruiting Top 100.