Former LSU QB Brandon Harris ready to visit North Carolina and Texas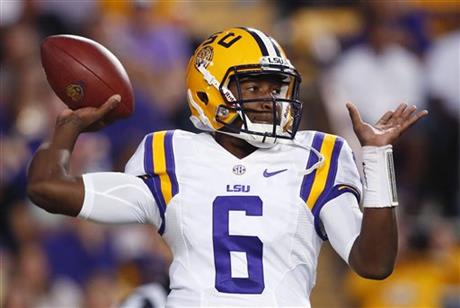 The courting of former LSU quarterback Brandon Harris is getting serious, and Texas has emerged into one of his preferred landing spots.
Harris is slated to visit North Carolina this weekend and will meet with Larry Fedora and his staff. In addition, Texas coach Tom Herman is trying to get Harris on campus for a visit next weekend in Austin.
"All of that fits around my dad's schedule," Harris told me during a phone interview. "Will it get done for next weekend? Probably so, but nothing has been set in stone yet. We'll look and check our schedule and then make a decision."
The other schools that have reached out to Harris have been Baylor, Arizona, Temple, UConn, UTSA, and a few SEC programs he declined to mention right now.
"I'm just trying to find the right fit," Harris said. "Obviously, I've got two places in mind where I want to go. You don't have to be a rocket scientist to figure it out."
You also do not have to be a rocket scientist to know Harris is looking to land in a spot where he can play this season as a grad transfer.
Texas currently has sophomore quarterback Shane Buechele, who started in 12 games last season, and true freshman Sam Ehlinger competing for a starting spot. Matthew Merrick and Josh Covey are expected to serve as backups, while Jerrod Heard is projected to be the team's emergency quarterback if Buechele and Ehlinger sustain injuries.
The Longhorns need depth at the quarterback position, but Harris does not believe Texas is recruiting him to hold a clipboard. Instead, he believes Herman is looking at him as a potential starter this season.
"I am not saying how coach Herman is thinking, because I don't know how he thinks, or how coach (Tim) Beck (offensive coordinator) thinks, but I don't see any situation where a guy brings a senior in for one year to sit on the bench," Harris said. "I'm not saying they are promising me anything. I haven't been promised anything. I'm just saying, rationally speaking, in most scenarios if you think you're solid at quarterback, and I don't know what they think. You probably know more than I do, but if they think they're solid at quarterback, they probably don't do that."
One reason why Harris, who is close friends with Heard, is considering Texas is because of his connection to Herman.
Harris was one of the nation's top dual-threat quarterbacks when he played at Parkway High School in Bossier City, Louisiana. He completed 178-of-329 passes for 3,172 yards with 34 touchdowns and 14 interceptions as a senior, while rushing for 1,048 yards and 15 touchdowns. Harris led Parkway to a 14-1 record and an appearance in the 2013 Class 5A state championship game.
When Herman was the offensive coordinator at Ohio State, he was the lead recruiter on Harris.
"That dude wowed me recruiting me," Harris said. "He was probably my first offer. He came down from Ohio to Bossier City, right outside of Shreveport, and offered me a scholarship. I took a visit to Ohio State, an unofficial visit. I loved it. I've always admired him and watched him from afar. Obviously, we lost connection because we can't communicate whenever he's the head coach at Houston. Tampering rules would probably apply.
"He recruited me out of high school. I've always liked him. His offense has always been creative. His track record with quarterbacks is off the charts. When I decided to get out of (LSU), they obviously reached out."
Harris had 15 starts at LSU. After one start as a freshman, he started in 12 games as a junior. Harris had two starts last season before losing his job to Danny Etling. Former coach Les Miles was fired two weeks later during that wild season at LSU. Harris finished with 2,756 yards, 20 TDs and 10 interceptions, plus 370 rushing yards and seven rushing touchdowns at LSU.
Now Harris, who trained in Westlake High School in Austin for a week last summer with quarterback coach George Whitfield, is looking for a fresh start.
"Realistically, it comes down to a couple of places," Harris said. "When you're making a decision at 21, it's different than when you're making a decision at 17 or 18-years-old coming out of high school. You probably know what you want. I'm not interested in taking five official visits and trying to be wined and dined. I kind of know what to expect. My thing is mostly getting into an offense that fits your skill set in comparison to what I played in since I've been in high school. Coming out of high school, obviously, I played in a spread system, but I was able to throw the ball. Here, it's been way more run-oriented. We handed the ball off. That's kind of what we did, and rely on our defense because they're good enough. Rely on them, limit mistakes and throw the ball efficiently.
"I could have stayed here at LSU. I think I could have won the battle. I wasn't concerned with beating out anybody here. It's my senior year, getting ready to graduate from college, you want to play in a system that's going [he paused] … Obviously, every quarterback's dream going into college is you want to play in the NFL. One, you want to get an opportunity and showcase what you can do. Two, play in an offense where your coach trusts you to run the offense, and getting the opportunity to showcase your skill set. That was one of my biggest things. You see it more like a business decision. I hate to use that word, but it's kind of a situation where you have to make a decision that's best for you."
Harris is majoring in sports psychology and may not hit a college campus until June. He needs to finish his internship hours to graduate from LSU, but said the heavy coursework is done.
He will miss spring practice, and many of the summer workouts with a new team. However, Harris believes he can quickly learn a new playbook and have an instant impact.
"I think so because I've mastered a pro-style system that goes into a game with probably 300 to 400 plays where it's like saying the encyclopedia backwards," Harris said. "Again, this is the difference between being 21 and coming into a situation and when you're 17 or 18 and trying to pick up a system. The majority of college systems are similar. It's just a different word we call a different situation. I don't see that being a problem at all. Russell Wilson did the same thing, and I'm not saying I'm as smart as Russell Wilson. Anthony Jennings, who was my backup at LSU, he transferred to ULL (Louisiana-Lafayette) and he did the same exact thing. He got out later than I did. He didn't show up until August.
"I think it's all beneficial. I don't see it being complicated. I know they (Texas) run a spread/pro-style system. They do a little bit of both. One of my good friends, Greg Ward (Houston quarterback), ran coach Herman's system. I don't think it will be difficult at all. Let's just say I want to go to Texas, and we get everything lined out. They could send me their playbook and I can begin to learn it. Like I said, I don't think it will be that difficult to learn it because I know what it's like to master a pro-style system."