Goestenkors accepts Texas job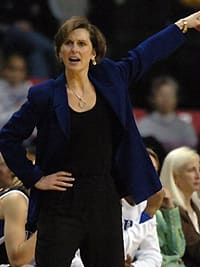 After about a week of speculation, reports on Monday indicated that Duke women's basketball coach Gail Goestenkors has made a decision, and she's heading to Texas.
Goestenkors, who has been the head coach at Duke for 15 seasons, was in Austin last week to interview, and she reportedly made her final decision on Tuesday afternoon. Duke is expected to hold a team meeting later today. Goestenkors replaces Hall of Fame coach Jody Conradt, who retired last month after 31 years at Texas.
The 44-year old Goestenkors has had an amazing run of success at Duke, leading the Blue Devils to four Final Fours and two national championship game appearances. Along the way, she won seven ACC coach of the year awards and logged a career record of 396-99 (.800 winning percentage). Her 2006-07 team finished with a 32-2 record and was country's top team before getting upset by Rutgers in the regional semifinals of the NCAA Tournament.
After Conradt's announcement, Goestenkors' name was mentioned almost immediately as a top candidate for the job. Texas' was expected to draw interest from just about any school in the country, largely due to the Longhorn program's history of excellence, the basketball facilities and the salary that Texas is able to afford. Conradt earned $550,000 per year, and Goestenkors is expected to make more than that. Duke does not have to report salaries because it is a private school, but the school did report its five highest paid coaches on its IRS forms, and Goestenkors did not make the cut. The lowest salary reported on the forms was reportedly $525,000.
After her stop in Austin last week, a group of fans in Durham held a rally trying to convince Goestenkors to stay at Duke, but the draws of coaching the Longhorns were too strong. Along with its reputation and ability to offer a high salary, Goestenkors will have a strong in-state recruiting base with which to work.
Goestenkors took over the Duke program after serving as an assistant coach for Purdue. It took her two years to build the program, and the last 13 years of her stay were extremely impressive. In those years, the Blue Devils have been to 13 straight NCAA Tournaments, including 10 Sweet 16 appearances in a row. Duke advanced to the Elite Eight seven times in the last 10 years. The Blue Devils advanced to the Final Four four times (1999, 2002, 2003, 2006) and the national championship twice, losing both times in 1999 and 2006.
Goestenkors resume is extremely impressive, but she'll have big shoes to fill at Texas. Despite the recent struggles, Jody Conradt built the Longhorns into one of the most successful women's programs in all of college basketball. She won her 900th career game just before retiring, and 99 percent of her players graduated. She also won a national title with Texas in 1986.