Horns pull Burt out of Florida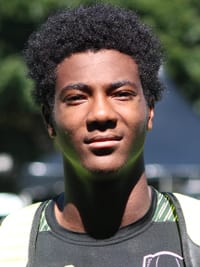 On Sunday afternoon, Burt backed up the talk by giving the Longhorns a commitment.
Burt, out of Tallahassee Lincoln, becomes the Longhorns' 13th commitment in the 2015 recruiting class. A four-star prospect and a member of the Rivals100, Burt is suddenly the highest-rated player in UT's class.
Texas' chances were also bolstered by the fact that Burt has multiple family members that live in Austin. The talented receiver has made multiple visits to the UT campus over the last year and is scheduled to again be in Austin on Monday. He'll stay all week and will meet with the Texas coaches on either Monday or Tuesday.
"I just felt like Texas was the best school," Burt said. "It was a little bit of everything, the comfort, it's like a home away from home. I can be independent, but I also have that family feel with coach Vaughn being from Tallahassee and I have family that lives there also."
Burt had recently narrowed his list to Texas, Auburn, Florida State and Miami, and he said he's known for a while that Texas was the place for him.
"The little things about Texas stood out more than any school," Burt said. "I knew about my decision two weeks ago."
When Orangebloods.com caught up with Burt at both the Rivals100 Five-Star Challenge and The Opening, he mentioned that he was getting close to a decision and said it wasn't out of the realm of possibility that he could commit to Texas during his visit at the end of July. It turns out, the Longhorns didn't have to wait quite that long.
"The facilities are really nice. The coaches, there's something about the coaches that kind of draws me towards them," Burt said, detailing what put Texas out in front. "Coach Vaughn, he's a really cool guy and I talk to him a lot."
Burt actually called the Texas coaches on Saturday and informed Strong and Vaughn of his decision. Understandably, the coaches were excited to hear the news.
"When (Strong) is not in the zone coaching, he's a really cool, laid back guy. He was excited, but he wasn't jumping all over the room or anything," Burt said. "That's not the kind of guy his is, but you could tell he was pretty excited."
An athletic playmaker on the outside, Burt is ranked as the nation's seventh-best wide receiver prospect. He's ranked No. 61 in the Rivals100. [rl]
"Burt is a big-play wide receiver who has ideal size to play on the outside," said Rivals.com regional recruiting analyst Woody Wommack. "High highlight tape is full of him going up and making tough catches, but he's also consistent on short and intermediate routes.
"He still needs to bulk up and add some more weight to his long frame, but for Texas to go into Florida and grab a guy of his status is a big move."
Burt is hopeful he can make an early mark on the Texas program, both on the field and in the locker room.
"Early on, my first two years, I can bring size and speed. I can bring some underclassmen leadership and once I build my way up, I bring overall team leadership to go with the with on-field stuff," Burt said.
With his commitment now out of the way, Burt can breath a little easier and focus on building his relationship with the UT coaches and what should be a successful senior season for him and his Lincoln teammates.
"It (the recruiting process) wasn't really bearing too much weight, but it was definitely heavy. Just bing able to finally move past it, it's a big relief," Burt said.