Horns seek revenge against talented Kansas State Wildcats team on the road
ESPN, 3PM Tip. 
Sponsorship.
Seth Fowler graduated from Texas in 1998. Since 2004, he has been helping home buyers and sellers in the DFW Metroplex. Whether new construction, existing homes, investment property, or land, he is your Real Estate Sherpa - guiding you through the process, making it an enjoyable experience. Based in Tarrant County, however, he will help connect you with a quality Realtor anywhere in Texas, the United States, or in the world. When looking to purchase or sell real estate in this new market, call Seth at 817.980.6636.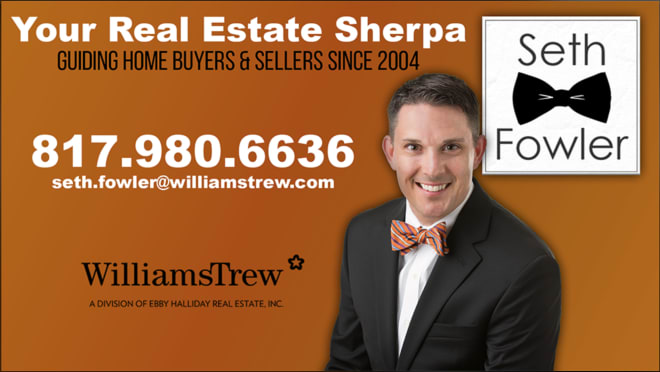 Primer. 
The last time Texas played Kansas State, the Wildcats strutted onto Texas' home floor and beat them soundly, putting on an offensive clinic and winning 116-103 behind a game-leading 36 points from star guard Markquis Nowell (17.1 points, 8.0 assists; second in the NCAA in assists per game).
Along with him, Kansas State also stars Florida transfer forward Keyontae Johnson (18.2 points, 7.9 rebounds), part of a one-two punch of a pair of the best players in the Big XII. Texas has a more balanced team than KSU does, but KSU has elite, elite talent at the very top of its roster in these two complete stars.
Here's a look at the Big 12 standings as of this morning before the games tip today.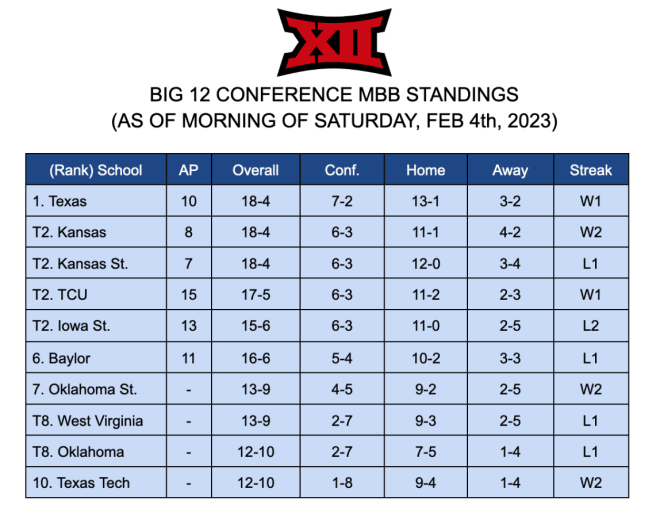 A win for Kansas State today means they'll climb into first place in the conference with a double head-to-head win over Texas and the same conference record. It will still be a mess at the top, as you can see – four teams tied for second place in Kansas, Kansas State, TCU, and Iowa State.
Let's take a look at this Kansas State team from what we saw last time.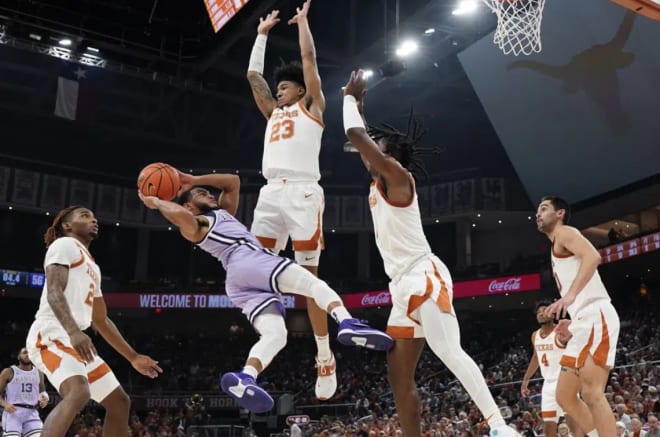 Kansas State Offense.
The Wildcats offense ranks just outside the top 50 in points per game at 77.2, and rank 10th in the nation in assisted baskets per game at 17.4. Though not a particularly great shooting team from deep (35.4%) or overall (45.7%), the Wildcats do an excellent job at getting to the free-throw line, where they average 22.2 attempts per game, good for 26th in the country, and convert 16.5, good for 17th.
Johnson and Nowell combine for 11.5 attempts per game from the line themselves, meaning they're a team that attacks the lane well, which could be considered a bit of an issue for this Texas team that lacks a true rim-protecting center.
In their last matchup, Kansas State shredded the Longhorns, scoring 31 points from the line and hitting 13/24 from the three-point line en route to their highest-scoring game of the year and by far the most points given up by the Texas defense.
While you can reasonably expect Texas won't give up triple digits again, and that KSU won't hit 13 threes, this is still a scary matchup against an elite offense that can get hot at any time.

Kansas State Defense. 
Though not nearly as scary on the defensive end as they are on the other end, Kansas State still plays passable defense, which has worked well enough to get them to 18-4 and top-10 in the country. They give up an average of 68.3 points per, which ranks them in the middle of the pack in the nation at 153rd.
When compared to the rest of the conference's defenses, however, the Wildcats are Swiss cheese, ranking 10th out of 10 teams in points given up per game (80.3) despite being first overall in points scored per game (81.4). In their last matchup against Texas, they played a pretty on-brand version of their style, which is offense first. They won big on the road despite giving up triple digits to the Longhorns.
What to watch for. 
• Will Markquis Nowell repeat?
Though one could argue Keyontae Johnson as well, I would pick Nowell as the team's best player due nearly solely to his prowess on the offensive end, not just as a scorer, but as something he's arguably even better at: distributing. He pulled a Luka Doncic stat line against Texas in the last game, scoring 36 and dishing nine dimes. While he probably won't repeat this line, it'll be interesting to watch how Texas decides to guard the 5'8 phenom.
I'd imagine that Texas will go all PF Chang's and feed him a steady diet of Rice, as SirJabari has been Texas' best perimeter defender this season. Hunter and Carr will also certainly guard him throughout, but if I'm Rodney Terry, I'm doing what I can to keep Rice on to stop Nowell and force the other K-State offensive players to beat me.
• Who will go off for Texas?
Last time these teams played, Carr and Hunter combined for 56 in the loss, which generally does not happen when the back court is as on fire as they were on January 3rd. Assuming Kansas State gets hot behind Nowell, Johnson, or even NaeQuan Tomlin, who will step up for the Longhorns to battle back, basket for basket?
Generally, you'd assume that guy would be Marcus Carr, but even he isn't always on. It's going to take a team effort to pull this one off, meaning some one stepping up to score that generally doesn't fill it up. They'll need some threes from Cunningham, some put-back dunks by Dillon Mitchell, some tough, up-and-under lay-ins from Christian Bishop. Hopefully for the Longhorns, multiple players feel it offensively today – they're gonna need it.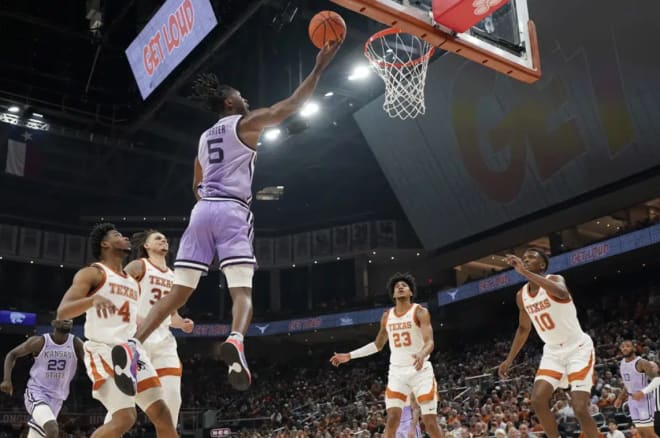 Prediction. 
I think Texas continues to prove itself, goes on the road, and avenges their early January loss on their home floor against a top-10 team. This Texas squad is legitimate from a mental fortitude standpoint – having been through what they have with their ex-HC and rallying around an interim, this team doesn't back down when things get contentious. They battle no matter what, which is an indication of the team's overall mindset of taking every opponent seriously.
Kansas State is one of the teams against which Texas has to play focused, clean basketball. I think they do that today and win in a hostile environment against a really good team.
Texas ML -115