How the Class of 2007 should have been ranked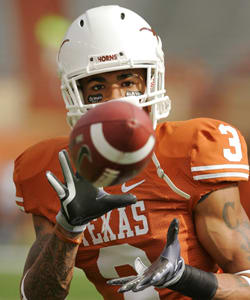 The NFL Draft is a little less than a week away and as is usually the case, the state of Texas will have fingerprints all over the proceedings, with a number of first, second and third round picks (among others) coming not only from the Lone Star State, but from the Class of 2007.
Overall, the class has to be labeled as a disappointment because so many highly rated players didn't pan out as the stars they were projected to become, but there's no question that a number of superstars did emerge from 2007, some rated extremely high and others completely off the radar.
Here's a look at how the Class of 2007 probably should have been rated with a little history to lean on.
WR - Lufkin - Signed with Oklahoma State
LSR ranking: No.6 in Texas (6.0 ranking)
Rivals ranking: No.7 in Texas (6.0 ranking)
DB - West-Orange Stark - Signed with Texas
LSR ranking: No.30 in Texas (5.8 ranking)
Rivals ranking: No.19 in Texas (5.9 ranking)
LB - DeSoto - Signed with Texas A&M
LSR ranking: No.35 in Texas (5.8 ranking)
Rivals ranking: No.29 in Texas (5.8 ranking)
QB - Texas High - Signed with Michigan
LSR ranking: No.2 in Texas (6.1 ranking)
Rivals ranking: No.1 in Texas (6.1 ranking)
RB - John Tyler - Signed with Oklahoma State
LSR ranking: No.43 in Texas (5.8 ranking)
Rivals ranking: No.83 in Texas (5.6 ranking)
LB - San Antonio Lee - Signed with Oklahoma
LSR ranking: No.63 in Texas (5.7 ranking)
Rivals ranking: No.37 in Texas (5.8 ranking)
WR - Cedar Hill - Signed with Cedar Hill
LSR ranking: NR in Texas (5.6 ranking)
Rivals ranking: NR in Texas (5.5 ranking)
DE - Dallas St. Mark's - Signed with Texas
LSR ranking: No.37 in Texas (5.8 ranking)
Rivals ranking: No.41 in Texas (5.7 ranking)
DB - South Grand Prairie - Signed with TCU
LSR ranking: No.69 in Texas (5.7 ranking)
Rivals ranking: No.54 in Texas (5.7 ranking)
CB - Gilmer - Signed with Texas
LSR ranking: No.3 in Texas (6.1 ranking)
Rivals ranking: No.4 in Texas (6.1 ranking)
LB - Plano East - Signed with Texas
LSR ranking: No.5 in Texas (6.0 ranking)
Rivals ranking: No.13 in Texas (5.9 ranking)
Ath - Sweeney - Signed with TCU
LSR ranking: NR in Texas
Rivals ranking: NR in Texas (5.2 ranking)
QB - Austin Westlake - Signed with Michigan State
LSR ranking: No.96 in Texas (5.6 ranking)
Rivals ranking: No.99 in Texas (5.5 ranking)
CB - Houston Clear Creek - Signed with Utah
LSR ranking: NR in Texas
Rivals ranking: NR in Texas (5.2 ranking)
CB - Arlington Seguin - Signed with Oklahoma
LSR ranking: No.36 in Texas (5.8 ranking)
Rivals ranking: No.35 in Texas (5.8 ranking)
Ath - Hutto - Signed with TCU
LSR ranking: No.50 in Texas (5.7 ranking)
Rivals ranking: No.38 in Texas (5.8 ranking)
WR - Hempstead - Signed with LSU
LSR ranking: No.8 in Texas (6.0 ranking)
Rivals ranking: No.2 in Texas (6.1 ranking)
WR - Tatum - Signed with Tennessee
LSR ranking: No.33 in Texas (5.8 ranking)
Rivals ranking: No.40 in Texas (5.7 ranking)
OL - Aledo - Signed with Texas
LSR ranking: No.20 in Texas (5.9 ranking)
Rivals ranking: No.28 in Texas (5.8 ranking)
OL - Brownsboro - Signed with Texas Tech
LSR ranking: No.40 in Texas (5.8 ranking)
Rivals ranking: No.32 in Texas (5.8 ranking)
WR - Lamar Consolidated - Signed with Oregon State
LSR ranking: NR in Texas
Rivals ranking: NR in Texas
QB - Gilmer - Signed with Texas
LSR ranking: No.49 in Texas (5.7 ranking)
Rivals ranking: No.58 in Texas (5.7 ranking)
Ath - Big Spring - Signed with Texas A&M
LSR ranking: NR in Texas (5.6 ranking)
Rivals ranking: No.88 in Texas (5.6 ranking)
Ath - Dallas Madison - Signed with Miami
LSR ranking: No.46 in Texas (5.7 ranking)
Rivals ranking: No.42 in Texas (5.7 ranking)
DE - Dallas Lincoln - Signed with Oklahoma State
LSR ranking: No.27 in Texas (5.8 ranking)
Rivals ranking: No.9 in Texas (6.0 ranking)
1. Tray Allen (OL) - South Grand Prairie - Signed with Texas (LSR Rank: 1/Rivals rank: 3)
2. John Chiles (Ath) - Mansfield Summit - Signed with Texas (LSR Rank: 4/Rivals rank: 5)
3. Ben Wells (S) - Beaumont Ozen - Signed with Texas (LSR Rank: 9/Rivals rank: 12)
4. William Cole (Ath) - Cedar Hill - Signed with Oklahoma State (LSR Rank: 10/Rivals rank: 14)
5. Lennon Creer (RB) - Tatum - Signed with Tennessee (LSR Rank: 25/Rivals rank: 8)
6. Andre Jones (DT) - El Paso Andress - Signed with Texas (LSR Rank: 13/Rivals rank: 10)
7. Desmond Jackson(DB) - Seguin - Signed with Oklahoma (LSR Rank: 18/Rivals rank: 39)
8. Jason Hannon (OL) - Waxahachie - Signed with Oklahoma (LSR Rank: 23/Rivals rank: 23)
9. Derrick Stephens (LB) - Houston Cy Falls - (LSR Rank: 44/Rivals rank: 17)
10. Brandon Williams (Ath) - Beaumont Central - Signed with Texas A&M (LSR Rank: 31/Rivals rank: 26)
1. Garrick Williams (WR) - DeSoto - Signed with Texas A&M (LSR Rank: NR/Rivals rank: NR)
2. Tekerrein Cuba (S) - Tyler Lee - Signed with TCU - (LSR Rank: 76/Rivals rank: 67)
3. Troy Woolfolk (S) - Sugar land Dulles - Signed with Michigan (LSR Rank: 79/Rivals rank: NR)
4. Christian Scott (S) - Dallas Skyline - Signed with Texas (LSR Rank: 15/Rivals rank: 16)
5. Jarvis Jones (OL) - Lamar Consolidated - Signed with LSU(LSR Rank: 21/Rivals rank: 20)
6. Malcolm Williams (WR) - Garland - Signed with Texas (LSR Rank: 11/Rivals rank: 11)
7. Aundre McGaskey (OL) - La Marque - Signed with Texas (LSR Rank: 16/Rivals rank: 15)
8. Fozzy Whittaker (RB) - Pearland - Signed with Texas (LSR Rank: 26/Rivals rank: 27)
9. Tray Allen (OL) - South Grand Prairie - Signed with Texas (LSR Rank: 1/Rivals rank: 3)
10. James Thomas (DB) - La Marque - Signed with Oklahoma State (LSR Rank: 51/Rivals rank: 59)
11. Lennon Creer (RB) - Tatum - Signed with Tennessee (LSR Rank: 25/Rivals rank: 8)