Introducing the KP Poll...no. 25-21.
Sponsorship.
Seth Fowler graduated from Texas in 1998. Since 2004, he has been helping home buyers and sellers in the DFW Metroplex. Whether new construction, existing homes, investment property, or land, he is your Real Estate Sherpa - guiding you through the process, making it an enjoyable experience. Based in Tarrant County, however, he will help connect you with a quality Realtor anywhere in Texas, the United States, or in the world. When looking to purchase or sell real estate in this new market, call Seth at 817.980.6636.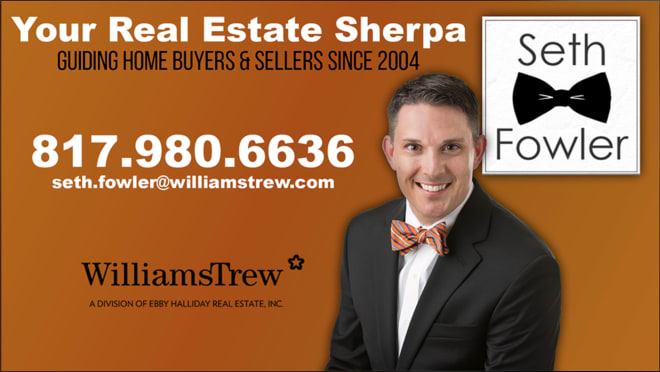 • • • • • 
Primer.
College basketball tip is just around the corner. On November 6th, the Longhorns open their season at the Moody Center by taking on Incarnate Word.
As the sport changes along with the culture around it, the favorited teams across the country start to change. Look at last year's Final Four as an example: San Diego State and Florida Atlantic both reached the national semifinals despite neither having a five-star on the roster.
Maturity is so important in this sport, which is why so many of the best teams are chock full of veterans willing to lead, whether that means being the leading scorer or a guy that takes charges.
Because basketball is on its way, it's time for me to start dropping my preseason top 25 – as you know, I do it in five-team increments.
Without further adieu, here are no. 25 – no. 21 of the KP Poll.
25. Saint John's Red Storm
Of all of the insane offseason plot points coming into the 2023-24 campaign, the return of formerly disgraced coach Rick Pitino to prominence as head of the St. John's Red Storm has to take the cake.
I could write an entire piece on Pitino's career and the relevance of his return to the major D1 level, from his time in the NBA coaching the Knicks and the Celtics, to his taking two arch-rival programs, Kentucky and Louisville, to National Titles (not unlike Saban's trip from Baton Rouge to Tuscaloosa after flaming out in the pros).
The Red Storm struggled in a packed Big East last season, finishing 18-15 with a really uninspiring 7-13 conference record. Mike Anderson's final season with St. John's served as a microcosm of his time in NYC in general: lacking identity (don't tell Mike that, though – he's in the middle of suing the S H * T out of his former employer).
As soon as Pitino took the job, the transfer portal instantly became the Hall-of-Fame member's best friend, as he retooled the roster in a manner that will likely prove to be an immediate upgrade over the previous group.
Some of the important new additions are:
• Zuby Ejiofor / F-C / Kansas → St. John's
• Jordan Dingle / G-W / Penn → St. John's
• Naheim Alleyne / G-W / UConn → St. John's
• Sadiku Ayo / W / Iona → St. John's (followed Pitino)
• RJ Luis / G-W / UMass → St. John's
• Daniss Jenkins / CG / Iona → St. John's (followed Pitino)
• Glenn Taylor / W / Oregon St. → St. John's
• Cruz Davis / G / Iona → St. John's (followed Pitino)
As you can see, he pulled a bit of a Deion Sanders, essentially flipping the roster over completely. They also added four-star G Simeon Welcher out of the prep ranks, who was considered a borderline top-30 prospect (31st overall on Rivals).
Do we know how good St. John's is going to be in year one of the Pitino Experiment?
Of course not.
There are a million factors at play here, not the least of which being the Red Storm play in one of the best college basketball conferences in America. The Big East, home of last season's NCAA-champion Connecticut Huskies, is a bloodbath of talented teams that return talent, like Marquette, the aforementioned UConn Huskies, Creighton, and Villanova.
It should be an interesting season for the legendary basketball mind and how he handles essentially an entirely new roster, apart from the three players that left Iona to join him in NYC.
24. Colorado Buffaloes
As my brother is a Colorado-Boulder alum, I have always had a soft spot for the Buffaloes in athletics. I've had a blast watching Deion "Primetime" Sanders coach up the football team and build real rapport with his players, the fans, and the media.
But don't forget about Tad Boyle's squad on the hardwood.
This CU team returns some serious firepower from last year, including 6-8 forward Tristan da Silva (which honestly sounds like a Houston rapper's name, like Megan da Stallion), who averaged just shy of 16 points and five boards per game in his junior campaign.
They bring back incoming junior KJ Simpson as well, who averages just below 16 points and a bit over four rebounds from the guard spot. Julian Hammond (6.9 PPG) also returns, as well as Nique Clifford (6 PPG, 4 RPG, 1.5 APG).
What makes this team even more exciting is the player pictured above: five-star wing Cody Williams is the highest-rated recruit in Buffaloes basketball history.
Ranked seventh overall and fourth at his position in the class of 2023, Williams is expected to be a top-10 NBA Draft pick after just one season of playing college ball.
Outside of UCLA, USC, and Arizona, the Pac-12 isn't as dominant a conference as some of its Power-6 counterparts. This leaves room for Colorado to try to have a breakout season after finishing last year at 18-17 with a berth in the NIT.
Boyle and company have designs on much more than a secondary tournament, though: their eyes are on a Pac-12 Championship, a high seed in the NCAA Tournament, and all of the opportunities that come along with momentum in a single-elimination postseason bracket.
23. Alabama Crimson Tide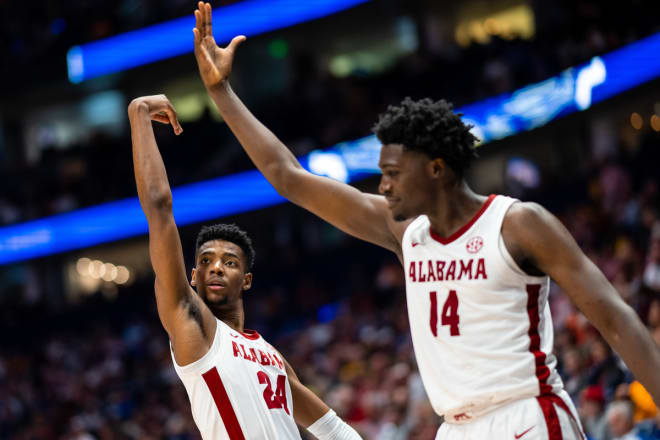 Alabama has been typically thought of as a football school (except for when Texas comes to town...34-24), but last season, one of Tuscaloosa's biggest sports stars was freshman wing Brandon Miller, who went second overall in the 2023 NBA Draft to the Charlotte Hornets.
Though a cloud of controversy involving Alabama basketball and the murder of a woman in Tuscaloosa marred the program during 2022-23, the Crimson Tide still played well throughout the season and finished in the Sweet 16, where they fell prey to the grit-and-grind San Diego State Aztecs, who went on to play for and lose the National Championship to UConn.
Bama still had a very successful season, despite the disappointing upset loss in the Sweet 16. They won the SEC Tournament, and Brandon Miller (easily) won the Freshman of the Year (with a bul...actually, I'll think of a different phrase). The Tide entered the NCAAT as a 1-seed.
There are a few important players on this roster, starting with 6-10 F/C North Dakota State transfer Grant Nelson, who put up 18 points and nine RPG last season, (albeit against weaker competition).
Jahvon Quinnerly has returned to the Tide to play his senior season, as has Alabama native Mark Sears, who transferred from Ohio University last season to Tuscaloosa.
Rylan Griffen, a sophomore guard from the DFW Area (Richardson HS) who played in the same high school back court as NBA rookie Cason Wallace, is another to which you should pay attention.
While Alabama has struggled to play high-level defense at times under offensive guru Nate Oats, the scoring has simply not been an issue, regardless of who's holding the reigns at lead guard.
22. Arizona Wildcats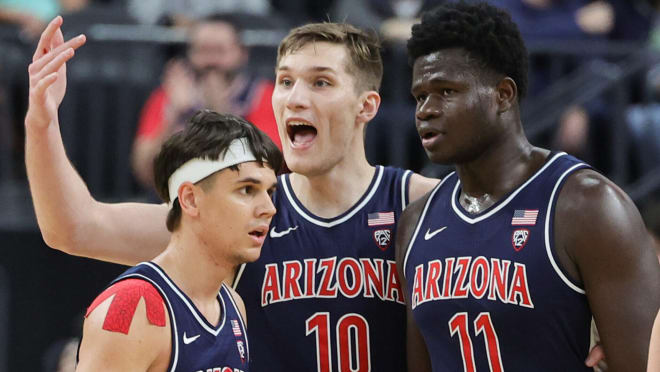 The Arizona Wildcats had a fantastic regular season in 2022-23, in addition to repeating as Pac-12 Tournament champs and being given a 2-seed overall in the NCAA Tournament. Things were looking great for Tommy Lloyd and company, as they once again appeared poised to make a legitimate national title run.
What happened after that is any fan's nightmare.
The 'Cats took on 15-seed Princeton in round one, a game in which they were favored by double digits. All season, they had been doing their best Loyola Marymount/Hank Gathers impression by pushing the pace, finishing the regular season as one of the most efficient offenses in the country.
Then Princeton's star Tosan Evbuomwan showed up.
Princeton's star forward had 15 crucial points in a 59-55 upset victory over the Pac-12 champs. Their defense was impeccable, making every Arizona shooter uncomfortable throughout the game – the 'Cats shot a putrid 19% from three and 44% overall from the field.
Not great, Bob.
After losing some key pieces in this offseason (Azuolas Tubelis, Kerr Kriisa, and Courtney Ramey), the Wildcats reloaded with some serious talent in the transfer portal.
Alabama's Jaden Bradley, San Diego State's Keshad Johnson, and North Carolina's Caleb Love all joined the 2023-24 Wildcats squad.
While these players are important, there is no more important player than sophomore lead guard Kylan Boswell. Boswell was ranked in the top 40 on Rivals, and averaged 4.6 PPG last season as a freshman playng limited minutes.
Per 40 minutes, he averages about 12 PPG, so hopefully more playing time means more production from the Compass Prep AZ alum. Though he will be sharing the floor with a high-volume (albeit very inefficient) scoring guard in Caleb Love, Boswell will still hold the reigns of driving the offense forward.
They have the talent to be as good as they were last year. The question is, can they put it all together?
21. Kentucky Wildcats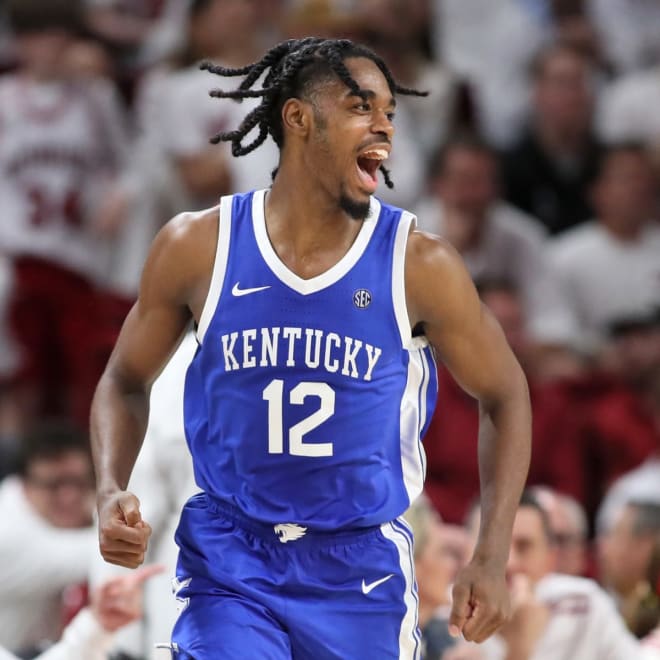 Of all of the names in college basketball, Kentucky seems to be one of the most synonymous with winning. The legends of college hoops often involve UK, as they have been by far the best basketball recruiting machine of the last 20 years.
Unfortunately for these recent Wildcat teams, there isn't a lot of "winning" talk.
Of course, they haven't underachieved THAT badly, as they had Anthony Davis, John Wall, DeMarcus Cousins, Devin Booker, Shai Gilgeous-Alexander, Tyrese Maxey, Bam Adebayo, De'Aaron Fox, Jamal Murray, Julius Randle, Shaedon Sharpe, Cason Wallace and...
All right. You get my point. There is far too much talent that's come out of that program in the last decade plus for it not to translate into NCAA Titles. But it hasn't recently.
This year seems a bit different, though. Kentucky brought in arguably the best college basketball class ever, signing four McDonald's All-Americans, all of which were 5-stars, as well as adding 4-star guard Reed Sheppard.
DaJuan Wagner Jr., Aaron Bradshaw, Justin Edwards, and Robert Dillingham are the four McDAAs, and all of them were absolutely dominant both in their high school ranks as well as during grassroots tournaments.
From a talent standpoint, there should be no excuse for Kentucky this year. They have a top-10 roster in the country, but I'm refusing to give them the benefit of the doubt as a real contender until I see them play live. For that reason, I've left them out of my preseason top 20.
Just because I'm writing about Kentucky, please enjoy the greatest high school basketball mixtape of all time: John Wall's senior year.
20-16 will drop next week.