Ketchs 10 Thoughts From The Weekend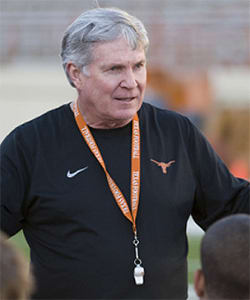 Put up or shut-up. When Rivals.com dropped the
10-year All-Time Rivals college team
last week, I took exception to the list with several members of my Rivals brotherhood. The idea was to put together a team of the players with the best individual seasons in the last 10 years and I thought they simply missed the mark in a few areas.
Therefore, I'll go on the record with our own all-America team from the last 10 years. Remember, this isn't a career award. We're talking about singular seasons and nothing else.
Quarterback
My choice: Vince Young (Texas/2005)
Rivals choice: Cam Newton (Auburn/2010)
Comment: Both players put up a number of video game plays and stats from the regular season, but the bottom line is that in the biggest game of each player's career - the national championship game - one played at a superhuman level and the other guy asked his team to win in spite of him at times. One had a performance for the ages and the other just had a performance.
Running backs
My choices: Larry Johnson (Penn State/2002) and Reggie Bush (USC/2005)
Rivals choices: Adrian Peterson (Oklahoma/2004) and Bush
Comment: I'm not going to argue the choice of Peterson too much, but Johnson had a slightly better overall season in my opinion, rushing for 2,000 yards in fewer carries than anyone in the history of the sport.
Wide receivers
My choices: Michael Crabtree (2007 and Larry Fitzgerald (2003)
Rivals choices: Crabtree (2007) and Fitzgerald (2003)
Comment: The Rivals gang got this one exactly right, although I considered Braylon Edwards (2004) for about four seconds.
Tight end
My choices: Daniel Graham (Colorado/2001)
Rivals choices:Jermaine Gresham (Oklahoma/2008)
Comment: There's no question that Gresham posted better numbers, but I cannot say that he was a more dominant all-around player than Graham, who played like an elite college tackle and receiver as a senior at Colorado. He helped anchor the right side of perhaps the most physically dominant side of any line in the last 10 years.
Offensive line
My choices: (OT) Bryant McKinnie (Miami/2001), (OT) Joe Thomas (Wisconsin/2006), (OG) Andre Gurode (Colorado/2001), (OG) Toniu Fonotti (Nebraska/2001) and (C) Maurkice Pouncey (Florida/2009)
Rivals choices: McKinnie, Thomas, Fonotti (Nebraska/2001), Deuce Lutui (USC/2005) and Greg Eslinger (Minnesota/2005)
Comment: The tackle choices were pretty difficult because you could have just as easily gone with Robert Gallory, Jammal Brown, Jake Long or Andre Smith, but it's hard to argue McKinnie and Thomas. The inside selections ended up being fairly easy for me. I don't care what anyone says, I'm not even sure that Eslinger was the best center in the nation in 2005.
Defensive tackles
My choices: Glenn Dorsey (LSU/2007) and Ndamukong Suh (Nebraska/2009)
Rivals choices: Rien Long (Washington State/2002) and Suh
Comment: Apologies to Haloti Ngata (Oregon/2005), but the defensive tackle slots were fairly easy to call as well, although I'm not sure Long would have ranked in my top five.
Defensive ends
My choices: Dwight Freeney (Syracuse/2001), Terrell Suggs (Arizona State/2003)
Rivals choices: David Pollack (Georgia/2004) and Terrell Suggs (Arizona State/2003)
Comment: Pollack was a hell of a player in the SEC, but I went with the two best college pass rushers in the last decade for my money.
Linebackers
My choices: Derrick Johnson (Texas/2004), A.J. Hawk (Ohio State/2005) and E.J. Henderson (Maryland/2002)
Rivals choices: Hawk, Henderson and Rolando McClain (2009)
Comment: I'm not sure how Johnson gets left off the Rivals list because he was a flat out play-making supernova as a senior at Texas. The other two spots came down to what my eyes remember and not what stats might tell me.
Cornerbacks
My choices: Terence Newman (Kansas State/2002) and Carlos Rogers (Auburn/2004)
Rivals choices: Newman and Patrick Peterson (LSU/2010)
Comment: Newman was so good that he was the easy choice in this debate, but the second cornerback spot was a tough call and could have went in about 25 directions, but Rogers was the lynchpin of an undefeated Auburn team that could/should have played for the national title.
Safeties
My choices: Roy Williams (Oklahoma/2001) and Sean Taylor (Miami/2002)
Rivals choices: Williams and Taylor
Comment: I thought about Michael Huff and a few others, but it's hard to put up a fight against the selection of these two.
Kick returners
My choices: (KR) Reggie Bush (USC/2004) and (PR) Ted Ginn Jr. (Ohio State/2004)
Rivals choices: (KR) C.J. Spiller (Clemson/2009) and (PR) Ted Ginn Jr. (Ohio State/2004)
Comment: There are a lot of names that could apply for the positions, but at the end of the day I went with the guys that I thought scared the living daylights out of opposing teams the most. This was about what my eyeballs and memory told me more than the stat sheet.
Kickers
My choices: (K) Mike Nugent (Ohio State/2004) and (P) Daniel Sepulveda (Baylor/2006)
Rivals choices: Nugent and Sepulveda
Comment: This one was a no-brainer for me. Both players were game-changers, especially Nugent, who seemed to win games every week for the Buckeyes.
No.2 - Five pieces of randomness as we countdown the days until August…
I. So, LSU is explaining its relationship with Will Lyles in the context of JUCO recruiting in California and Kansas, and they have the materials to prove it. Ok, that's fine and dandy, but that does little to explain their relationship with him as it relates to the state of Texas. How many times did Lyles take Lache Seastrunk to Baton Rouge and for how many days? What about his other players from Texas? Also, why are high school coaches reporting that LSU coaches showed up at their schools with Lyles in a tagalong role? It feels like the Tigers are trying to play a shell game on the public by taking the conversation into shallow water.
II. Jim Tressel pretty much turned out to be every bit as dirty as his program looked all of those years. It's amazing what connotative images arrive to the public when a man wears glasses and a sweater-vest, especially when it's a white guy. From the moment he won his first national title in 2002, that program was seemingly covered in slime and we excused his actions in a way we've never done with guys with similar track records. Why? Because he looked and sounded like a stand-up guy. In truth, he's a liar and a fraud that apparently skirted compliance as much as possible for most of his career. Shame on anyone that attempts to sell us his virtues while ignoring the long-time corrupt nature of his program. The Buckeyes will deserve everything they get.
III. College basketball is looking at college football right now and laughing. The things that the Oregons of the world are getting caught up in pale in comparison to the ugliness that resides permanently in college hoops, but to the credit of the corrupt, they are much, much better at covering their sins. Perhaps the only thing worse than a cheater is a sloppy, careless cheater.
IV. Craig James does not need to be a part of my college football experience in 2011. He's simply not good enough at his job for ABC/ESPN to force him on us while this drama with Texas Tech/Mike Leach goes on in the background. Bring back Trev if you have to, but fix this.
V. Remember when USC was USC and not the imitation brand we are currently left with? Five seasons have passed since it last played for a national championship and a sixth will surely come and go in 2011 without the streak ending. Remember when the Trojans' recruiting was going to usher in a new dynasty in the sport? Well, dynasties are pretty fleeting these days. Keep that in mind for the future.
No.3 - Monday Morning Pop-Quiz…
I spent about an hour trying to think of the best answer to this question on Saturday and I couldn't come up with an answer that I loved and clearly thought was best.
If you could hook Mack Brown to a truth machine for five minutes and you could ask only one question and get a BS-filtered reply, what would you ask?
No.4 - A win for one of the good guys…
I'm not going to lie, I was rooting for Phil and I rode the roller coaster on Sunday, but it's hard to lose a second's thought on the outcome on Sunday because there's no question that Darren Clarke was meant to win the 2011 Open Championship.
Playing with what appeared to be an eased soul, Clarke was the best player on the course for multiple days, not hours, and by the time he arrived on Sunday and seemingly received every bounce and good piece of good fortune that could find him, it was obvious that this was simply his weekend.
And good for him. It's a great story and while we might yawn in the States over the outcome, it'll play big in the part of the world that currently dominates the major championships, so who are we to complain?
As for Lefty, it's a case of good news and bad news. The good news is that this has historically not been his tournament and although he played great this weekend for only nine holes, he still finished second. That's nothing to sneeze at, but it's not what everyone will remember. The bad news is what everyone will remember - the nine-hole collapse down the back nine that was all-too-familiar for those of us that have seen this act previously.
One bogey… ONE… and it was all downhill and out of control from there like that train in Speed after Dennis Hopper decided to hell with it. It is what it is. Lefty has four majors in his hip pocket and I'd bet he gets another one before he's done, but oh, what might have been?
As for Dustin Johnson, he's starting to put together a trophy case of nightmares that Lefty can admire.
No.5 - If it looks like a choke, smells like a choke and feels like a choke…
If someone asks me on Monday to tell me about the women's World Cup Final, I'm going to let them know that it was pretty similar to Mickelson's final found at the Open.
I can't say that I know a ton about soccer, but the United States was considerably better than japan on Sunday if we're talking about the naked eyeball test, but looks don't always win games.
Opportunity after opportunity stared the US team in the eyes time after time on Sunday, especially early in the match, but opportunity was simply a cup the Americans couldn't drink from and every time it looked like they had the match by the throat, they let momentum slip through their fingers.
Perhaps it is fitting that the Americans lost to Japan in a way that was even more inexplicable than the win over Brazil, but the truth of the matter is that Team USA blew that game in a fashion that was haunting in a way that every man in America could completely understand.
This was a football team racking up 500 yards of offense and losing to a team with 150 yards of offense because of turnovers. This was a baseball team losing a game in extra innings after its ace goes eight innings of shutout ball because the offense left a dozen guys on base over nine innings. This was a basketball team losing because it couldn't knock down free throws in the final five minutes of the game.
To put it in local terms, this was Texas losing to A&M in 2006.
We don't want to call it a collapse because we like these girls so much, but it is what it is - all the way down to the three straight penalty kick misses.
This team was a hell of a story for three weeks, but it became a verb on Sunday afternoon, like the 1992 Houston Oilers or the 1986 Red Sox or Mickelson in about a half-dozen majors over the years.
The USA should have won on Sunday and it didn't. It'll be a scarlet letter that the team will forever wear.
No.6 - Six things from the MLB weekend that have nothing to do with the Phillies…
I. Every time the Reds and Cardinals get together, the theater is off the charts and every game seems to end in a walk-off. The fact that the two teams hate each other and are fighting for what is almost certainly one playoff spot makes the games even more tense. I wish they could play every week.
II. The trading deadline is two weeks away and you get the sense we might be days away from a wild rush to the trade deadline finish line. Of course, all of the talk might not lead to much, but it sure seems like there are a lot of sellers AND buyers on the market. It seems like everyone needs pitching of some sort (except for the Braves) and a lot of teams are shopping for that extra bat. Jose Reyes, Carlos Beltran, Ubaldo Jimenez, Heath Bell are just a few of the names buzzing around. We're just waiting at this point…
III. The Houston Astros are so bad right now that I don't even know what to tell them as it relates to their best players and how they should proceed with them. I know if I was a GM in either league, I'd be trying to rip Michael Bourn, Wandy Rodriguez, Brett Myers or Hunter Pence for pennies on the dollars with a bunch of fool's gold sprinkled around a good part or two. In Ed Wade, I don't trust.
IV. The Rangers are on one of their serious rolls, but they still need to ask themselves this simple question: Do they have enough pitching at the top to win a seven-game series against the type of elite top-end staffs that they might face in the post-season. In my mind they should absolutely be as bold right now as they were last season.
V. It feels like the post-season in the NL could very well end up looking like this: NL Central champ vs. NL East champion/Wildcard vs. San Francisco. Meanwhile, the AL projects to: AL East champion vs. AL central and Wildcard vs. Texas.
VI. There are six teams in the baseball that are better than 10 games over .500. Of those six teams, only one has a run-differential worse than +60. Ladies and gentlemen, meet your current world champion San Francisco Giants, the king of just having enough. The Giants are 14 games over .500, but are only +12 for the season - worse than Mets and Reds.
No.7 - Eight chapters later, Harry Potter finds a magical ending…
I did not grow up with Harry Potter. I was 21 when the book series debuted and never so much as read a page. I was 25 when the movie series began and I wasn't a guy that was waiting in line for the first installment.
Ten years ago, I didn't know Harry, Ron and Hermione from Larry, Moe and Curly. Yet, there I was on Saturday night in line at 9:30PM for a movie that didn't start until 11PM. Yes, at some point in the last 10 years, I flat out became a nerd for Harry Potter. While I wasn't dressed in costume as Voldemort, make no mistake about it - I've been looking forward to this one.
Expectations were high, I wanted my seats to be good and anything less than a stellar movie would quench my thirst. Well, in a summer full of garbage, I can safely report that HP8 delivered the goods in a big way.
Starting off exactly where Deathly Hallows Part I ended, there was very little wasted time in the 130-minute movie that probably could have pulled off a Lord of the Rings-like 160 minutes if David Yates had wanted to slow things down and truly indulge himself in the story. In fact, if I have a nitpick, it's that the movie ended a little too soon. Whether it was my thirst for the series, or simply the yearning for a slightly better final 10 minutes, I wanted a little more.
Outside of that, it was sensational. After 10 years of living in their characters, the most satisfying aspect of the movie was watching all of the characters evolve into their destinies with such maturity. Whereas fear has been such a dominant aspect of all eight movies, the entire cast showed so much strength in their final roles in the series.
More than anything, movie-goers have watched all of the characters evolve, develop and grow up on screen like no other characters in cinematic history. There were times when those in the audience threw fist-pumps or clapped or whispered a "right on" at various point on the movie, as they cheered for their favorite characters like they were watching a football game.
Overall, without getting to deep into spoilers, I'd give the movie an A- on my grading scale and 3.5 out of four stars.
No.8 - Five more random thoughts on the sports world…
1. Dear Cedric Benson, stop getting arrested. Good grief.
2. NASCAR has never been more uninteresting for me than it is right now. A few years ago, I was interested enough in the sport that I considered doing a racing fantasy league with some friends. Now? I just don't have an interested bone in my body. I'm not slamming the sport, just commenting on the direction of my interest. I think I watched more women's World Cup in the last two weeks than I've watched NASCAR in the last two years.
3. David Stern jumped the shark for me a long time ago. The NBA needs a new leader.
4. The NFL is lucky to have Roger Goodell. He might be the devil, but things seem to get done with him as the commish.
5. I want the Cowboys to break the bank for Nnamdi Asomugha. The safety position has been so shaky for so long that we're all excited about the prospect of Mike Huff coming to Big D, but giving him big money seems like a big risk in my opinion, given his uneven play over the last five years. Asomugha is money in the bank as a shutdown half-the-field kind of guy. The dude gave up 17 receptions last year in 16 games.
No.9 - Five more random thoughts that have nothing to do with sports…
1. The next movie countdown to get excited about might be The Dark Knight Rises. That being said, the current movie trailer that debuted this week left me wondering why it was even released. If you're not going to bring the heat, don't bring it.
2. There's almost nothing about True Blood that I love right now as a once immensely devoted fan of the show. I hate the storyline with Eric. They've turned their best comic relief (Stackhouse) into the least funny part of the show. The witch is a middle-aged woman with no sex-appeal. Season three was a step down from season two, but the drop down this year is as wide as the Gulf of Mexico. Frankly, I'm still waiting for the show to start five episodes in.
3. On the other hand, Curb Your Enthusiasm has never been better. The first two episodes of this season have been five-star specials. Larry David is in the zone.
4. Am I the only one that saw the J-Lo and Marc Anthony divorce coming a mile away? Guys know guys, and that dude gave me a vibe every time I saw him on American Idol last season that screamed, "I'm going to spend an extra month in the tropics with Miss Columbia this summer just because of this show and this woman."
No.10 - And finally…
Only 47 days and some change, fellas. 47 days and some change.
This post was edited on 7/18 10:30 AM by Suchomel