Longhorn schedule full of talented backs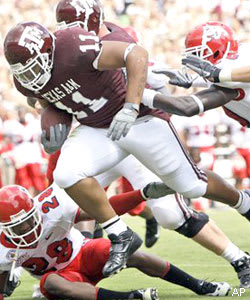 While there is immense depth at the quarterback position in the Big 12, the running back position isn't nearly as strong, at least not on the surface. It's certainly not for a lack of talent or ability at the position. The problem is that most of the best players are very young and inexperienced. In fact, Texas A&M is the only team on the Texas schedule that won't have a first-year starter this season.
Here's a look at the top 10 running backs on the Longhorn schedule this season, based on past production, and how well they are expected to do this season.
Scott arrived to Colorado a little late as he had to take care of minor grade issues, but so far he has been just as impressive in boulder as he was in high school. Darrell is the favorite right now to earn the starting tailback job week one thanks to the graduation of last year's starter Hugh Charles.
Goodson has expressed that he didn't feel like he fit in Dennis Franchione's zone-read offense where he was taking the ball from the quarterback in a shotgun formation. Coach Sherman is using the I-formation now and it should lend to Goodson having the breakout season as a junior that aggie fans have expected since he arrived to College Station.