Longhorns land commitment from JUCO OL Willie Tyler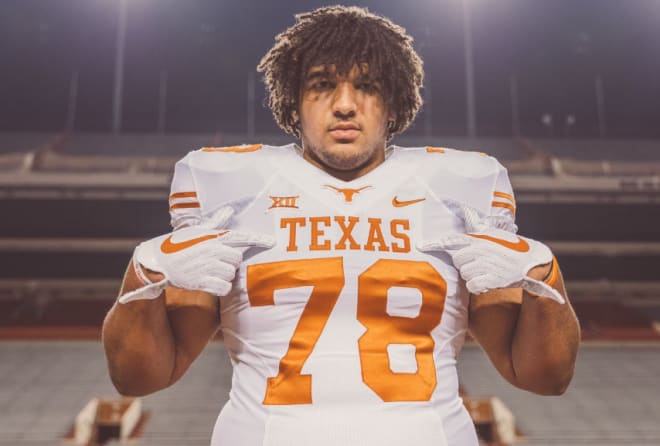 Texas scored a commitment from graduate transfer offensive lineman Parker Braun on Sunday, and on Monday the Longhorns continued to add to their offensive line haul when JUCO product Willie Tyler gave Texas its second pledge in as many days.
Tyler, out of Iowa Western Community College, picked up a UT offer late last week and visited West Virginia over the weekend. Initially, his plan was to announce in mid-March. He then moved his plans up to the middle of this week and on Monday moved his timeline up again and officially put an end to the process.

"I was just ready to shut it all down," Tyler said. "It feels great. It feels great to finally be a part of the family."
Tyler took an official visit to Texas in February and said the comfort level he got on that visit really won him over. He's developed a strong relationship with members of the UT football staff, which helped lead him to give the Longhorns a quick commitment once he was offered.
"First, it's the at-home feeling I got on my visit. Then of course, coach (Herb) Hand, coach (Tom) Herman, Jake Langi, and Bryan Carrington - they all made me feel at home on my visit."
"Jake Langi, he started recruiting me. Really that relationship has been getting built since December. It got to the point, we're so close, he made me feel like family even before the visit. He would call and check up on me, just genuinely check on how I was doing. Coach Hand, of course, I know some coaches try to build a relationship with just you, but he built a relationship with my parents too so that was really big too. After he offered me, he called my mom, texted my dad, so that relationship was there also. Bryan Carrington, he was just keeping it real with me on my whole trip. And Shawn Lewis too, he was a really cool dude. They weren't sugarcoating anything and I like that."
A 6-7, 315-pound prospect, Tyler is being recruited as an offensive tackle. He'll be part of the Longhorns' 2019 class and will have four years to play three seasons of Division I football. Tyler is confident he can be a valued part of the Texas offensive line moving forward.
"I feel like I can bring competitiveness, some leadership, and just a little experience too. Just coming from JUCO, you see a lot of stuff, you learn a little more than just coming out of high school," Tyler said. "And a great teammate too."
Tyler's path to offensive line is an interesting one. Coming out of high school, he went to Garden City Community College as a defensive lineman. When the Garden City coaches wanted to move him to o-line, Parker wasn't interested so he took a greyshirt and eventually found his way to Iowa Western after about a growth spurt. He didn't realize it at the time, but switching to offense has opened doors he never thought imaginable, and Tyler is appreciative of the opportunity to play at a school like Texas.
"I talked to my dad about it and he really opened my eyes to the opportunities I could have at offensive tackle, and the need for offensive tackles in the NFL. That's the goal too, so I wanted to do what I could to stay in the game."