Mack Brown steps down after 16 years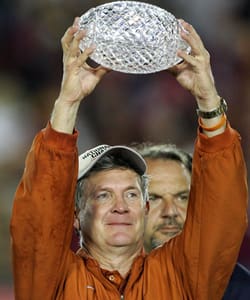 Click
Here
to view this video.
Mack Brown, who united the Texas football program upon his arrival in 1998 and led the Longhorns to their first national title in 35 years, is stepping down after 16 years as UT's football coach.
The Valero Alamo Bowl against Oregon is expected to be Brown's last game at Texas.
Orangebloods.com was first to report on Tuesday Brown was expected to step down by the end of the week.
For a group of UT regents and big-money donors who had targeted Nick Saban as Brown's replacement, the announcement comes too late. But I've been told Texas' search for Brown's replacement will seek to find a coach who has won a national championship or Super Bowl and could include one or both candidates in the BCS national title game - Auburn's Gus Malzahn or Florida State's Jimbo Fisher.
Brown will leave Texas second in wins (158) only to legendary UT coach Darrell Royal (167).
Brown, 62, who earned $5.4 million in 2013 and is under contract through Dec. 31, 2020, will receive the $2.75 million buyout in his contract and other considerations, sources said.
By voluntarily relinquishing his head coaching duties, as part of his current contract, Brown would be "reassigned to another significant position" to a special advisory role in the UT President's office at an annual salary of $500,000 through the end of his contract.
That position would be similar to the "special assistant to the president" designation formerly held by Royal, sources said.
Brown had a string of nine straight, 10-win seasons at Texas from 2001-2009. But the Longhorns followed up a loss to Alabama in the BCS national title game by going 5-7 in 2010, then 8-5 in 2011, 9-4 in 2012 and 8-4 this season.
Texas has an overall record of 30-20 (.600) the past four seasons. During that span, the Longhorns are 18-17 in Big 12 play (.514) and 14-11 at home (.560). Texas, which has also lost its last eight home games against opponents ranked in the AP Top 25, lost only 9 games at home from 1997-2009 (13 years).
Brown desperately wanted to restore the program to the championship level experienced from 2004-09, when Texas went 69-9, won the national title (2005), played for another (2009), won two BCS bowl games (2004 Rose, 2008 Fiesta) and two Big 12 titles (2005, 2009).
He hoped it would be this season, when, despite numerous season-ending injuries to key players and replacing defensive coordinator Manny Diaz with Greg Robinson two games into the season, UT still had a chance to win the Big 12 title on Saturday.
But the Longhorns lost 30-10 at Baylor, their fourth loss of the season, making Brown the first coach in Texas history to suffer four straight seasons with at least four losses.
The injuries this season included QB David Ash (head injury), LB Jordan Hicks (Achilles), DT Chris Whaley (knee), RB Johnathan Gray (Achilles) and OT Josh Cochran (shoulder).
Darrell Royal once called Brown a coach with "the best public relations skills I've ever seen." And Brown relied on Royal heavily to help him navigate the waters as Texas' coach from the day Brown interviewed for the Texas job.
Royal told Brown he would have to put "all the beebies back in the box" when it came to uniting the Texas faithful, which had been fractured since Royal retired in 1976 at the age of 52. At that time, Royal also served as athletic director and wanted to name Mike Campbell, his defensive coordinator, as his coaching successor.
But a couple of powerful regents overruled Royal. Fred Akers was hired as coach, and the Texas family was never quite unified through the Akers, David McWilliams, John Mackovic eras - until Brown arrived in 1998.
From the day he arrived in Austin after 10 years as coach at North Carolina, Brown told UT fans to "Come early, be loud, stay late and wear burnt orange."
Season tickets sold at Texas soared, from 38,100 in 1998 to a high of 84,500 in 2010. But after a surprising 5-7 record in 2010, season tickets dropped to 81,600 for 2011, then to 78,800 for 2012 and 76,300 for 2013.
That declining fan interest paralleled the Longhorns' performance on the field.
The family atmosphere at Texas created by Brown and his wife, Sally, attracted top talent, such as QBs Vince Young, RBs Jamaal Charles, Cedric Benson, WR Roy Williams, Butkus Award winner LB Derrick Johnson, DE Brian Orakpo, Thorpe Award winners CB Aaron Ross and CB Michael Huff and S Earl Thomas, S Kenny Vaccaro and S Michael Griffin.
From 2001-09, Brown enjoyed nine straight, 10-win seasons and was one win away from the 2001 Big 12 title and a berth in the national championship game against the Miami Hurricanes. But the Longhorns were upset in a turnover-filled loss to Colorado, a team it beat 41-7 earlier that season.
The success of Brown's Longhorns in the first decade of the 2000s helped make Texas a centerpiece of realignment in 2010 and 2011. The school could have basically named its conference but instead stayed in the Big 12 and landed a $300 million, 20-year contract from ESPN for the rights to the school's third-tier television inventory.
The deal remains unprecedented and helped Texas become the largest revenue-producing athletic department in the country, bringing in $163 million in 2012-13.

Click
Here
to view this Link.