{{ timeAgo('2022-06-12 14:14:30 -0500') }}
football
Edit
New LB offer Daymion Sanford looking to decide soon, Texas in the mix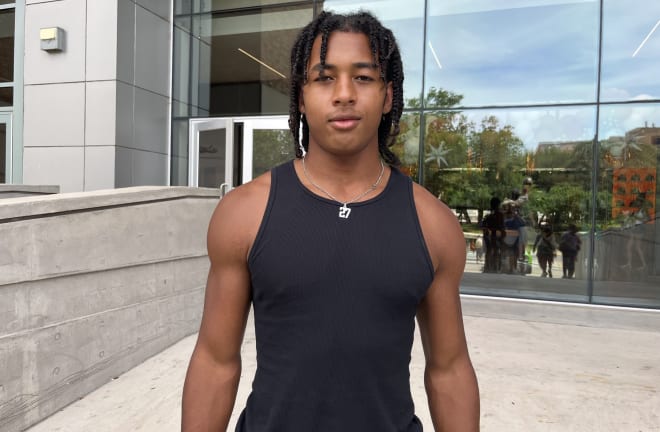 It's been a productive month for linebacker Daymion Sanford. The Katy Paetow standout began the month with offers from TCU and Texas A&M, and during a visit to the University of Texas on Saturday, the Texas staff officially joined the race.
The 6-3, 200-pound Sanford took part in a Texas Elite Camp, then met with coach Steve Sarkisian to receive the offer. Overall, it was a good day for Sanford and he said he'll be back in Austin at some point.
"It was good. It was more of a learning camp than a workout camp, so I learned a lot today. The offer feels good," Sanford said. "I'm just going to soak it in. I'll be scheduling an OV sooner or later."
At the UT camp, Sanford worked out with Texas linebackers coach Jeff Choate and said he liked Choate's coaching style, including his attention to detail.
"He's a great coach. He actually pays attention to his players' detail and he really wants to work on your craft," Sanford said. "When you mess up, he wants you to do it again, gives you time to do it again and get it right the second time."
Later this month, Sanford will take official visits to Vanderbilt and Duke, a good indication that academics will be a factor in his decision. Sanford says relationships with the coaching staffs of the schools he's considering will also be key.
"My biggest thing is the coaching staff, see if they're a good fit for me," he said. "And see if they're really good coaches, just try to get a feel for their personality."
The three recent in-state offers should give Sanford something to think about, and proximity should help keep Texas in the race as he closes in on a summer decision.
"I want to stay in state so they're definitely on my list," Sanford said of the Longhorns. "I'm going to go through June and after June, I'll see where I'm going to commit."