Offensive explosion fuels Texas win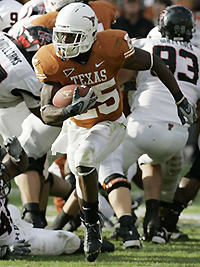 AUSTIN, Texas(AP) Colt McCoy passed for four touchdowns, ran for two more and No. 15 Texas scored 24 points in the fourth quarter to hold on for a 59-43 win Saturday over Texas Tech.
The Longhorns (9-2, 5-2 Big 12) needed a 24-point fourth-quarter rally a week earlier to beat Oklahoma State. This time, the late scoring burst kept the Red Raiders (7-4, 3-4) from staging a comeback.
Texas had to recover two onside kicks and keep punching the ball in the end zone to relieve a pass defense that was riddled by Tech quarterback Graham Harrell for 466 yards and five touchdowns.
Tech twice cut the lead to 10 in the fourth quarter on Harrell TD passes, before McCoy hit Nate Jones for a 34-yard TD where the receiver tiptoed down the sideline and sneaked into the end zone.
Earlier in the fourth, McCoy's second TD run covered 22 yards as he twice spun around defenders and broke three tackles to get to the end zone and give the Longhorns a 45-28 lead. McCoy finished with 51 yards rushing and 269 passing.
Jamaal Charles had 174 yards rushing and a touchdown for the Longhorns despite sitting most of the second half with a sore left ankle. Texas won its fifth in a row after an 0-2 start in the Big 12, and is still in the picture for a possible Bowl Championship Series bid as one of the at-large selections.
McCoy ran for a TD and threw for another as Texas built a 28-20 halftime lead.
Then things really got wild. Two long drives chewed up most of the third quarter and Texas appeared to have the game in hand when Ryan Bailey's 25-yard field goal gave the Longhorns an 18-point lead.
The game was nearly over but was really just cranking up.
A 15-yard penalty after a short kickoff gave Tech the ball with a short field. The Red Raiders needed only 25 seconds to cut the lead to 10 with Harrell's third touchdown pass and a 2-point conversion.
After McCoy's long TD run, Harrell hit freshman Michael Crabtree for a 26-yard scoring pass. McCoy then answered with his touchdown pass to Jones and after Harrell threw an interception, McCoy connected with Quan Cosby for Texas' last touchdown to make it 59-35.
Crabtree then took a short pass and weaved 69 yards through the Longhorns' exhausted defense, but Tech's rally finally ended when Texas recovered its second onside kick of the quarter. The teams combined for 47 points in the fourth.