One-on-one with DeLoss Dodds: ND, realignment and more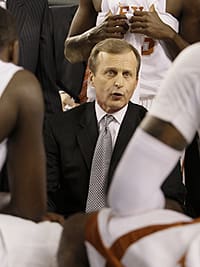 When the University of Texas began discussing an extension of DeLoss Dodds' contract in the spring of 2010, it was with the intent of making sure Dodds, whose contract was up in August 2011, would be in charge of the athletic department through any potential realignment. Talk about foreshadowing.
Only weeks later, Texas was at the center of a potential seismic shift that would have altered college athletics forever.
I was able to sit down with Dodds and go over several hot topics, including realignment, the relationship Texas solidified with Notre Dame during realignment, the Longhorn Network, Dodds' contract and his thoughts on Mack Brown and Rick Barnes.
Let's start with the fact that if Notre Dame ever needs a conference home, Dodds wants it to be the Big 12.
Texas and the Irish became the closest of allies during the month of June when the Big Ten targeted Notre Dame as a part of expansion. The Irish were worried the Big East, where the school plays all its sports except football, might be raided by the Big Ten.
Everyone assumes if Notre Dame ever needs a conference home, it will be the Big Ten simply because of geography and the overtures the Big Ten has made toward Notre Dame in the past. But if Notre Dame ever needed a new conference home for football or its other sports, Dodds would do everything in his power to make it the Big 12.
Irish athletic director Jack Swarbrick, who was a finalist for the Big 12 commissioner job awarded to Dan Beebe, and Dodds have become close colleagues.
"Notre Dame was worried about getting decimated to where they were sitting without a conference," Dodds said of the Irish during realignment in June. "And I told Jack, 'Come on down. Keep your football. Come on down.'
"I don't necessarily want to see the Big Ten go to 16. They want Notre Dame. If they can get them, fine. If they can't get them, fine.
"If Notre Dame wants to be an independent and something happens to the Big East, I've told Jack, 'I will fight for you to be a part of this conference in some form or fashion.' I think it would be good for them, and I think it would be good for us."
Sources told Orangebloods.com during realignment that Dodds, at one point, proposed Texas and Notre Dame simply form their own conference and extend invitations to others. But Dodds said nothing should be read into recent football scheduling announcements involving Texas, Notre Dame and BYU.
In the last month, all three schools announced they'll be playing each other.
"There may be a new world out there, but it's not in my lifetime," Dodds said when asked if Texas, Notre Dame and BYU might be angling toward their own conference at some point in the next decade.
REALIGNMENT WAS A 'GOOD DRILL'
Texas was this close to joining the Pac-10, and Dodds said it was healthy to explore other options. It caused everyone at UT to look at what they do from a different perspective.
"It was a good drill, a good exercise," Dodds said. "I thought it was educational. Good for our staff. I thought we ended in the right place. We seriously looked at doing something different. We didn't do that by choice. We did it because it was being dictated to us by others.
"Our goal from the beginning was to keep the Big 12 together, and we did. I thought it was a great staff study. I think our staff did a great job. Everyone pitched in. It was crunch time, and I think we studied it to the point where we knew exactly where we were and came out with a good result."
There were things that began to nag at Dodds as the moment got closer for Texas to decide if it was going to leave the Big 12 for the Pac-10.
"There were a lot of little things," Dodds said. "I talked to Larry about our exiting fees, whatever they were going to be - $20 million or whatever it was. And the clout we'd take to the Pac-10 was huge - about $200 million in new revenue - big upside for them, obviously for us, too.
"And I talked to them about helping pay our exiting fees with the money from our new TV contract over a period of three years. Part of it, some of it. And they came back with they would loan us the money. We can loan ourselves money. That was a bit of a surprise."
Orangebloods.com reported in the final hours of discussions between the Pac-10 and schools being targeted from the Big 12 that Larry Scott, the Pac-10 commissioner, entertained the idea of swapping out Oklahoma State for Kansas. It was a move that made the initial alliance of Big 12 schools targeted by the Pac-10 uncomfortable, sources told Orangebloods.com.
Dodds wouldn't confirm or deny this development. He would only say, "Oklahoma couldn't separate from Oklahoma State. And Kansas couldn't separate from Kansas State."
Dodds said he was most proud of the way the "Texas family" handled all the possibilities during realignment. Texas had its pick of other conferences, but Dodds said UT officials remained together through all the discussions.
"This place stayed intact the whole time," Dodds said. "And it was fluid. There were a lot of places where people could have jumped on or jumped off and gone public and the process turned out right. Very proud."
WHAT ABOUT TEXAS A&M?
Some sources very close to the situation have told Orangebloods.com if Texas A&M would have been in agreement with Texas to join the Pac-10 that the Pac-16 would already be formed.
Dodds confirmed to Orangebloods.com that A&M athletic director Bill Byrne was telling Texas throughout the developments that A&M would stick with Texas. But ultimately A&M was prepared to go to the SEC, an option Texas was not willing to consider. In the end, both schools stayed together … in the Big 12.
"We were not dealing with A&M, and I don't mean that in a bad way," Dodds said. "We were dealing with Texas and where we needed to be. They were dealing with whatever their plans were. Bill (Byrne) told me they wanted to stay with Texas and stay in the Big 12. That's where Bill and I were in our conversations, but we made our decision based on us.
"Oklahoma, I will say this, was very, very solid. Very good."
Dodds said the Pac-10 "would like to have had Texas and Texas A&M." But Dodds was quick to add:
"This was about where we wanted to be, not about where someone else wanted to be. I don't know where they were. I think in the end, whatever happens, Texas and A&M will always be together. I don't see that ever changing."
NOTHING BUT 10-6 VOTES
One of the things that began eating at Dodds about possibly joining the Pac-10 was that even though Texas was leading the way for a projected $200 million in new revenue for the Pac-10, conference votes in the new Pac-16 might have all been lopsided in favor of the 10 schools already out west.
"In the end, another issue in the back of my mind was every vote may have been 10-6 if we had gone because they were putting something together that was really good for them," Dodds said. "But it probably would have been 10-6 on every issue."
Despite talks breaking down late in the process, Dodds said Pac-10 commissioner Larry Scott "was wonderful, really smart, honorable, good. I can't say anything about him except that he handled everything first-class."
DODDS SEES STABILITY
Dodds sees the Big 12 thriving because the TV money will be there over the short-term and long-term. The Big 12 has a cable package, currently held by Fox Sports, that is up for bid in April. The league also has a deal with ABC/ESPN that runs through 2016.
When Nebraska and Colorado opted to leave the Big 12 in June, ABC/ESPN could have reduced its payout to the Big 12 by $20 million ($10 million per school) because of a clause in its contract with the conference. But to help hold the Big 12 together, ABC/ESPN decided to keep paying the remodeled, 10-team league based on the 12-team formula, thus immediately increasing the 10 members TV payout.
"Dave Brown (an executive at ESPN) and I had conversations through all of that, and the bottom line is ABC/ESPN doesn't want to lose the Big 12," Dodds said.
"They don't want us to go to the Pac-10. They've got business reasons to keep us where we are and committed to keep paying what they're paying with or without the championship game, Nebraska and whoever.
"Fox was much more political. They were tied to the Pac-10 and the Big 12 so they were non-committal and I understood that."
Dodds sees enough money coming into the league with ABC/ESPN's commitment and the new cable package next year that everyone will be satisfied with the payouts to individual schools. Texas A&M has said it wants the $20 million guarantee it received when the Big 12 was saved this summer.
Missouri, Kansas, Kansas State, Iowa State and Baylor offered to give up their portion of Nebraska and Colorado's departure fees so Texas, Oklahoma and Texas A&M (schools with offers to other conferences) could reach a $20 million payment from the league beginning in 2012-13.
"A&M will be fine, although I don't know what their appetite is," Dodds said.
Dodds reiterated this week Texas will not accept the offer initially made by Missouri, Kansas, Kansas State, Iowa State and Baylor. "We are not in that game," Dodds said.
"There's no instability in my mind," Dodds added. "We're going to get to where we're going to get and the money is going to be fine. Over the long haul, we're going to make as much money as anyone in the country, so I'm not eaten up by it today or tomorrow. The future of Texas and the future of the conference is sound financially, and that's what I'm comfortable with.
"We've got an ABC deal sitting at 2016. That's going to be huge (when it's renegotiated). Fox, ABC, NBC, Comcast could all bid. The Fox deal is now (up for bid next year), and the ABC deal is then."
The SEC signed a 15-year deal in 2008 that guarantees $17 million in TV revenue per school. Dodds noted the Big 12 will have a chance to create a huge windfall in 2016, when both the league's TV contracts are likely to be renewed. (There is wide speculation the Fox cable deal with the Big 12 will only a four-year deal so it synchs up with the ABC/ESPN contract that expires in 2016.)
Dodds also indicated if the SEC decides to add schools that ABC/ESPN, which has a $2.25 billion deal with the SEC that expires in 2022, would not redo that contract. CBS has an $800 million deal with the SEC over that same 15-year stretch as well.
"If you dissect the SEC TV package with CBS and ESPN, you add schools to that deal, ABC/ESPN is going to say, 'Way to go. You got an extra school. You got two extra schools,'" Dodds said. "They are not going to come in and just throw money at it. So if someone comes into the SEC, they are going to divide it 13 or 14 ways instead of 12. So are they going to vote to do that? I don't' think so."
Dodds said the only thing that could shake things up again is if the Big Ten or Pac-10 go to 16 or more schools.
"As long as the Pac-10 or Big Ten don't go to 16, I think the SEC is pleased as punch to be at 12," Dodds said.
On the future of the Big 12, Dodds said, "I think we're in great shape. Who knows what's going to happen. The money is going to be good. The geography is good. Good for kids. If the Big Ten goes to 16 or the Pac-10 goes to 16, 20 or 30, then it changes the world, and we've got to change the world. I just think the federal government gets real interested if we go to 16-team conferences."
NO CONFERENCE TITLE GAME, NO PROBLEM
Dodds is happy to see the Big 12 title game go away. He said Texas has addressed the lack of having that potentially high profile game by scheduling the likes of BYU, Notre Dame and USC in coming years.
"The conference championship game going away is a good thing," Dodds said. "Three schools voted against that conference title game in the beginning and it was Nebraska, Oklahoma and Texas.
"We were the ones playing in it all the time. And it was our fans who were paying $150 for tickets that created revenue split 12 ways. It was backwards.
"And to go in there and have the next game be either the national championship game or the Holiday Bowl. Four times a team going in with a chance to play for the national title went in there and got beat."
Dodds said too much is also made of the fact the Big 12 has unequal revenue sharing. In the Big 12, the more you are on television, the more money you get to keep. Dodds said if all the schools in the Big 12 were making the kind of investments Texas and some others are making, he'd be for equal revenue sharing. But that's not how he sees it.
"We've got a bond payment of $15 million per year," Dodds said, referring to the financing the athletic department pays for all the improvements its made. "But other schools have bond payments that are zero.
"What Tech has done and Oklahoma State has done are unbelievable. And Kansas did it the right way and grabbed it by the horns (upgrading facilities). But the equal revenue sharing is so miniscule in the grand picture. Nebraska didn't say anything about revenue sharing when they announced the Big Ten. They were ahead of the curve on that.
"But if you made it equal, we'd lose $1.5 million and Iowa State would pick up $1.5 million. There are seven or eight schools who are neutral or making a little pop and four or five schools making a little underneath that."
TIMETABLES … OR NOT
Dodds' contract extension beyond August of 2011 will basically have him serving at the discretion of UT president Bill Powers. Dodds refuses to speculate how long that could go on.
"I want more of what we've been doing," Dodds said. "You just have to build it deeper and stronger, and that's what we're trying to do. Just make it better.
"We work on things every day. We've got the website. I think that's huge. Where the media is going, that's a question. Fill the void. We've got to work on that. The world is changing, people are changing. The economy is not great. We have to worry about that. We've got plenty to do. The building side, I think we can take a deep breath on that."
Dodds said he sees Mack Brown and Will Muschamp co-existing well under the coach-in-waiting agreement the school extended to Muschamp. The school is looking into how it needs to possibly re-word Muschamp's contract based on an NCAA rule that is under consideration limiting the recruiting access of a "publicly designated" coach-in-waiting.
"That job is high, high pressure," Dodds said. "But everything I know about Mack is he's loving what he's doing and he's going to keep doing it. Everything I know about Will Muschamp is that he's loving what he's doing and is liking his deal, too. It may change, but it's good. If it changes, it changes. But it's good.
"There's absolutely no timeline, absolutely none. It's not one year, it's not three years. It's no years. It's good. If anyone thinks there's a timeline out there, they're wrong. That decision is not made."
On the Texas basketball program, which has had consecutive 9-7 finishes in conference play, leaving the Longhorns in the middle of the pack in the Big 12 Conference, Dodds said, "Rick (Barnes) gets a mulligan.
"I love Rick. He's the right person in the right place. He's good for Texas. Basketball is unbelievable the way it's playing out in terms of recruiting and the NBA.
"You have to be a master of some kind to figure out how to try and recruit. How many four-year guys you get, how many two-year guys you get. He's doing it the right way, and I think he's got a burn deep enough he wants to be back in the Final Four."
THE LONGHORN NETWORK
Texas is closing in on the launch of a first-of-its-kind television network representing a single school. The Longhorn Network will be launched in 2011, according to Dodds, and may even have a "soft start" later this year.
Dodds wanted it clear the school is putting up no money to launch this network. All the financing will come from IMG and whichever cable partner is selected to operate the Longhorn Network. The financial partners would recoup their investment and pay Texas an amount that Dodds estimates to be around $3 million annually - an amount that could grow depending on its success.
"We are not going to own anything or have an investment in it," Dodds said.
He is hopeful the programming on the Longhorn Network will include one football game and "some number of basketball games."
"I think we are on target to be up and running in the fall of next year," Dodds said. "Maybe even a soft start in 2010 and a hard start in 2011. That's what I think. That's not done.
"I think we'll get one football game from what (Big 12 commissioner Dan) Beebe has said. And some number of basketball games. That number is so hard to track down because ESPN takes a lot of that. I think last year, they had every conference game televised. Then the non-conference games, we had some of those left over."
Dodds said "there are three entities" (cable companies) looking at operating the Longhorn Network, including "a leader in the clubhouse."
"The one we are looking at, walks in with 500,000 subscribers the day we turn the key," Dodds said.
"So then it would grow from there based on content , popularity and how we feed it and what the appetite is for what we put on there.
"I would like to see it as a way the university brands itself. On the academic side, the network would be a great way to promote the academic side of the university. It would be a great way to build the relationship between faculty, staff and athletics.
"It's just got a lot of parts to it that are very positive. It's not exclusively athletics, probably 20 percent of the programming would be centered around the university and non-athletic programming.
"It could be anything we want to make it, but it's got to be something people want to see. So we have to cater to the appetite of those we want to be subscribers."
Athletic directors Iowa State, Kansas State, Missouri, Oklahoma, Oklahoma State, Texas A&M and Texas Tech recently met with officials from TV giant Learfield to explore possibilities of forming their own network.
"I think OU and Missouri want their own," Dodds said. "That's somebody else's business. It doesn't change anything we're doing."