One Year Later: The Big 12 Missile Crisis revisited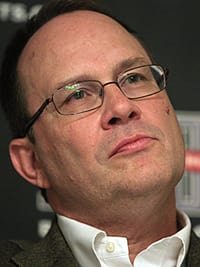 One of the most surreal moments of the Big 12 Missile Crisis one year ago was a top administrator at a Big 12 school sending me an e-mail that read: "Is this really happening?"
And it was an administrator from one of the six schools about to be invited to the Pac-10. An administrator who probably should have been able to make a call to someone in their own offices instead of sending an e-mail to myself to confirm such news.
But so began the zany nature of things on June 3, 2010, the day Orangebloods.com sent shockwaves through college athletics by breaking the story that the Pac-10 and commissioner Larry Scott intended to invite Texas, Texas A&M, Texas Tech, Oklahoma, Oklahoma State and Colorado to go west.
The Pac-10 meetings in San Francisco were coming up that weekend (June 5-6) and everything was about to go down.
In Kansas City, where the Big 12 athletic directors were meeting June 3-4, all hell was breaking loose after our story got out. Press conferences were canceled. Athletic directors ducked out of hotel lobbies for cover. Commissioner Dan Beebe just kept talking about the strengths of the Big 12 - no matter how much more time it had.
What transpired after June 3 was a drama with more lefts and rights, more high-stakes poker and more pressurized moments than a Jason Bourne story line.
By the end of the 12 days, Orangebloods.com and myself would be called everything from the Iraqi information minister and a mouthpiece for the University of Texas to the reason super conferences didn't take over the BCS in the summer of 2010.
--------
People have asked me repeatedly how Orangebloods.com was able to stay ahead of the Big 12 Missile Crisis seemingly from start to finish. And I've said the same thing over and over again.
We had valuable information not many people had. Others involved in the story with information began calling me. And we began to trade information. I probably started the story with 3 great sources and finished with about a dozen.
The bottom line is I've never been a part of a faster-moving, more complex story with so many ramifications than that one.
It became clear immediately after our story broke that the rest of the BCS would react to the Pac-16 super conference by attempting to form their own. The Big Ten immediately put the full-court press on Notre Dame but was also taking the temperature of schools like Nebraska, Syracuse and Maryland.
The SEC saw this move coming a mile away and was already in the ears of Oklahoma and Texas A&M.
In fact, if you go back and read our very first story on this, I wrote the SEC's courtship of OU and Texas A&M could ultimately complicate the Pac-10's attempt to lure half of the Big 12 out west.
In the end, OU was on board with Texas go to the Pac-10. But Texas A&M had other plans. SEC plans. And those plans would complicate everything, playing a key role in heading off the Pac-16 from happening in the final 48 hours of the Big 12 Missile Crisis.
And to my knowledge, we were the only ones ever to report what the Pac-16 would look like in terms of divisions. That one division would be Arizona and Arizona State with the six schools from the Big 12 and the other division would be USC, UCLA, Stanford, Cal, Oregon, Oregon State, Washington and Washington State.
Initially, there were critics and doubters attacking our story, including some reporters who would ultimately get out of breath from trying to catch up.
But we knew only one thing: that if Larry Scott's plans came to fruition, college athletics would be changed forever.
------
Here are the 12 key turning points in the Big 12 Missile Crisis that caused things to play out the way they did.
1. First and foremost was Big Ten Conference commissioner Jim Delany saying in 2009 his league would be open to expansion.
2. That was followed by Missouri Gov. Jay Nixon, an MU grad, talking to The Associated Press in December of 2009 and all but saying the Tigers should bolt the Big 12. These were his words:
"I'm not going to say anything bad about the Big 12, but when you compare Oklahoma State to Northwestern, when you compare Texas Tech to Wisconsin, I mean, you begin looking at educational possibilities that are worth looking at," Nixon told the AP.
"If a significant conference with a long history of academic and athletic excellence talks about you joining them, you shouldn't just say, 'We're from the old Big 8 and I remember when' ... If they want to talk, we should talk, and we should listen."
Sources would tell me these words were like an earthquake sending tremors across the league because every Big 12 administrator now had to worry about realignment in the conference.
As the Big 12 Missile Crisis began to unfold amidst utter uncertainty, a top administrator from a Big 12 school told me, "If there was a vote right now among the Big 12 schools to kick out Missouri, it would be successful."
3. Nebraska sensing the Big Ten was more enamored with Missouri than the Cornhuskers began to lobby the Big Ten with the argument that NU delivered Kansas City TVs better than Missouri did.
Nebraska reminded the Big Ten that Illinois already delivered St. Louis TVs, so there was really no need for Missouri. Besides, NU officials told the Big Ten, Nebraska has better football tradition.
Sold.
Nebraska moved ahead of Missouri on the invite list. But Nebraska's invitation was still predicated on Notre Dame's decision.
As the pressure mounted on the Big Ten to have an expansion answer with the Pac-10 preparing to move boldly, Notre Dame asked the Big Ten to cap its expansion at 12.
The Big Ten blinked and said yes, vowing that if Notre Dame joined the Big Ten, it would be the only school added to what was already the Big 11. But Notre Dame's board of directors was split between old and new blood.
The old blood wanted to keep Notre Dame's independence and felt sure if super conferences started forming, the Irish would have a home. The new blood didn't want Notre Dame to be left behind. After all, Notre Dame football hadn't been what it once was.
In fact, several sources told me the Big Ten started talking expansion again because it felt like Notre Dame might be feeling a little insecure about its future with NBC and might be ready to jump into a conference situation so all its sports would be united in one league.
But we would later learn that Texas athletic director DeLoss Dodds was feeling out Notre Dame athletic director Jack Swarbrick about possibly joining the Big 12. Notre Dame knew it had options, and stayed put.
4. Still, the Big Ten started the whole expansion discussion in 2009, some would argue, setting off the Pac-10's plans to grow.
And Jim Delany wasn't going to go home without a championship game. So after Notre Dame said no, an invitation was extended to Nebraska, and Missouri was left wondering, "What happened?"
Orangebloods.com reported on June 9 that Nebraska regents had enough votes to go to the Big Ten and that an official announcement would come from Lincoln on Friday, June 11.
On June 9 at 2 p.m. CT, Texas president William Powers gathered the school's coaches and told them, "We did everything we could to save the Big 12 but were unsuccessful."
The UT coaches left that meeting thinking they would soon be conference mates with USC, Stanford and Arizona.
5. On Friday, June 11, after Nebraska made it official that it was going to the Big Ten and Colorado had a press conference with its new commissioner, Larry Scott of the Pac-10, Texas posted that it would have a regents meeting on June 14.
Sources told Orangebloods.com that meeting was to formalize Texas' decision to join the Pac-10.
But there was still much to be played out over that weekend.
6. As the pace of talks between the Pac-10 and six schools from the Big 12 began to heat up, the Texas Legislature was telling the schools inside its borders to slow down.
Powerful Texas lobbyist Buddy Jones, a prominent Baylor graduate who feared his school was headed to limbo, also worked overtime to rally support among lawmakers to tap the brakes on any realignment involving the Big 12.
Texas Rep. Dan Branch, R-Dallas, called for hearings on Wednesday, June 16, as chair of the House Higher Education Committee, and said it would not be wise to act on any conference movement before then.
According to sources, Texas had already planned a press conference in the base of the UT Tower for Tuesday, June 15, announcing the Longhorns' plans to join the Pac-10.
As of Friday, June 11, a collision course had been set.
7. There was an image from the Texas-TCU Super Regional baseball game on Saturday, June 12, that may have told the whole story of the change in direction of college realignment.
ESPN's coverage of the game picked up a shot of Texas athletic director DeLoss Dodds, women's athletic director Chris Plonsky and football coach Mack Brown gathered around Texas president William Powers in an outdoor set of box seats.
I was told by multiple sources Powers was driving the bus on Texas joining the Pac-10. Powers is a Cal-Berkeley graduate and loved the idea of Texas rubbing shoulders with academic research institutions like Cal and Stanford.
But I was told Dodds was growing increasingly concerned about the move to the Pac-10 and was the one tapping the brakes. We may have been watching the lobbying of Powers to reconsider Texas' position in that very shot from the baseball game.
8. A month after the Big 12 Missile Crisis, Dodds told Orangebloods.com he had asked Pac-10 commissioner Larry Scott if the Pac-10 would pay for Texas' millions of dollars in exit fees from the Big 12.
Scott told Dodds the Pac-10 would "loan" Texas the money.
"We can loan ourselves the money," Dodds responded.
Dodds also said he began to wonder about the $20 million per school the Pac-10 was promising in a 16-team league.
Nonetheless, these issues of concern were expressed to Scott when he made a whirlwind tour of the Big 12 schools being invited to the Pac-10 over that June 12-13 weekend.
Scott and Pac-10 deputy commissioner Kevin Weiberg went to Oklahoma, Oklahoma State, Texas Tech, Texas A&M and Texas.
The visit to Texas A&M was a disaster, in part, because Mike Slive, the SEC commissioner, was in College Station courting the Aggies. A&M basically told Scott and Weiberg thanks but no thanks.
The Pac-10 was set to invite Utah instead of Texas A&M. But that didn't sit well with Dodds, who knew breaking up 100 years of tradition between UT and A&M would go down as one of the biggest stories in the history of college athletics.
Dodds wasn't prepared for that to happen on his watch, especially considering Texas was prepared to announce its intentions to leave the Big 12 on Tuesday, and A&M was patiently waiting to announce its plans based on what Texas was doing.
Texas was set up to be the fall guy. Exactly as Nebraska had said on Friday, June 11, when it made veiled and not-so veiled references to Texas and Missouri for what the NU officials felt was the impending breakup of the Big 12.
9. Dan Beebe never stopped working the back channels.
Beebe couldn't persuade individual members to do anything. Heck, he was their representative. He usually reflected their opinions. Not the other way around.
But what Beebe could control was television negotiations. He could talk to the Big 12 TV partners and see if they wanted to try and hold the league together with financial incentives. And they did.
Beebe was able to secure assurances from the league's TV partners - primarily ABC/ESPN and Fox that the money would be there for the Big 12 if it wanted to proceed as a 10-team league.
Minds started to change on Sunday, June 13.
10. I was doing a television appearance at 10 p.m. Sunday, June 13, when I got a text message from my best source during the Big 12 Missile Crisis saying, "The winds have changed."
I immediately started scrambling back to all my sources to see if the "Beebe Plan" had gotten everyone to reconsider. At 8 a.m. on June 14, I got the confirmation I needed that all 10 remaining schools were back at the table talking about saving the Big 12.
I reported my story at 8:30 a.m. CT. My heart sank at 10 a.m. CT when ESPN's Joe Schad reported the Beebe Plan was dead and the Big 12 was dead. I figured someone from ABC/ESPN had walked down the hall to Schad and told him the deal was dead, and that the Big 12 would indeed die.
So I scrambled back to the phones and got another one of my best sources on the phone who said, "No. You're right on. The train is still on the tracks."
Schad, who is a friend of mine, later came on our radio show (104.9 The Horn, ESPN Radio, espnaustin.com) and said he simply hadn't seen my report before going with his report. Otherwise, he would have doubled back to his sources. Joe was also planning for a wedding. I felt terrible for the guy, who does good work and is tireless.
Nonetheless, that made for more tension in the story.
11. But as of 5 p.m. Monday, June 14, the Big 12 had been revived from cardiac arrest.
Sources were confirming to me from several different schools that Texas and Texas A&M, heated rivals who took that word to new meaning during the Big 12 Missile Crisis, had come back together with assurances that Texas, Texas A&M and Oklahoma would each receive $20 million in TV revenue starting in 2012-13.
To make that work, the Orphan 5 as they came to be known - Missouri, Kansas, Kansas State, Iowa State and Baylor - were willing to give up their share of exit fees paid by Colorado and Nebraska to help make the math work.
12. On Tuesday, June 14, instead of a press conference in the base of the UT Tower announcing Texas was going to the Pac-10, Texas held a press conference in Bellmont Hall announcing it was staying in the Big 12.
Dan Beebe had a press conference shortly after saying the Big 12 would be solid going forward.
And earlier this year, Beebe was able to announce a 13-year, $1.17 billion deal with Fox Sports that will, indeed, get Texas, Oklahoma and Texas A&M to $20 million in TV revenue in 2012-13 without needing the Orphan 5's share of NU and CU's exit fees.
For now, the Big 12 seems stable. The 10 members are continuing to be paid by ABC/ESPN as if it is a 12-team league with a championship game. Why? Because ABC/ESPN did not opt to utilize a clause that would have allowed it to cut $20 million in distribution to the Big 12 ($10 million per school when NU and CU left).
ESPN officials and DeLoss Dodds have said it was an investment by ESPN in protecting its college football inventory and the primary broadcast rights to Texas, Oklahoma and Texas A&M. Not to mention the rising tide of other schools in the Big 12.
ESPN would later make an out-of-this-world investment in Texas in the form of a 20-year, $300 million bankrolling of the Longhorn Network. Dodds told me a year ago he thought it might bring in $3 million to $5 million per year. Now, that figure is $15 million per year.
Burke Magnus, a senior programming official at ESPN, told Orangebloods.com that the Big 12 Missile Crisis "opened our eyes" to just how valuable Texas is in the landscape of television rights in college athletics. The Longhorn Network rolls out in August.
In the end, the Big 12 Missile Crisis nearly changed the landscape of college athletics forever. Instead, it just gave everyone a glimpse into what the future could be … and still might be … one day.