Pac-10 ready to make moves; Nebraskas decision is key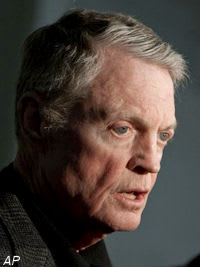 As Orangebloods.com was first to report on Thursday, the Pac-10 cleared the way Sunday to move ahead with an attempt to add six Big 12 schools and fire the first shot in what could end up as a "revolutionizing" step in college realignment.
The schools on the Pac-10 wish list are Texas, Texas A&M, Oklahoma, Oklahoma State, Texas Tech and either Baylor or Colorado. (A group of lawmakers in Texas is leading a push for Baylor to get that invitation instead of the Buffaloes.)
Pac-10 commissioner Larry Scott said at the league's meetings Sunday he has been given the authority to "advance" any expansion process. In other words, Scott got his six-team expansion plan approved involving the Big 12 teams and will now simply reach out to those schools almost immediately.
The Big 12 schools would play in a division with Arizona and Arizona State, while the remaining Pac-10 teams - USC, UCLA, Cal, Stanford, Oregon, Oregon State, Washington and Washington State - would form the other division.
In a related development, a group of Texas lawmakers determined to keep Baylor with the other Big 12 South schools being invited are attempting to enlist the efforts of Gov. Rick Perry and Lt. Gov. David Dewhurst.
That charge also includes new Baylor president Kenneth Starr (yes, the Whitewater, Monica Lewinsky prosecutor), who just took office, and powerful Texas lobbyist Buddy Jones, who has deep BU ties.
A Big 12 athletic director told Orangebloods.com the Pac-10 has indicated it might be willing to invite Baylor instead of Colorado to avoid a political storm that could clutter the other Big 12 South schools from joining the country's first 16-team super conference.
It appears the only way Texas and the other Big 12 schools aren't headed west is if they get assurances from Nebraska in the next 10 days that the Cornhuskers are committed to staying in the Big 12.
When the Big 12 conference was formed 15 years ago, Nebraska was at odds with Texas over things like partial qualifiers. Nebraska wanted the old Big Eight schools to continue accepting an unlimited number of partial qualifiers. Texas opposed it. Texas prevailed.
Nebraska athletic director Tom Osborne didn't like outsiders coming into his kingdom and telling him how things were going to be. Of course, that was the mid-1990s, when Nebraska was ruling college football by winning three national titles in four years (1994, 1995 and 1997).
Osborne still seems rankled by what he perceives to be a catering to Texas in the Big 12, right down to last week's decision to keep the league's football championship game in Cowboys Stadium the next three years.
Osborne was the only dissenting vote in an 11-1 tally by the conference athletic directors.
That's the same Cowboys Stadium where Texas had one second put back on the clock to kick a 46-yard field goal to beat Nebraska for the 2009 Big 12 title.
So now Nebraska finds itself 15 years removed from its dynasty, seemingly less relevant on the college football landscape, outside of last year's 10-4 run to the Big 12 North title.
But it suddenly could have the last say about if its good ol' buddy Texas gets its wish to pursue its own television network and even more power and money in the unequal-revenue-sharing Big 12. (Those who have the most television appearances get the most money in the Big 12, and the league said again last week that formula won't change.)
So we could know if the Big 12 is going to live or die in less than 10 days.
NEBRASKA'S DECISION IS THE KEY
As Orangebloods.com reported Saturday, nine schools were willing to commit to the Big 12's future on Friday in Kansas City, and three weren't - Nebraska, Missouri and Colorado.
Those three schools have been given a deadline of roughly June 15 to decide if they are staying in the Big 12 or willing to hold out for a possible berth to another league.
Missouri has rubbed some of its Big 12 colleagues the wrong way by appearing willing to crawl on broken glass to get to the Big Ten. The Tigers won't promise the Big 12 anything right now.
Colorado appears enamored with a Pac-10 invite. But CU won't get one unless Texas is with the Buffaloes.
And then there's Nebraska.
This deadline imposed by the Big 12 presidents and chancellors really pertains to Nebraska. According to sources, Nebraska has shown some willingness to reconsider what once appeared to be a pair of no-looking-back blinders toward the Big Ten.
The sense among the nine Big 12 presidents who are fighting to hold the league together is the conference could survive if Missouri left. But it couldn't survive if Mizzou and Nebraska both bolted.
That's why those schools have been given a hard date to commit to the Big 12. The deadline coincides with a Nebraska Board of Regents meeting in Lincoln on Friday and Saturday of this week.
Make your dinner reservations at Misty's Steakhouse near the Nebraska campus now. It could be crowded as people gather around to possibly take their last look at the Big 12.
All of the nine Big 12 schools trying to hold the league together are hoping Nebraska will commit to its future. But two Big 12 officials told Orangebloods.com, there is a fear Nebraska could hold out because the Big Ten has expressed more interest recently in Nebraska than it has shown in Missouri.
Would the Big Ten be pushed into extending an invitation to Nebraska and Missouri before it wanted? Is Big Ten commissioner Jim Delany ever pushed into doing anything?
An athletic director with knowledge of the Big Ten's plans said he's been told the Big Ten would shut down its expansion at one school if that one school was Notre Dame.
And contrary to reports, Notre Dame is still listening to the Big Ten about possibly joining that league, the athletic director said. Notre Dame's governing board is apparently split down the middle on the decision.
The AD said the Big Ten is focusing solely on Notre Dame right now before addressing Nebraska or Missouri.
The inference was clear: Nebraska had better be sure it has an invitation to the Big Ten by June 15 or it could risk being left out of the Big 12 and Big Ten with no power conference to land in.
PAC-10 PROPOSALS
According to multiple sources, Pac-10 commissioner Larry Scott presented all of his expansion scenarios to the league's presidents and chancellors Sunday, the final day of Pac-10 meetings in San Francisco.
Those proposals included doing nothing; a full-blown merger with the Big 12; an invitation to six teams in the Big 12; and an invitation to just Colorado and Utah.
The sources said Scott favors the six-team expansion plan - Texas, Texas A&M, Texas Tech, Oklahoma, Oklahoma State and Colorado - and will carry it out now that he's been granted the authority to do so.
Scott is also expected to endorse a 16-team conference network (most likely run by Fox Cable Networks, which operates the Big Ten Network) with projections of paying $20 million per school.
The network would be launched in 2012, sources said.
CRYSTAL BALL
As these conversations with college officials have piled up, it's become clear that - starting with Nebraska's decision - dominoes could start falling that would lead to four super conferences.
The Pac-10/Big 12, the Big Ten, the SEC and most likely some combination of the ACC and Big East.
(And look for the SEC to reach into the ACC for Virginia Tech and Florida State if the Pac-10 pulls off its coup.)
If four superconferences emerge, you could be looking at the playoff everyone has been waiting for with the conference championship games serving as the quarterfinals.
Everything about college football's postseason as we know it would likely be revamped and revised.
The non-super conference schools would sue to get into these playoffs, but by then the NCAA might have nothing to do with supervising college football.
At that point, the four superconferences could be appointing their own governing body, creating their own rules and breaking away from the NCAA and the rest of college football.
Lawsuits would be filed by those left out, and there'd likely be government hearings into the legality of it all.
But the playoff field of 60 to 64 teams would basically be set at the beginning of every football season with the race to get to the quarterfinals (conference championship games), then the semifinals and national title game.
That's why the stakes have never been higher. It's the Big 12's Cuban Missile Crisis. But the league isn't dead yet.
Stay tuned.