Patterson Part 2: Assessing the football program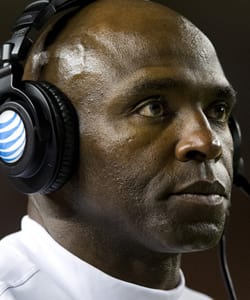 Texas Athletic Director Steve Patterson recently completed his first year on the job after replacing DeLoss Dodds. Patterson inherited the most profitable college athletic institution in the country. He spoke with Orangebloods.com about his first year in Austin (prior to the football team's final game).
Here is the second installment of our three-part interview with Patterson:


Click
Here
to view this Link.
Q: What is your assessment of Charlie Strong's first year?
A: The characteristics you want to see in student-athletes that will make them successful off the field are the same ones that will make them successful on the field. You need character; you need hard work; you need ethical behavior; you need intuitiveness; you need creativity; you need the ability to be able to work as a team. Those are the kind of skills athletics help teach. Those are the kind of skills that make you successful in life. I think Charlie has done a good job of implementing the culture he wants into the team. I think you've seen improved play from the team throughout the year. You've seen improved academic performance from the team over the last year; doing the community service we expect from our student athletes. I think he's made a lot of progress. He and his staff have done a really good job.
Q: In your mind, what is a successful football season at the University of Texas?
A: I think if you're making progress toward playing at an elite level, year in and year out, based on where you started from, you're having success. You expect the program to build and win more games every year. To be a top 10 consistent football team. When you get to that level, have a chance to be able to play for championships. When you get to that level, all types of things come into play - matchups, injuries, things that can happen off the field. You want to be in a position where you're challenging every year for a conference championship, playing in the top 10 to be able to get in that college playoff, and ultimately be playing for another championship. Is that going to happen overnight? No. I recognize part of rooting for your team is wanting to win every ball game. I want to win every ball game. I don't care what we're playing. I want to win. But I also have to be realistic from where you're trying to build from.
Q: Do you look at Strong and say he has a certain amount of years to get to that point? I ask because the perception is if this team is not competing for a national championship in three years, Strong's job could be in jeopardy. Do you have a mental timeframe?
A: I think it depends on what the set of circumstance are around what's happening. If you expect to be at a certain place and you lose your starting quarterback, and you lose your starting center, and you have six or eight young men that make bad decisions, you've got to evaluate what's going to happen in that season differently than if you didn't. That's just a fact of life.
Q: Do you feel like the program is heading in the right direction?
A: That's my view of it. I think the staff is effective. Charlie is taking control. He's made the kind of changes he wants. I think you're seeing success in academics. You're seeing issues off the field that have gotten cleaned up and handled appropriately. We're operating ethically. We're bowl eligible. I'd like to be better than bowl eligible. If he hadn't gone through some of the injuries and transitions, we probably win a couple more ball games. If we had eight wins today instead of six, people would probably be pretty happy.
Q: Are you happy?
A: I think we made a lot of progress. I think we have a lot of work to do, but we made a lot of progress.
Q: When you went about hiring Strong, there were people who spoke out about your decision, like Red McCombs. Do you feel like the big boosters are on board now? Is that something you do not worry about?
A: I think that anybody that's had a chance to meet Charlie and experience who he is, and see the work that he's done, is very supportive of him and where we are. I don't worry about the conversations from a year ago. I deal with where we are today, and I think, by and large, people are very supportive of Charlie's values, what he stands for, and the success he's been able to have in the first 10 months or something.
Q: Can I follow up on that?
A: Sure.
Q: You say you do not worry about the conversations from a year ago, but if there are people waiting to see if Strong fails to throw it back in your face, isn't that a factor? If they are not on board now, couldn't the critics be waiting just to say 'I told you so'?
A: I don't get a sense there is a lot of that going on. Isn't the cliché, 'every success is born from everybody else in the room, and every failure is an orphan'? The sentiment is, 'everybody knew it' if he wins and it works out and everybody had nothing to do with it - 'I told you so' - if he doesn't work out.
Q: What attracted you to coach Strong and made him the best candidate to you?
A: A number of things. When you meet Charlie, you understand very quickly that he's interested in not just the wins and losses, and those are very important, but he's also interested in the entirety of student-athletes who are in his charge. That means growing them as individuals, making sure they do what they need to do to graduate - they have the best academic outcomes they can have, they have the best physical and mental outcomes they can have. He's very clear about what he expects out of his student-athletes. He's very involved in making sure they have positive outcomes. He's a great recruiter, a tough coach; national champion as a defensive coordinator; progressive success throughout his career; turned a one-sport school (Louisville) into a two-sport school; communicates well; there is no artifice about him - what you see is what you get; relates well to the various campus constituencies, staff students, whomever. When I met him, we literally went to his house. We got to sit across the kitchen table with his wife there, two daughters there. You get a very different sense of the man than if you're in the office having an interview or in a hotel suite. You start to understand what it's like when he's going into the family's kitchen and sitting down at the table and recruiting young men to come to the University of Texas. Anybody's that's had a chance to interact with him understands those strengths.
Q: Have you ever stopped to think of the potential historic implications if Strong, an African American coach, is successful at Texas? Did that ever factor into your thought process before hiring him?
A: I set out to hire the best damn football coach I could hire. It just so happened that Charlie is African American. There were others that we talked to as well. Having said that (Patterson pauses for several seconds and becomes visibly emotional) … I didn't set out make a political statement. But having had the number of very large grown men show up in my office in tears, it did not go unnoticed.
Q: I don't mind if you want to move on.
A: I will also say it's not something that is uncommon in my family's career.
Q: Can you give me some background?
A: My father founded the Bucks in Milwaukee and Wayne Embry became the first African American general manager. When we were in Houston with the Rockets, we hired the first black coach of any sports team in the south, football, basketball, baseball, hockey. I hired Nate McMillan to be a coach in Portland.
Q: You don't see race, just the qualifications?
A: I understand the background of the communities that we operate in.
Q: Staying in the state of Texas, I have to ask you a blunt question: What's going on with your program and Texas A&M? Can this rivalry ever been renewed? Why does Florida play Florida State, Alabama plays Auburn, UCLA plays USC, and why does Texas not play Texas A&M?
A: Some of those schools you've mentioned are still in the same conferences they've been in for 90 years.
Q: Florida and Florida State are not in the same conference. Everybody is just used to having the big in-state rivalry game.
A: The reality is I've been talking about this for a year (he jokingly said).
Q: And you're going to get asked about it until it happens.
A: Texas A&M made a decision to leave the conference. They felt that was in their best interest? Fine, God bless them. I've got a lot of friends who are Aggies, and that's fine. People make their own business decisions. For us, at the University of Texas, our football games are precious, precious events. For us, we want to maximize what we can do building a brand. If you're going to schedule the top schools, you want to make sure you schedule the USCs, the Notre Dames, the Ohio States and the Michigans, the kinds of schools we've been scheduling. You want to make sure you can recruit certain parts of the country besides Texas. Everybody knows we're here in Texas. Nobody is overlooking it. You look at the New York Times article from a couple of months ago, it breaks out every single zip code in the country, and what is the number one, two or three school in every zip code. For virtually most of the state, we're in the top three. Most of the state, we're number one. People aren't overlooking us in our own backyard, but you want to have a presence in southern California. You want to have a presence in the Midwest. You want to have a presence in Florida. So, we look at that as a consideration at what our alumni, donors, and fans want to see in this building, and where they want to go on the road. They're excited to see those schools in this facility. They're excited as they can go on the road to The Big House in Michigan, or Ohio State stadium, or out to the Rose Bowl, places like that. That drives interest. That drives revenue. That drives the brand. That drives recruiting.
Q: So even though we have the World's Largest Cocktail Party, an event which promotes a brand, you're saying there are other things you would like to accomplish other than a home-and-home against Texas A&M?
A: If you look at the footprint of Texas A&M, it's a fine university. I have plenty of friends and family that have gone there, work there, played there. You have to weigh the benefit to going to Los Angeles and playing USC, or going to Notre Dame and playing Notre Dame, and hosting those schools here versus using that event in some other fashion. Those are national universities, international universities, that build our brand nationally and internationally, extend who we are across the country, and across great fan bases, and extend the brand in parts of the country you're going to want to recruit that you aren't necessarily as easily able to recruit because you're not there all of the time. They're the kind of places our fans what to go. They're not asking to go 90 miles down the road. You survey them and ask, 'what do you think about Michigan?' They'll say, 'we've never been there.' Our fans view that as a bucket-list item. They're willing to get more emotionally involved. They're willing to spend more time being involved. They're willing to get more involved financially. Along with building a brand, recruiting - all of those are important factors when you look at where you're going to go with your football teams.
Part III (coming Wednesday night): Patterson talks about the game-day experience at football games and how paying college athletes threatens sports at most intuitions.