RB Malcolm Brown commits to Texas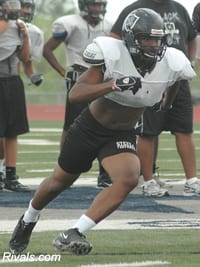 It's been a tremendously successful recruiting year for the Texas Longhorns with more than seven months left on the calendar before National Signing Day. Through the early stages of the 2011 recruiting year, the Longhorn coaching staff has compiled arguably the nation's top recruiting class, but there was one glaring omission from the Texas commitment list …
On Wednesday, Texas filled the void, and it did it in the most impressive fashion possible.
"I think proximity played a big part. That and Texas' commitment to establishing a downhill running game played a huge part. Coach (Mack) Brown and coach (Major) Applewhite being who they are, I think coach Brown won Mrs. Brown (Malcolm's mother) over rathter quickly. That never hurts any time you have mom won over," said Cibolo Steele head coach Mike Jinks. But we're excited for Malcolm. I think it's a good fit. All the people have seen the youtube video and things of that nature. But the people in Austin probably don't realize what kind of person they're getting. I think that's what separates him. I think (Texas fans) will enjoy him for the next four years."
In Brown, Texas gains a pledge from a five-star runner whose skill set is regarded as the best the state has seen in recent years. At 6-0 and 220 pounds, Brown is a dynamic runner who can make plays with his size, speed, strength and vision. He's drawn comparisons to former Longhorn greats Cedric Benson and Ricky Williams for his ability to maximize runs, and Brown's vision, elusiveness, quickness and durability put him in elite company.
As a junior, despite defenses keying on him on every play, Brown rushed for 2,170 yards and 33 touchdowns on 201 carries in earning all-state honors.
Brown played things very close to the vest during the recruiting process, choosing to avoid what had become an increasingly bright spotlight as the summer months wore on. He and his family had indicated that Brown would like to have his decision made before the start of his senior season, and Wednesday's announcement put an end to repeated speculation on just where the ultra-talented tailback would land.
"All along, he and his family have said they would make a decisoin before the season starts. We've been in camp for over a week, we're getting close to the first game, so people started to wonder when he's going to do it," Jinks said. "When you've got people with his character, you just have to take him for his word. He and his family knew they would make a decision when it was right for them. He and his parents told me tonight, we alled coach Brown, shared it with their staff and that was it.
When Brown informed his coach on Wednesday that he was ready to put an end to the recruiting process, he did it in a reserved fashion, avoiding some of the attention-drawing games that other high-profile recruits like to play. He simply told Jinks, they then informed other members of the staff and then put in a call to the Texas coaches.
"I'll always remember how he handled himself, how he handles his business. Whatever he does at Texas or beyond, it's how handles himself that stands out," Jinkis said. "He's made a heck of an impact on the community and the people's lives he's touched."