Realignment Round 3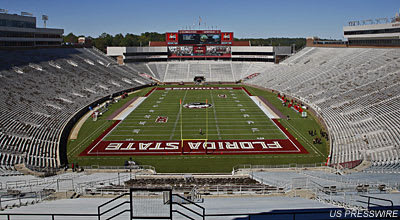 [rl]The Atlantic Coast Conference and ESPN Wednesday announced a new media rights package that will elevate the per school payout for television and digital revenue tied to football and basketball to roughly $17 million, up from the roughly $13 million per school previously.
The contract includes football-only third tier rights revenue. And that's where the future of Florida State in the ACC and whether it would ever seriously consider jumping to the Big 12 could take on a life of its own.
The Seminoles are in one of the few states - with a population of 19 million - in which a university could turn its third-tier rights into the school's own television network the way Texas has done in the Lone Star State (population 25.6 million).
TOO GOOD TO PASS UP?: One industry source said if Texas can command $300 million over 20 years - $15 million per year in additional TV revenue - for its own network, Florida State should be able to command at least a third that much ($5 million), if not more, in a state with so many television sets and a passion for FSU sports.
So before everyone dismisses Florida State ever taking a serious look at jumping from the ACC into the Big 12, consider that.
Now, with the contract between the ACC and ESPN being announced Wednesday, the decision of Florida State to stay or go from its current conference home becomes accelerated. Florida State officials could come out at any moment and say, definitively, the Seminoles are not leaving the ACC.
And then the latest five-alarm rumor involving potential realignment/expansion in college athletics would be hosed off.
MONEY IS AN ISSUE AT FSU: But to determine if Florida State to the Big 12 makes any sense or no sense, you have to look at the current landscape.
I've seen where Florida State is so committed to academics in the ACC, it would never leave a conference that averages a ranking of 43 in the 2012 U.S. News and World Report rankings of American colleges and universities (Florida State ranks No. 101).
But let me tell you what has the power to make boards of trustees at universities get away from what many would consider logical thinking: money.
And at Florida State right now, money is a problem.
Warchant.com, the Florida State site on the Yahoo/Rivals network, reported May 4 that Florida State is facing an athletics department shortfall of $2.4 million for the 2012-13 academic year.
And that's coming on the heels of 10- and nine-win seasons for football that included two sold out bowl games. Men's basketball followed a Sweet 16 appearance in 2011 with an ACC Championship in 2012. And baseball has hosted back-to-back NCAA Regionals.
RENOVATIONS NEEDED: Combine this success on the field with the fact Florida State's basketball arena and football facilities are in desperate need of renovation/upgrades, and the Seminoles are probably taking a hard look at the ability to launch their own TV network in the Big 12.
Even with the new money from the ACC-ESPN contract, expected to provide an additional $4 million per year in revenue, Florida State is going to be hard-pressed to raise the kind of money needed for a major facility upgrade.
And while there's some excitement that the recent success in Florida State sports will help spur a fund-raising drive, there is frustration in the fan base about a seven-game home schedule this year that includes Savannah State, Murray State, Wake Forest, Duke and Boston College.
And with only Florida State, Virginia Tech and Clemson finishing in the Top 25 from the ACC last season, that schedule doesn't figure to get much better.
CUTTING BACK: Florida State athletic director Randy Spetman told Warchant.com the answer will be to "cut back our budget next year pretty dramatically."
Warchant.com reported the number to cut is $2 million on top of the nearly $500,000 taken out of last year's operating budget.
Could money end up being a driving force as Florida State decides whether to remain in the ACC?
After having conversations with people dialed into the administration at Florida State, there appears to be a sense that the board of trustees at FSU might be willing to explore all options.
A message left for board of trustees chairman Andrew Haggard at his law firm on Wednesday wasn't immediately returned.
DISGRUNTLED FSU FANS: There is no doubt there is a growing sentiment in the Florida State fan base that a conference move to the Big 12 might be worth exploring. Many FSU fans have expressed their discontent on message boards and in social media.
They complain about the perception that ACC commissioner John Swofford, the former athletic director at North Carolina, caters to UNC basketball coach Roy Williams and Duke basketball coach Mike Krzyzewski.
They say that perception was only bolstered by the ACC's decision to allow schools to continue to control their own third-tier TV rights for basketball - but not football.
They complain about the ACC adding Syracuse and Pittsburgh - two schools that have been more prominent in basketball than football for some time. They complain about the ACC football officiating, including calls in last season's 35-30 loss at Clemson that many Noles' fans felt cost FSU a shot at the ACC title.
But those are fans and message boards right? Fans don't matter in these equations right?
Wrong.
FANS MATTER: Ask Texas A&M athletic director Bill Byrne about reading the sentiment of the fan base and lining up on the right or wrong side of that sentiment. Byrne initially voiced support for staying in the Big 12 when a fan movement helped persuade A&M's board of regents to vote for a move to the Southeastern Conference.
Same for Missouri chancellor Brady Deaton, who was actively trying to save the Big 12 as the head of the Big 12 board of directors, when his own regents board advised Deaton to recuse himself from the post because the regents were ready to go in a different direction.
Again, Florida State could come out today or tomorrow and say a move from the ACC to the Big 12 is utterly preposterous. But until that happens, there is reason to pay attention.
The ego stroke Florida State would get launching its own network in the Sunshine State because of its third-tier rights capability in the Big 12 would give the Seminoles something the Florida Gators and Miami Hurricanes could not match.
COMPETING WITH GATORS: Florida is barred from having its own third-tier rights network in the SEC. Miami doesn't have the audience. If the financial models for a network come back favorable for FSU, the Seminoles could compare a $17 million payout in the ACC to a $19 million annual payout in the Big 12 and probably stack at least $5 million per year on top from its own network.
Suddenly, Florida State would be able to generate TV revenue on par with the Gators, who could earn upwards of $20 million per year once the SEC adjusts its TV deals with Texas A&M and Missouri included. And FSU would have a recruiting tool the Gators couldn't match. And if Texas is any indication, some of the money from an independent network can be paid back to the university for academics.
Texas has pledged $5 million per year from the Longhorn Network back to academics for the first five years of its independent deal with ESPN. And for all the jokes about the Longhorn Network still not receiving wide distribution, that's an ESPN problem, not Texas'. ESPN's checks to the Longhorns are not bouncing.
FSU HAS A PRODUCT TO SELL: In order to launch a TV network, you have to have inventory. You have to have strong football, so you can create a ton of shoulder programming. You have to be relevant in basketball and baseball, a check mark for FSU.
The Olympic and non-revenue sports have to be strong, and FSU can boast that as well as evidenced by its Top 10 finish in the Director's Cup the last two years.

Click
Here
to view this Link.Another common argument against Florida State joining the Big 12 is that it wouldn't be politically strong enough to sit at the table with Texas and Oklahoma. If you have your own television network in the state of Florida, you just got a seat at the grownups' table.
And then you have to consider where the Big 12 would be on expansion. And if you were listening carefully when new Big 12 commissioner Bob Bowlsby was introduced and was asked about expansion, he didn't talk about "a geographic footprint" the way interim commissioner Chuck Neinas did. Bowlsby talked about an "electronic footprint." Totally different.
BOWLSBY'S LEGACY: And credit Neinas for getting the Big 12 to agree to a 13-year granting of TV rights back to the conference as part of the league's revised, 13-year, Tier 1 rights deal with ABC-ESPN, which should be finalized shortly. That will keep schools from being able to leave the Big 12 with their TV rights, effectively barring such a defection.
What does that leave for Bob Bowlsby's legacy? With the Big 12's TV deals essentially done and a 13-year granting of rights bonding the current 10 members in the league for that length of time, does Bowlsby look at expansion as his legacy?
For weeks and months, I had been told the Big 12 was good with 10 schools. Nine conference football games. Home-and-home in basketball league games. Good. No need for a Big 12 championship football game because it would only risk knocking a possible undefeated or one-loss team out of a national title shot with an upset.
But last week I talked to some people who said, "Well, if it's the right two." And that was different from what I had heard before.
I was also told that studies had been done looking at what value might be added if any of the original members of the Big East (Louisville, Cincinnati, etc.) would bring to the Big 12, and that report did not come back favorably, sources said.
That leaves some interesting candidates who could probably benefit from having the ability to launch their own network. The most likely to benefit from such an opportunity would be Notre Dame and Florida State.
The Big 12 has repeatedly indicated to Notre Dame it could bring its non-football sports to the Big 12 and keep football as independent, allowing the Irish to keep their football contract with NBC while launching a Tier 3 network.
So far, Notre Dame has indicated it's just fine. We'll see if Florida State does the same.