Senior RB Joe Bergeron Dismissed from the Team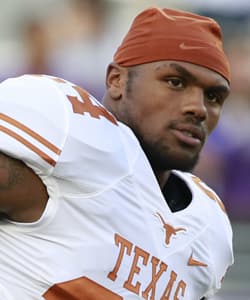 Click Texas senior running back Joe Bergeron was dismissed from the team on Thursday, according to several sources. Bergeron has the option to appeal the dismissal, which could lead to a reverse of his release within the next 10 days. It is unknown if Bergeron will appeal.
Here
to view this Link. 
Bergeron is the third player to be dismissed from the program in this week. 
Longhorns coach Charlie Strong dismissed defensive back Chevoski Collins and running back Jalen Overstreet yesterday for violating of team rules. He also indefinitely suspended Kendall Sanders and Montrel Meander after they were charged with sexual assault on Thursday.
Overall, Strong dismissed three players, and indefinitely suspended two, on Thursday. 
Orangebloods.com first reported
that Bergeron would miss the end of spring practice due to undisclosed issues that were reportedly related to academics. He worked his way back onto the team, and Texas coach Charlie Strong praised Bergeron's efforts during Big 12 Media Days on Tuesday.
"Look at the running back position, you have Malcolm Brown, who is here right now," Strong said. "J. Gray has been cleared and he'll be ready when fall camp starts. And then you get Joe Bergeron. He'll be back in the mix, has done everything we've asked him to do, not only academically but just showing up doing those little things.
"When you take something away from a player sometimes and when you take something away that they really enjoy doing, then you can see a lot of change, and that changes very quickly if it's important to them."
However, Strong was forced to dismiss his running back a few days later.
As a junior last year, Bergeron rushed 73 times for 362 yards. He rushed for 1,392 yards and 25 touchdowns in three years, plus added 200 receiving yards.
Texas is now left with Malcolm Brown and Johnathan Gray as its two veteran running backs on the roster.
Click here
for a recap of all the players that have been dismissed from the program in the last 24 hours.