Source: Bergeron to Transfer to Texas AM Commerce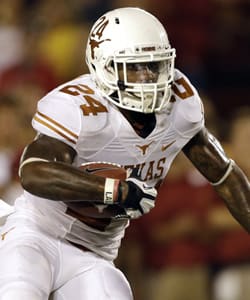 Orangebloods.com has learned former Texas running back Joe Bergeron will transfer to Texas A&M Commerce to finish out his final year of eligibility, a source close to the family said Wednesday.
Bergeron had talks with West Texas A&M and Tarleton State University, but the source said he felt really good when he went to Texas A&M Commerce.
The source also said Bergeron will be on track to graduate in May, 2015.
Bergeron was one of three Longhorns Charlie Strong dismissed for violating the same team rule. Texas has not mentioned which rule it was, but Strong confirmed it was a violation of one of his five core values.
Bergeron's situation was different ever since Strong took over in January.
Orangebloods.com first reported Bergeron would miss the majority of spring practice at Strong's request to focus on academics. He returned to the team following the spring semester and was expected to be back in the mix heading into fall camp.
"He'll be back in the mix," Strong said of Bergeron at Big 12 media days. "He has done everything we've asked him to do, not only academically but just showing up doing those little things.
"When you take something away from a player and when you take something away that they really enjoy doing, then you can see a lot of change, and that changes very quickly if it's important to them."
During his time as a Longhorn, Bergeron rushed for 1,392 yards and 25 touchdowns.
Taylor Gaspar is a staff reporter for Orangebloods.com. Follow her on Twitter: @Taylor_Gaspar.