Source: Franklin, Strong among finalists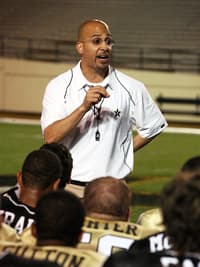 A source close to the Texas coaching search says Vanderbilt's James Franklin and Louisville's Charlie Strong are among the finalists to replace Mack Brown at Texas.
The question is if they are the only finalists?
Orangebloods.com was the first to report Texas athletic director Steve Patterson had interviewed both Strong, 53, and Franklin, 41, separately, earlier.
Patterson's interview with Strong came on Tuesday near Louisville. Patterson's interview with Franklin occurred nearly two weeks ago.
Since then, Franklin emerged as a leading candidate to replace Bill O'Brien at Penn State. CaneSports.com is reporting Miami's Al Golden has been offered the Penn State job.
At Texas, it was unclear if Florida State's Jimbo Fisher might also be targeted for an interview with Patterson after Monday's BCS national championship game against Auburn. Fisher has the support of some key, big-money donors. But Patterson has been conducting the coaching search on his own, multiple Texas sources said.
Earlier Friday, Baylor's Art Briles and UCLA's Jim Mora, who had both been targets of interest in the Texas search, issued statements saying they are planning to stay at their current schools.
"I have no desire to pursue other coaching positions," Briles said.
A source said Texas' Steve Patterson attempted to talk to Briles in the days leading up to the Fiesta Bowl but that Briles was uncomfortable with the timing of such a meeting and indicated he'd be willing to talk after the game. But no such meeting has happened after the game up to this point, sources said.
A source close to Briles said he would have taken the Texas job if it had been offered - without having to go through interviews. When Texas didn't take that approach, Briles decided to issue his statement on Friday.
A source close to Mora said he took his name out of consideration because his family is happy and wants to stay in Los Angeles.
Neither Briles nor Mora was offered the Texas job, the source close to the search told Orangebloods.com.
Patterson has also expressed interest in Michigan State's Mark Dantonio during the search, according to sources.
Billionaire Texas booster Red McCombs, a former owner of the Minnesota Vikings, San Antonio Spurs and Denver Nuggets, has thrown his support behind Jon Gruden.
The Texas coaching search has taken a lot of twists and turns since it appeared in mid-December that a group of big-money donors at Texas were ready to court Alabama's Nick Saban.
But the turbulent departure of Mack Brown from Austin after 16 seasons caused Saban to announce his agreement to a raise and extension at Alabama in the middle of the Texas football banquet on Dec. 13, sources said.
Saban has no buyout in his new deal with Bama, making him the equivalent of a free-agent. But sources close to Texas have repeatedly said the chances of pursuing Saban again were nearly zero.
But speculation about Saban will undoubtedly continue until the next coach at Texas is announced.
In the past two seasons at Louisville, Strong has gone 11-2 (2012) and 12-1 this year, led by star junior QB Teddy Bridgewater after 7-6 records in each of Strong's first two seasons coaching the Cardinals.
Louisville wrapped up its season Dec. 28 with a 36-9 victory over the Miami Hurricanes in the Russell Athletic Bowl. Bridgewater has since said he's entering the NFL Draft.
Franklin has led Vanderbilt to three straight bowl games for the first time in program history. Vandy has enjoyed back-to-back seasons with at least eight wins (9-4 in 2012 and 8-4 in 2013) while slugging it out in the SEC.
Vandy wraps up the season in the BBVA Compass Bowl against Houston (8-4) on Saturday at 12 pm CT.