Source: Mike Leach next head coach at Maryland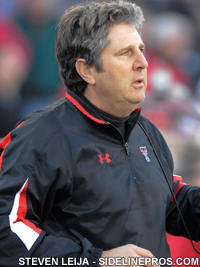 Mike Leach is going to be the next head coach at Maryland, a key Big 12 source told Orangebloods.com.
The Mad Pirate resurfaces.
When Maryland coach-in-waiting James Franklin took the Vanderbilt job last week, it apparently spelled the end for current Maryland head coach Ralph Friedgen in the mind of new Maryland athletic director Kevin Anderson, my source said.
Maryland (8-4) faces East Carolina (6-6) on Dec. 29 in the Military Bowl presented by Northrop Grumman. And after going 2-10 in 2009, Friedgen was named the ACC Coach of the Year by the 61-member Atlantic Coast Sports Media Association for this season's turnaround.
But when Maryland AD Kevin Anderson was asked about Friedgen's future last week, he told reporters, "Next week, everyone will understand where we're going."
Where Maryland is going is on a carpet ride with Mike Leach, according to my source. Friedgen, who is 74-49 in 10 seasons at Maryland with seven bowl berths, is expected to take a buyout to step down, the source said.
Hold on tight Terps' fans.
Leach will no longer be in a remote media market. He'll be in the Washington, D.C., area.
At Texas Tech, he didn't allow more than two players to talk to the media on a weekly basis. And even though Leach was very accessible to the media, his players weren't. Some of them came to resent it.
Linebacker Marlon Williams, a key leader on defense in 2009, even blasted Leach on Twitter for being late to meetings.
Being closer to a major media market, Leach's approach may have to change. It's doubtful, because Leach does things his way. But we'll see.
And, of course, there's still Leach's litigation against Texas Tech, seeking the $10 million he feels he's owed for the final four years of the contract he was fired from at Tech on Dec. 30, 2009. (Leach earned a law degree from Pepperdine University before becoming a football coach.)
That case is tied up in appeals (Tech has appealed a ruling that the university waived its sovereign immunity protection by its conduct in Leach's firing. A ruling is pending from the 7th Court of Appeals in Amarillo, Texas.)
Tech fired Leach for insubordination (days before he was to receive an $800,000 bonus) after Leach filed for an injunction to coach in the Alamo Bowl.
Tech had suspended him from coaching in the game while investigating complaints Leach mistreated receiver Adam James, the son of ESPN analyst Craig James. Leach has denied any wrongdoing.
Ugly legal wrangling, depositions and leaked post-game videos of Leach showing him in a negative light left Tech fans divided. A group of Tech fans called "Team Leach" continues to blast the school's administration and anyone who criticizes the former Tech coach.
Last month, Leach also sued ESPN and a public relations firm, accusing them of libel and slander in connection with the way ESPN reported charges that he mistreated Adam James.
While Leach can be a human resources wild card, no one can dispute Leach's wild success offensively with his spread passing attack, which led the nation in passing six of Leach's final eight seasons in Lubbock.
After 10 seasons at Tech, Leach left as the winningest coach in the program's history (84-43) and never had a losing record.
Along the way, he professed his love of pirates, actively sought a friendship with Donald Trump and blamed a loss to Texas A&M in 2009 on his players' "fat little girlfriends."
One thing is sure: for better or worse, life will never be boring at Maryland with Mike Leach.