Sources: Dodds will step down as AD by end of year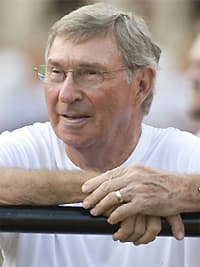 DeLoss Dodds, who has guided the Texas athletic department for 32 years, including its growth into the top revenue producer in college athletics, will step down as athletic director by the end of the calendar year, two well-placed sources close to the situation told Orangebloods.com.
According to the sources, Dodds will move into a consulting role currently outlined in his contract and will continue to serve the Texas athletic department in "a significant half-time position."
In the consulting role, Dodds, 74, would continue to collect his full salary (currently $1.1 million) through the end of his current contract, which expires in August 2015, the sources said. Dodds would also collect a $1 million, after-taxes payment due to him in August 2014, as currently outlined in his contract, the sources said.
Dodds denied to the Austin American-Statesman this week about having "any immediate plans" to step down as athletic director. And Nick Voinis, senior associate athletics director for communications, vehemently denied Dodds has any plans to step down to Orangebloods.com.
"Whoever is saying that is wrong," Voinis said.
But the high-ranking sources told Orangebloods.com Dodds plans to clear the way for a new athletic director by January, in part, because Dodds wants his successor to be able to make any hires that might be needed in the athletic program's biggest sports - football, basketball and baseball.
All of Texas' big three sports underperformed in the 2012-13 school year.
Football finished 9-4 in 2012 but suffered a 63-21 loss to Oklahoma that caused Texas fans to really begin checking out on Mack Brown. UT also suffered an upset at home on Thanksgiving to an undermanned TCU and a fifth-straight loss to Kansas State, dropping its Big 12 record to 11-15 the past three years.
Under Mack Brown, Texas won at least 10 games in nine straight seasons (2001-09), including a 69-9 run from 2004-09 that included a national title and two other BCS bowl titles. But the last three-plus years, Texas is 23-17, a winning percentage of .575.
Basketball suffered its first losing season and first missed NCAA Tournament in 15 years under coach Rick Barnes, who reached the 2003 Final Four but hasn't been out of the first weekend of the NCAA tourney since 2008.
And three players (Sheldon McClellan, Julien Lewis and Jaylen Bond), including two of the top three leading scorers (McClellan and Lewis) transferred after last season. Two others (Myck Kabongo and Ioannis Papapetrou) went pro early (Kabongo went undrafted by the NBA; Papapetrou signed with a Greek team).
Texas baseball has won national titles in 2002 and 2005 under Augie Garrido, 74, the all-time winningest coach in Division I college baseball history. But Garrido's team has lost 12 straight Big 12 series, including all nine in the 2013 season, causing Texas to finish dead last in the conference standings for the first time since 1956.
"There are likely big changes coming, and DeLoss knows it and doesn't want to stand in the way of progress," one source close to the situation told Orangebloods.com.
Sources said if the football team continues to struggle the way it did in a demoralizing loss at BYU, in which the Longhorns gave up 550 yards rushing, that Mack Brown would likely announce his resignation.
Sources said Dodds has recommended Big 12 commissioner Bob Bowlsby to Texas president Bill Powers as a possible replacement. Bowlsby's current annual salary of roughly $2 million, including perks and bonuses, could be an issue for Texas regents, sources said.
Bowlsby is the former athletic director at Stanford. He hired Jim Harbaugh and David Shaw as football coaches and helped oversee raising the money necessary to endow all athletic scholarships at the school.
That is a project Texas president Bill Powers is very interested in pursuing, because it makes the athletic department completely independent of the university's General Fund and would allow UT to add more sports.
Attempts by Orangebloods.com to reach Bowlsby for comment weren't immediately successful.
Dodds has overseen nearly $400 million in athletics facilities improvements and renovations, and, according to NCAA statistics, Texas was the highest revenue producing athletic department ($163.3 million) for the 2011-12 school year.
That included a record $103.8 million in football revenue alone, according to USA Today, a first in Division I athletics.
While guiding Texas through Big 12 realignment, Dodds helped land a 20-year, $300 million contract with ESPN in 2011 to establish Texas' own TV network - the Longhorn Network - an unprecedented third-tier rights venture.
Texas has also led Collegiate Licensing in royalties for the past eight years.
Since Dodds arrived at Texas as athletic director in 1981 from Kansas State, where he was a track star and track coach, the Longhorns have claimed 14 national titles and 108 conference titles.