Sources: Longhorns to replace Davis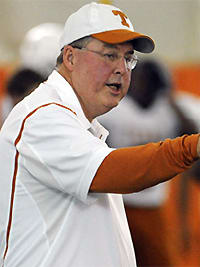 Multiple sources have confirmed to Orangebloods.com that Texas will replace offensive coordinator
Greg Davis
.
Texas officials have not confirmed the news and no announcement has been made, but high-ranking sources with longstanding ties to the Longhorn football program have indicated that Davis will not be retained in his current offensive coordinator position. It appears, sources have indicated, that Davis will remain on the athletic department staff in some capacity, possibly filling a role that has not yet been formally created.
If Davis is removed from his coordinator duties, it will be the first time in 14 years that he won't be in the press box as the architect of the Texas offense. And for
Mack Brown
, it will be the first time since 1995, dating back to his days at North Carolina, that he will not have Davis leading his offense. Brown and Davis also worked together at Tulane from 1985-87 with Davis taking over the head coaching duties in 1988 after Brown left for North Carolina.
In his 13 seasons in Austin, Davis' offenses have re-written the record books and helped take Texas to a national championship in 2005 and a second title game appearance in 2009. In 2005, he was recognized as the nation's top assistant coach, earning the Frank Broyles Award.
Despite all the success, Davis has faced his share of critics during the course of his Texas career. In the eyes of many, Davis was viewed as a large element in the Longhorns' struggles in the 2000-04 seasons, a span that saw Texas lose five straight to Oklahoma while averaging less than 11 points per game in those contests. Davis bounced back with one of the most prolific offenses in the history of college football in 2005 and his group continued to put up terrific numbers for the remainder of the decade.
In 2010, however, Texas took a step back offensively in a transition year in which the team was breaking in a new quarterback and attempting to go from a spread offense to a more traditional pro-style attack. The offense's struggled were a big factor in what would wind up being a disastrous 5-7 season, including losses in five of the team's final six games and no post-season eligibility.
A 38-year coaching veteran, Davis' UT offenses produced five Big 12 Offensive Players of the Year in Ricky Williams, Major Applewhite, Vince Young and two-time winner Colt McCoy. Two of his quarterbacks (Young and McCoy) finished as runner up for the Heisman Trophy. His offenses have produced 11 of the top 13 total yardage campaigns and the top nine scoring years in school history. Davis' best year came in 2005, when Texas set a then-NCAA record with 652 total points and a school record by averaging 50.2 ppg on its way to an undefeated national championship.
A native of Groves, Texas (Port Neches-Groves High School), Davis earned his undergraduate degree and graduate degree from McNeese State. Widely respected by his peers, Davis is regarded as one of the college game's true gentlemen and despite harsh words from his critics, Davis is known around the Forty Acres as being honorable and personable.