Sources: Luck expected to be next AD at Texas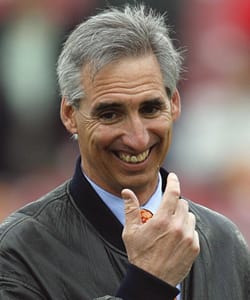 If West Virginia athletic director Oliver Luck impresses a seven-member advisory committee, Luck is expected to be UT's next athletic director, multiple sources tell Orangebloods.com.
Those sources say Luck is the frontrunner from a group of names put forth by the search firm Korn/Ferry International to the advisory committee last week that also includes Arizona State athletic director Steve Patterson, who got his law degree at Texas.
Luck's interview with the committee could come as early as this week. If all goes as expected, a contract could be finalized Nov. 13 or 14, when Texas regents are already scheduled to meet.
Nothing is expected to be announced before Texas and West Virginia meet in Morgantown on Nov. 9.
But the Mountaineers have a bye week after their game at Kansas on Nov. 16, so an official announcement could come then.
The hire would be announced by Texas president Bill Powers. And when it comes to Powers right now, nothing is certain, because he's been locked in an ongoing battle with four regents who have allegedly been seeking a fifth vote to oust Powers, sources told OB.
But sources say Powers, the former Dean of the UT Law School, is enamored with Luck, a Rhodes scholar finalist who got his law degree at Texas.
According to sources, Luck is seen as a good fit to succeed the 32-year tenure of DeLoss Dodds because of his CEO approach, engaging personality and ties to Texas.
Sources say the fact Luck is a former Houston Oilers quarterback and has a son who is a rising star in the NFL - Indianapolis Colts QB Andrew Luck - gives Luck a star quality that should work well with UT boosters and fund-raising.
As the president and general manager of the Houston Dynamo, Luck presided over back-to-back MLS titles in 2006 and 2007.
In his first stint as an athletic director, at WVU, where Luck played football and got his undergraduate degree, he's been given credit for helping the Mountaineers move from the Big East into the Big 12.
Luck is also credited with generating additional revenue by getting beer sales approved for home games at Mountaineer Field.
West Virginia fans, however, have criticized Luck for the way he hired football coach Dana Holgorsen as coach-in-waiting after the 2010 season without the consent of then-coach Bill Stewart.
Stewart had just completed his third straight 9-win season, a run that included a victory over Oklahoma in the Fiesta Bowl.
Stewart's reluctance to accept the Holgorsen hire resulted in Luck firing Stewart and promoting Holgorsen for the 2011 season - a year ahead of schedule.
After going 10-3 with a blowout win over Clemson in the Orange Bowl, Holgorsen went 7-6 in 2012 and is 3-5 (1-4 Big 12) this season.
Sources say Luck has privately acknowledged to key Texas officials he mishandled that situation and has learned from it.
Luck, recently named a member of the 13-member College Football Playoff selection committee, has declined comment when asked about any questions connecting him to Texas.
UT wants to get an athletic director in place as quickly as possible to succeed Dodds to help evaluate the current state of athletics.
One of the more intriguing storylines for the new AD is a football program under Mack Brown that appeared doomed after losses to BYU and Ole Miss.
Now, Brown's team is suddenly on a roll after victories against Kansas State, Iowa State, Oklahoma and TCU.
Sources tell Orangebloods.com Brown has informed prominent UT boosters Joe Jamail and Red McCombs that if Texas wins or shares the Big 12 regular-season title that Brown would want to return as coach of the Longhorns in 2014.
UT (5-2, 4-0 Big 12) has five games left against Kansas; at West Virginia; home against Oklahoma State and Texas Tech; before a road trip to Baylor on Dec. 7.
According to sources in the Big 12, the search firm Korn/Ferry gauged the interest of several potential athletic director candidates who didn't want to leave their current jobs, including Big 12 commissioner Bob Bowlsby, Oklahoma athletic director Joe Castiglione and Notre Dame AD Jack Swarbrick.
And one has to wonder how much some candidates might have found an ongoing battle between a handful of Texas regents and Powers to be a deterrent?
Orangebloods reported earlier this month four UT regents are basically waiting for the next significant, negative headline to convince a fifth vote on the regents board to try to oust Powers.
Some familiar with the situation told OB the potential filing of a discrimination lawsuit by former Texas women's track coach Bev Kearney could be that headline.
The lawsuit could have been filed the first week of September. That's when a mandatory, six-month study of Kearney's complaint was concluded by the EEOC and the Texas Workforce Commission, the agencies that enforce discrimination laws at the federal and state levels.
But the lawsuit hasn't been filed yet.
Kearney's attorney, Derek Howard, is married to Texas Rep. Donna Howard, D-Austin, who is a strong supporter of Powers.
Powers was just named chair of the Association of American Universities (the nation's top public and private research institutions).
But Powers and Gov. Rick Perry have been at odds over the direction of higher education in Texas for more than a year.
The regents seeking to oust Powers are seen as doing Perry's bidding, led by Wallace Hall of Dallas, who is now the target of legislative hearings into potential abuses of authority that could lead to his impeachment.
Those alleged abuses include excessive requests for public records and misusing private student information.
Lawmakers have told the UT regents to avoid "any adverse employee action" as a way to protect Powers until the hearings into Hall's actions are concluded. Those hearings are scheduled through December.
Time will tell if Powers can get a new athletic director hired before any more drama plays out with the regents. But sources say Luck is undeterred by the situation.