Sources: Strong not interested in Miami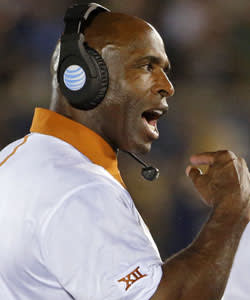 After weeks of speculation, sources close to the situation have told me Charlie Strong is no longer in the mix at Miami and intends to remain at Texas.
Strong's name has been linked to Miami before coach Al Golden was fired in October. As previously reported on Orangebloods, Miami was interested in Strong because of his south Florida ties, previous lack of support by former Texas athletic director Steve Patterson, and the coach has a great reputation nationally. The addition of Strong could have given Miami a much-needed shot of energy.
However, I was told by multiple sources close to Strong that he is committed to Texas and has no interest in coaching at Miami. Strong has not spoken to anyone associated with Miami's program, nor received a contract offer. Even if Miami did offer him a contract, Strong will remain committed to Texas, according to sources.
From what I was told, Strong wants to finish what he started after being officially hired on January 6, 2014. Even though Texas is not having the success he envisioned, Strong does not want to walk away after two seasons and be viewed as a quitter, according to those who are close to the coach. Strong is not driven by money, but he does not appear ready to walk away from $15 million at Texas ($5 million a year at 2016, 2017 and 2018).
In addition, those close to Strong said the coach believes walking away from Texas could hinder the opportunities of other black coaches in the future. Strong does not want there to be a perception that black coaches cannot handle the pressure of leading a major college football program. Instead, he would rather continue building what he started and strive for a better record in 2016.
That being said, Texas has two games remaining in the regular season, which leaves plenty of time for more speculation, especially if the Longhorns lose against Texas Tech and Baylor. Texas interim athletic director Mike Perrin has continually expressed support for Strong, and our sources have said administrators do not intend to make a coaching change after the season, regardless of the outcome of Texas' next two games.
Obviously, it is always risky to say something will "never happen," especially in the constantly changing world of college football, but as of Saturday, it appears very unlikely Strong will leave Texas for Miami after this season.