Texas basketball team update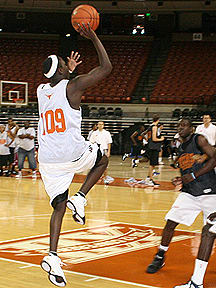 The Texas basketball team is going through individual workouts (groups of four for about 40 minutes three times a week), and a few things are becoming evident after talking to those inside the program.
First and foremost, the depth of having 16 players with the two walk-ons (G Andrew Dick and G Dean Melchionni) has allowed
Rick Barnes
to have four groups of four for individual workouts for the first time in his 12 seasons at UT.
The pickup games at Cooley can also go longer because there are so many players to run on and off the floor.
The competition in workouts and pickup games has been the best news for Barnes. The players are doing the pushing instead of the coaches. And that's when the magic happens. At this time of year, you're paying attention to things like chemistry and leadership.
The chemistry has been surprisingly good. The staff was probably ready for a few combustible situations considering the fiery talent arriving in the freshman class.
The competition at point guard will be fierce when practices begin on Oct. 16. That is the position that will dictate just how far this team goes, and it will not resemble anything close to what Texas labored through in 2008-09.
Last season, Texas was searching for a point guard. This season, thanks to the arrivals of J'Covan Brown and
Jai Lucas
, last year's points -
Dogus Balbay
,
Varez Ward
and Mason - could become valuable role players.
The thing Barnes is most excited about is the defensive upside of this year's players.
"We're going to be a good defensive team because we have guys who can stay in front of the ball," Barnes said. "And we're going to be a good rebounding team."
If you haven't heard me say it before, Bradley is a thief on the floor. Texas hasn't had a guy who can just flat-out take the ball from players on the perimeter like Bradley - maybe ever. Brown is more of an intimidating, physical presence on the perimeter. He really plays with a physicality that Barnes loves.
In your face is an overused term in basketball, but Texas has a chance to live this credo on defense this season.
"I think we're going to beat some teams up physically," Dexter Pittman said. "This team has a tough mindset, from the guards to the big guys."
The depth is so good, you might not have any guys averaging 30 minutes this season. OK, maybe one - Avery Bradley. Last season, A.J. Abrams averaged 37.7 minutes per game, and Justin Mason averaged 30.0.
Concept wise - Barnes has more to work with then he ever has at Texas. He can go big - or even huge - if he wants to zone a team by putting a group on the floor like Bradley, James,
Jordan Hamilton
or
Gary Johnson
,
Alexis Wangmene
and Pittman. The shortest player on the floor in that lineup is Bradley, who lists at 6-2 at Texas because UT measures players without shoes. He's 6-3 with the shoes.
Or Barnes can go lightning quick with a lineup that would have James at the 5 surrounded by Lucas, Brown, Bradley and Hamilton. Options.
Barnes also seems committed to spacing the floor on offense to let Pittman work inside this season. Pittman has been working hard at identifying where the double team is coming from so he can pass out of it and find the open man. Pittman is also working to play faster once he gets the ball, so he gets off before his defender can adjust.
Here's a quick synopsis of each position/player less than a month from practices starting …
GUARD
J'Covan Brown, G, 6-1, 185, Fr. - I posted an update over the summer talking about Brown in the pickup games at Cooley and how he was impressing people with his fearless attitude, physical play and feel for the game. None of that has changed. In fact, it's probably improved.
Brown is being described by the staff as a "Big East point guard." That's probably some of the highest praise a Barnes'staff will give out - considering Barnes' time at Providence and how tough and physical point guards are in the Big East.
Brown is a better passer than most probably think. He's not afraid to attack the glass. His attitude, a concern coming out of high school, has been solid. He has to get in better shape because it's been a year and a half since he played a full season of basketball games. But he's worked hard so far. And he'll get a chance to show what he can do at the point while Lucas waits to become eligible in mid-December under transfer rules.
Jai Lucas, G, 5-10, 150, Jr. - Lucas probably already seems like part of the family to Barnes. The Lucas family and T.J. Ford go back almost a decade from their days in Houston together, so when Ford was in Austin this summer working out with the team, it seemed totally natural.
Lucas will be a non-scholarship player this season (and will go on scholarship next season). The Lucas family was ready for this development because of the uncertainties, at the time, surrounding the possible return of Damion James and enrollment of J'Covan Brown.
Plain and simply, the coaches love Lucas' decision making. He just doesn't turn it over. If he's at the point when he becomes eligible in mid-December, Brown could be an explosive sixth man coming into the game.
Either way, Barnes already trusts Lucas to run things. He needs to get stronger because he's a bit of a liability on defense at 150 pounds. He will be a player Barnes has to watch in matchups against bigger, stronger guards.
Avery Bradley, G, 6-2, 180, Fr. -
Bradley and Kansas'
Xavier Henry
are widely seen as two of the best freshman shooting guards in the country - if not the best - so it will be fun to see how these two develop before they go head-to-head in Austin on Feb. 8.
Barnes says no player has ever developed as much from oral commitment to arrival on campus the way Bradley has. He can do it all - get to the rim (with authority if you saw the McDonald's All-American dunk contest he won), hit 3s, score from mid-range AND defend. Wait til you see this guy defend. He will set a tone.
I'd be surprised if he's not on the All-Big 12 Defensive Team at the end of the year. Can you say, "Points in transition?" He'll be a one-man fastbreak after some of his steals. All you need to know about his upside is that he's already seen as a possible one-and-done player.
Dogus Balbay, G, 6-1, 175, Jr. - Balbay hurt his hand over the summer in Turkey, came back to Austin for treatment and was able to work quite a bit on his form shooting while rehabbing the injury. He's fine physically now. Balbay is a solid defensive player (probably ahead of Lucas in this regard), but once J'Covan Brown gets into shape, Balbay will have to fight like crazy to get on the floor.
Balbay was a liability on the floor in the final four minutes of close games because he didn't look to shoot and missed free throws. You can't have that from a point guard. Balbay will have to change all that or see his minutes dramatically reduced.
Varez Ward, G, 6-2, 192, So. - Ward came on at the point late last year after some growing pains about shot selection. Barnes loves Ward's toughness and defense. Ward was a shotgun-option quarterback in high school and has that full-head-of-steam mentality.
But Ward was also not much of a threat offensively, meaning the opposing team could take its chances sagging off of him. Ward will have to be more effective as a scorer to get in the mix with Brown. But Ward will be a key situational defender if not more.
Justin Mason, G, 6-2, 195, Sr. - Mason is the glue guy. He's just always there for Barnes, and for this Mason is to be commended. His freshman year, he was too heavy. His knees broke down. He couldn't stay in front of anyone. Two years ago, he lost the weight and was the one of the best players on the floor against Memphis in the NCAA Tournament, aggressively going to the basket and playing defense.
Last season, he was moved to point guard and told to get back on defense instead of going to the offensive glass. It messed with his head. He lost confidence, and he never really got going. This season, his minutes will likely drop considerably from 30 per game. He'll have to find places to contribute, and he will because that's what he's always done. He's Barnes' junkyard dog.
FORWARD
Damion James, G/F, 6-7, 225, Sr. - James has been working on his perimeter skills (shooting, defense, ball-handling, pick-and-pop, etc.), but he will still be looked to for defense and rebounding. If the other opportunities present themselves, fine. But Barnes needs that double-double mentality from James.
If James wants an NBA team to fall in love with him, he must also do a much better job of defending the perimeter. He would be in the NBA already, if he showed he could do that during his workouts for league teams over the summer.
Jordan Hamilton, G/F, 6-7, 226, Fr. - Hamilton is not nearly as athletic as James, but Hamilton can fill it up, and he won't hesitate to go inside and rebound. Where Hamilton could really make a name for himself with Barnes is on the defensive end.
Hamilton's length while guarding the perimeter could provide a real impact. The competition between Hamilton and James has been healthy and intense in workouts. Both are pushing each other. Big positive.
Gary Johnson, F, 6-6, 238, Jr. - Johnson increased his shooting average (44.8 percent), his points per game (10.0 ppg) and his minutes (23.1 mpg) last year. Now, Barnes really wants Johnson to get out of his comfort zone and rebound this season.
Barnes felt like Johnson boxed out an area well, but he often stood in one place while averaging 5.3 rebounds last season. Barnes wants Johnson to GO GET rebounds this season. If he does, he might be able to maintain his 23.1 minutes per game average.
Shawn Williams, G/F, 6-6, 215, Fr. - Williams can flat out stroke it from downtown. If he can add to the rest of his game, he'll be a factor this season. A little raw in the areas Barnes covets most - defense and rebounding. But if he buys in, he could make an impact.
Funny, if Williams was on this team last year, he would have been a go-to player for offense. This season, there appears to be so much offense with James, Pittman, Bradley, Brown, Hamilton and Lucas, a guy like Williams might have to wait until next season to make his splash. Time will tell.
FORWARD/CENTER
Alexis Wangmene, F/C, 6-7, 241, So. - Wangmene has become a force on the defensive end. He's not as reckless from a fouling standpoint, or at least he's shown some restraint in that area in off-season workouts. His knee is fine physically, and his long arms make him an asset from a shot-blocking and rebounding aspect. Having to sit out last year made him appreciate the game more. He missed it and can't wait to get back out there.
Clint Chapman, F/C, 6-10, 239, Jr. - Chapman needs to keep thinking defense and rebounding if he wants to get minutes this season. Chapman didn't shoot it well last season (29 of 80, 36.3 percent) and was even worse from the free throw line (6 of 26, 23.1). He needs to be an energy guy who does dirty work for this year's team.
Matt Hill, F/C, 6-10, 240, Jr. - Hill's troublesome foot is fine, and he's back to playing the smart position defense Barnes recruited him for. He knows his role exactly, and that's why Barnes will find minutes for him.
CENTER
Dexter Pittman, C, 6-10,290, Sr. - Pittman has gotten his weight below the 290 Texas lists, and has been an impact guy on the floor and off. He's really turned into a leader, who wants to get the most out of this season. He can lead vocally in a way that not many others on this team can - believe it or not. Pittman is no longer Sexy Dexy. He's Driven Dexy. And that's good news for Barnes.
Pittman showed he could be the focal point of the offense in the Big 12 Tournament last season, and Barnes wants to run the offense through Pittman some this season. So you will see clearouts for Pittman to work. He has added a left-handed hook to go with his natural righty hook. He has also tried to expand his range to 15 feet so he can become part of the pick-and-pop offense. Watch out.