{{ timeAgo('2022-08-01 11:00:49 -0500') }}
football
Edit
Texas commit Sydir Mitchell striving for No. 1 class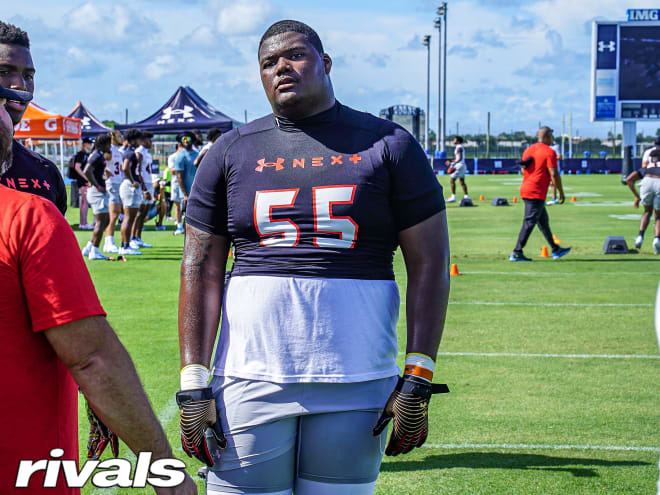 Four-star defensive tackle Sydir Mitchell provided Texas with a big recruiting win in early July. Mitchell officially visited Texas in June and then soon after chose the Longhorns over Georgia and Texas A&M.
Mitchell is a massive defensive line prospect that gives Bo Davis a real interior presence along the defensive front. He clogs up running lanes and has some nice upside rushing the passer, too.
Defensive line coach Davis played a major role in the Longhorns winning out for Mitchell. The UT assistant built a relationship with Mitchell throughout the recruiting process, which ultimately paid off when the four-star announced for Texas just before Independence Day.
"This is really where I want to be. I made a good choice, just seeing the people I'll be around and the players that I'll be going up against every day. I feel like I've made a good decision," Mitchell told Orangebloods.
"Coach Bo made it known that I was really wanted. I feel like he will put me in a great position in three to four years to be in the NFL. He's had players like me before, so it's not anything new to him. I feel like from a development standpoint, he's really good at that."
Mitchell is confident in what he is bringing to the Longhorns. He can play different positions along the defensive front and has the size to disrupt things in the middle.
"I'm bringing a lot to Texas. I'm a big interior defensive lineman that can play multiple positions. I can move on my feet," Mitchell said. "Even though they have some really good interior linemen, I feel like I'm also really good as well. That's an add-on for the team."
Now in the boat, Mitchell has turned into a recruiter for the Longhorns. The New Jersey standout returned to the 40 Acres this past weekend, where he spent time around key recruiting targets, such as four-star defensive back Jordan Matthews.
"We're trying to be good recruiters," Mitchell said about he and Texas pledge Johntay Cook. "We're trying to recruit the best and see what we can do and who we can get to be a part of this class. We're striving to be that No. 1 class."
Mitchell has a simple message to those top targets on the Longhorns' board, specifically Matthews and Rivals100 wideout Jalen Hale:
"We feel like, to get that No. 1 class, (we need them). How they play, it's like a perfect system with us," Mitchell said. "It'd be great for them to come on."