The McFarland story - The truth revealed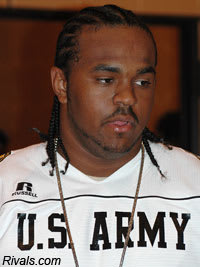 The uncle of highly recruited Lufkin defensive tackle
Jamarkus McFarland
said he believes his nephew wants to attend Texas, but that McFarland's mother, Kashemeyia Adams, influenced her son to give his commitment to Oklahoma.
"I really believe that Jamarkus had his heart set on playing at Texas," Tony McFarland, Jamarkus' uncle, who lives in Houston told Orangebloods.com. "And he even said that. He wanted to go to Texas, and somehow, or someway his mind got changed and he wasn't going to go against his mother. His mother wanted him to go to Oklahoma and something happened with her and Texas."
Tony McFarland's comments came after several inflammatory statements about Texas were made by Adams to the New York Times in a story about McFarland's recruitment. Jamarkus McFarland committed to Oklahoma on Christmas Day.
In the New York Times story, Adams said she was blocked from talking to
Mack Brown
by an assistant coach. She said Texas tried to run its recruitment through Jamarkus' high school coach at Lufkin, John Outlaw, who then was accused by Adams of trying to direct McFarland to Texas.
Adams also said Texas "went to sleep in the summertime" recruiting her son while Oklahoma "woke up." She said she was offended by decisions the Texas coaches made to back off of her son's recruitment earlier this month because they could sense tension between Adams and Jamarkus.
She also said she had received numerous offers of gifts in exchange for her son to attend Texas, although she didn't believe that Brown or anyone officially connected to Texas was involved or had any knowledge of the enticements, according to the Times.
Tony McFarland said he spoke with Jamarkus regularly near the end of the recruiting process and was surprised by Jamarkus' decision. He said Adams and Jamarkus were strongly leaning toward Texas at the beginning of the year.
"At first she was headstrong on Texas," Tony McFarland said. "For some reason, and I don't know why, she turned against Texas. When I asked, the thing was because the recruiter wouldn't let her talk to Mack Brown."
Sources close to McFarland's recruitment said Adams had Mack Brown's cell phone number and used it regularly this year and only recently stated she couldn't get through to Brown.
Adams did not return phone calls to comment for this story.
But Lufkin coach John Outlaw told Orangebloods.com Texas appeared to handle itself professionally throughout McFarland's recruitment.
"Texas started recruiting JaMarkus when he was a 10th grader and conducted itself absolutely in a professional manner through the whole process, in my opinion," Outlaw said. "They didn't do anything wrong. They did everything the way you would want it done from what I saw. And I just want it clear that never in 30 years of coaching have I encouraged a kid to go anywhere other than where he wanted to go. That's all I'm going to say about it."
When Texas coaches told Adams in an e-mail earlier this month they were going to back off and give Jamarkus some distance because they sensed tension between mother and son, Tony McFarland said he agreed with the move and didn't consider it a slight in any way.
"The incident where they wrote the email to Jamarkus about leaving him alone for the time being, we talked before they did that," Tony McFarland said. "(
Will Muschamp
) let me know what they were going to do. I told him I thought that was best because of the way she was going off on Texas.
"But he did say he wanted Jamarkus to have a scholarship, he was still welcome at Texas, Texas still wanted him but they were going to back off because they didn't want to break up the family."
A highly-placed source in Lufkin that talked to McFarland shortly after the email was sent by Texas indicated that McFarland, like his uncle, approved of Texas taking a step back.
"Jamarkus said he was really relieved and he thought it was a really classy thing that Texas did that," the Lufkin source said.
The New York Times quotes a paper McFarland wrote for a class in which he talked in a discouraging tone about a wild party in Dallas thrown by Longhorn fans after the Texas-Oklahoma game this year in which there was alcohol, drugs and women taking off their clothes.
McFarland told Rivals.com on Sunday that he "spiced things up" in the paper, and three sources who were with McFarland that night said McFarland experienced nothing of the kind.
The sources, who agreed to talk on condition of anonymity, said McFarland spent most of the night with Texas fans at the Dyer Street Bar near the Sheraton Hotel in Dallas, where McFarland was staying.
"There were no girls there taking off their clothes like it was alleged. I also didn't see any drugs. This was just a regular bar," said one source with McFarland that night.
"The whole night he was there and he just stood against the wall and watched everyone. One of his friends was dancing with some girls, but he stayed really calm and didn't do anything the entire night."
A second source with McFarland that night said, "We were at the Dyer Street Bar and that's where we saw him for most of the night. I was pretty pissed off when I read the article because there wasn't any drug use and, as nice as it would have been to see girls all over each other, there wasn't any of that either."
A third source with McFarland that night said, "I was with him at various times throughout the night and there were not any drugs or women that took their clothes off. We were all in a couple of bars, but there really never was a party. There was just a lot of people drinking and having a good time. I was shocked to read what was reported."
When asked if there was any chance that McFarland could have left the bar and gone to a wild party before he eventually checked back into his room at the Sheraton Hotel, the third source said, "No, none of that happened. After we left the bar, he was back in the hotel room sleeping when I saw him again. That wasn't long after we left the bar and returned back to the hotel that we were all staying at."
When Mack Brown was asked about the McFarland case and The New York Times article written by Thayer Evans, Brown told The Dallas Morning News he would not comment on McFarland (per NCAA rules) but was willing to comment on the newspaper article.
Asked by the Morning News if he had any knowledge of possible recruiting improprieties, Brown answered: "Absolutely not. We encourage the NCAA to check out every player we're recruiting ever year. We call them and ask them to. We welcome them there."
Brown was critical of a piece authored by Evans last season about California running back Darrell Scott, who eventually chose Colorado over Texas on national signing day.
"One-sided stories usually don't make it when sources aren't checked on the other side," Brown said. "The story has absolutely no credibility with me because the writer did the same thing exactly last year and it's obvious he has an agenda, in my mind, against Texas."
Neither Brown nor Texas athletic spokesman John Bianco said they were contacted by the Times for comment before publication.
Evans provided a brief statement to the Morning News and Orangebloods.com on Monday night.
"The article speaks for itself. We will continue to follow the story," Evans said.
Tony McFarland simply hopes Jamarkus McFarland is following his heart.
"What I told Marcus was, 'At some point and time, you have to make a decision for you and do what's best for Marcus.' What he came out saying was basically, 'I'm not going to go against mom and I'm going to go to Oklahoma.'
"The thing that I want to convey is that I believe that Marcus really wanted to go to Texas. I believe he had a change of heart due to his mom and the recruiting process. That's the way things happen. That's the way things go. I'm not here to say anything bad about her, Texas or Oklahoma. Both programs are great programs and I think they handled Jamarkus the way that they saw fit.
"Jamarkus still loves Texas. I think if it was totally up to him, he would be at Texas. But it came down to a decision of what his mom liked, and that's which way he went. At first, Jamarkus loved Texas. Due to his mom, he had a change of heart. He didn't want to go against his mother and that's basically the way the story went."
Tony McFarland said he talked to Jamarkus on Christmas day, after the commitment had been made, and he said the entire family supports Jamarkus' final decision.
"I told him 'We're behind you.' We're behind Jamarkus 100 percent," he said.
[Note:] Geoff Ketchum and Jason Suchomel contributed to this report.