The other side of DuVonta Lampkins story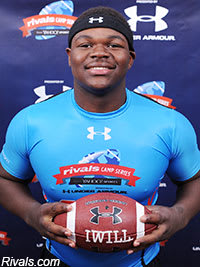 Du'Vonta Lampkin may never play a down at the University of Texas.
If it does not occur, it would be inaccurate to say he did not try.
Lampkin's college future remains in limbo because he has not met the foreign language entrance requirements at the University of Texas. According to a source familiar with the situation, there is another side to this story.
Lampkin is still trying to get his language requirement fulfilled this summer despite the belief he quit taking a Spanish class to intentionally be denied entrance into Texas because he wants to attend Oklahoma. Yes, it is a conclusion many people made because of Lampkin's previous statements on Twitter and an interview with the Cypress Creek Mirror. From what I have been told, those are proclamations Lampkin wishes he never made, and the backlash from Texas fans and those within the program has ostracized the teenager from the Longhorns.
Lampkin officially asked to be released from his letter of intent on May 21, and the university has 30 days to grant or deny the request. Texas has until Saturday to make a decision.
However, sources tell me Lampkin's appeal will probably be denied, unless there is a change of opinion from those within the athletic department.
For clarity, Texas requires a foreign language for a student to gain acceptance into its university. A foreign language is not a requirement at other schools, like Oklahoma, for instance. If a student is denied entrance into a university, he or she is automatically released from his or her letter of intent and can attend another school.
Texas coach Charlie Strong and defensive line coach Brick Haley recently declined to discuss Lampkin's situation. Lampkin, and members of his family, are also not speaking with the media.
That being said, Lampkin's request has nothing to do with a disdain for the Longhorns.
Instead, a source familiar with the situation said it has everything to do with the academic challenges he faced throughout high school, despite having several foreign language tutors.
Lampkin does not need to pass one Spanish class to attend Texas, but three courses. He needs to pass Spanish 1B, 2A and 2B. So far, Lampkin is still working on 1B.
As Taylor Gaspar previously reported, when Lampkin entered high school, students did not need to take a foreign language to graduate. That does not mean Lampkin never attempted to take a foreign language before recently graduating from Cypress Falls High School. In fact, Lampkin attempted to receive a passing grade more than once while in high school, but was unsuccessful, which could be attributed to a learning disability the source familiar with his situation preferred not to disclose.
After signing a letter of intent with Texas in February, Lampkin took on the tough task of trying to pass three classes in three months. Lampkin began taking Spanish 1B at the University of Texas Online High School program in February, in addition to his normal high school class load. It is a work at your own pace course, and students have 150 days to complete a class. Lampkin requested to receive the test in mid-May.
However, as Lampkin was waiting for the test to arrive, I was told he became nervous about the possibility of failing it and panicked. The teenager's anxiety prompted him to announce on Twitter he would not attend Texas, plus Lampkin told a reporter he would contact Oklahoma, a school which previously recruited him, about joining their program. Lampkin also requested to be released from his letter of intent around that time.
Texas insisted Lampkin find a way to pass the course, and instead of quitting and just waiting to be released from his letter of intent, he continued to prepare for the exam.
During the first week of June, someone working with Lampkin discovered he still had two missing assignments and could not take the exam. Lampkin had completed the assignments, but accidentally submitted the wrong paperwork. The error was immediately corrected and the correct paperwork was submitted.
Currently, Lampkin is still waiting on somebody to administer the test.
Once Lampkin takes the test, it can take several weeks before he knows the results, which could extend into July. If he passes the course, then he would have to register for the second Spanish course.
Even though these courses are administered online, it takes several weeks to finish one class, according to the program's website:
9. What is the least amount of time it could take to complete a course?
If a student were to dedicate 40 hours per week to a course, the graded assignments could be completed within a few weeks.  However, additional time would be needed for instructor grading and the final exam process (requesting exam, exam processing and mailing to the testing site, taking the exam, testing site returning the exam, and two weeks for the instructor to grade the exam). The least amount of time could be 6-8 weeks.
In other words, Lampkin is running out of time.
If Lampkin is unable to qualify, he could play junior college football for one semester and then transfer to Texas. In order for that to occur, Lampkin would need to know the Longhorns still want him in their program and have a scholarship waiting for the defensive tackle. From what I have been told, it is unclear if Texas even wants Lampkin. It would make applying and attending another school his best option, but not the best choice for Texas because Lampkin was the only defensive tackle signed in this year's recruiting class.
If Lampkin never attends Texas, there might be several reasons why it did not occur.
A lack of effort is not of one of them.