The Wild Ride Continues - DT Jordan Elliott commits to Texas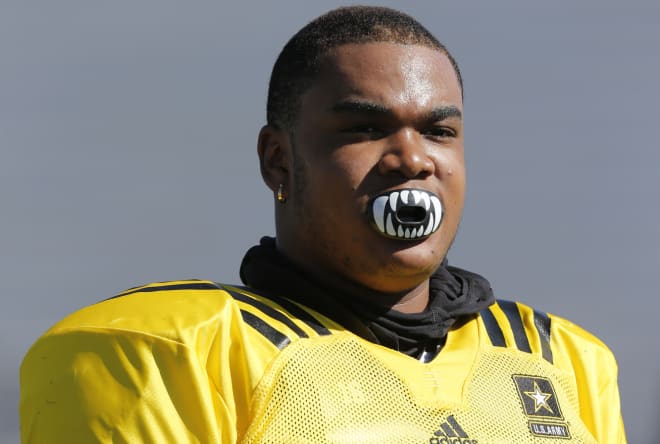 It's been a wild National Signing Day ride for the Texas Longhorns, and moments ago Texas was at it again, landing yet another big-time commitment on the defensive side of the ball.
Longhorn fans, welcome Jordan Elliott to the family.
Elliott's recruitment has been a bit of a roller coaster ride, with him giving pervious commitments to Baylor, Houston and Michigan. He had remained committed to Michigan until less than a week ago. That decommitment came on the heals of a Texas official visit, and the writing appeared to be on the all at that time that Elliott would eventually commit to Texas.
That announcement came down moments ago, with the Houston Westside product announcing his commitment to become the Longhorns' 24th commitment in the 2016 class and ninth commitment in the last 24 hours.
"Jordan Elliott has enormous potential. He's very physically gifted and has the strength and athleticism that you look for," said Rivals.com recruiting analyst Jason Howell. "If he can play with more consistency, he has a real chance to do some big things."
The 6-5, 300-pound Elliott was an Army All-American and is ranked No. 36 on the 2016 Lone Star Recruiting Top 100. He held close to 35 offers overall.
Mark Byrd, who coached Elliott at Westside before recently accepting a job at Coldspring-Oakhurst, said Elliott's versatility and athleticism make him a special prospect.
"Jordan is very self-motivated. Whenever you're playing on a team not full of Division I athletes, you have to motivate yourself. He's been able to do that," Byrd told Orangebloods.com. "Plus, he's a great technician. ... One last thing to add to that, when you get a kid like that, he's so versatile. He's 6-5, 305, can play inside or you can flip him to outside."