Two Texas Football Players Dismissed from the Team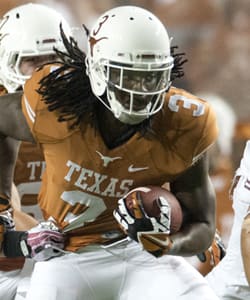 Orangebloods.com has learned that defensive back
Chevoski Collins
and running back
Jalen Overstreet
have been dismissed from the team due to a violation of team rules, according to a source close to the situation.
And this was apparently not the first time the two have violated the same rule.
The source also stated that Collins and Overstreet were two of the four players Charlie Strong banned from Moncrief prior to the most recent violation.
According to the source, players might have the option to file an appeal with the university. An appeal would take 10 days to process.
A University of Texas spokesperson declined to confirm or deny this report and both players are still listed on the Texas roster.
Strong has made it clear that he means business when it comes to breaking his core values, which are honesty, treat women with respect, no drugs, no stealing and no weapons. This is just another instance of his no-nonsense approach to discipline.
Overstreet saw playing time in nine games last season as a backup running back and rushed 20 times for 102 yards and two touchdowns. Collins redshirted in 2013.
Taylor Gaspar is a staff reporter for Orangebloods.com. You can follow her on Twitter: @Taylor_Gaspar.