Two UT football players allegedly accept dinner from agent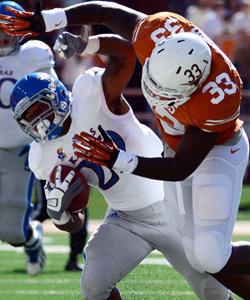 Charlie Strong has not coached his first game at the University of Texas, but finds himself dealing with another controversy.
Orangebloods.com has confirmed two Longhorns players allegedly received a meal from a sports agent, which was originally reported by the Austin American-Statesman. The player's names have not been revealed by the university, but it appears linebackers
Jordan Hicks
and
Steve Edmond
are involved.
Justin Bingman, who works with
One Sports Group
, sent out a tweets stating he had dinner with Hicks and Edmond on March 24.
His tweets read (obtained by Orangebloods.com's Taylor Gaspar):
"Had dinner with @SteveBigMoney33 last night, MLB for Texas. We all had a great time with many stories. #Longhorns"
"Just had dinner with a great young man that is going to do great this year for Texas @JHicks_3 #Longhorns #LonghornNation"
Bingman also tweeted about having dinner with senior defensive end
Cedric Reed
on March 22 and senior defensive tackle
Desmond Jackson
on March 23. A source close to Reed told Orangebloods.com Wednesday that he is not involved with Bingman or One Sports Group and his name being mentioned is a non-issue.
The tweets have since been deleted and the Longhorns' athletic department declined to comment.
Texas reported the incident to the NCAA on June 6 because accepting a free meal violates the organization's rules.
As a result, the players could face a suspension, or have their eligibility stripped, while the program faces a possible sanction, too. In addition, the sports agency could face discipline from the NFL Players Association for the possible violation.
Prior to this accusation, two of Strong's players were questioned by campus police as part of an investigation into an alleged sexual assault. The investigation remains open.
Once again, Strong faces another situation which goes against his five core values: honesty, treat women with respect, no drugs, no stealing, and no guns.
So far, Strong has a few players who are accused of violating the list of requirements necessary to play on his team. Each player deserves a fair process, but Strong cannot be happy to know his players put themselves in bad situation.
The Big 12 Media Days begin on Monday, and Strong will likely face several questions about the current accusations when he speaks on July 22.